Sometimes boring companies can be the best investments, as they aren't subject to huge volatility at the top or bottom line. In the past, I was a little bit underwhelmed by FactSet Research (NYSE:FDS) because the company's free cash flow yield was pretty low. As the company has now released its financial results of the second quarter and the first semester of the financial year 2016, I think it's a good time to revisit the company and to find out if I need to update my expectations.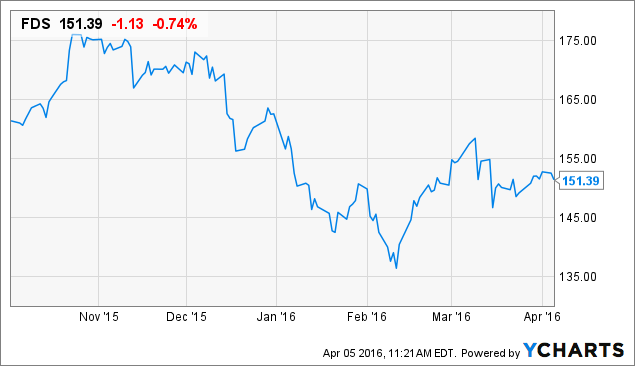 The organic growth rate in the second quarter was impressive
FactSet Research had an excellent second quarter of the year as its revenue increased by 13.7% to $281.8 million. An increase of almost 14% is very remarkable, but what's even more important is that the organic revenue increased by 9.5%, indicating that the growth rate by external factors like the foreign currency exchange rates and acquisitions only contributed 4% to the top line increase. This is an excellent result and it allowed the company to boost its total six-month revenue by in excess of 10% to $552 million.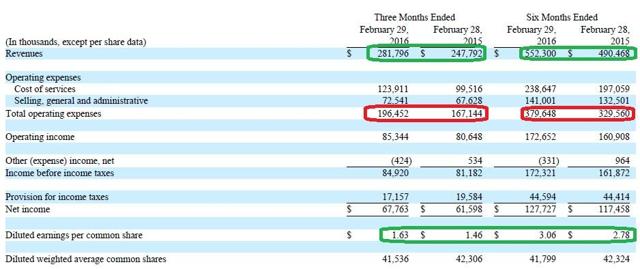 Click to enlarge
Source: SEC filings
Let's focus on the most recent quarter for a minute. It was nice to see the revenue increase by almost 14%, but shareholders and investors should keep in mind that the total operating expenses also increased sharply to almost $197 million resulting in an operating income of $85 million. That's still an excellent result but the effect of the high revenue on the operating income was less outspoken as the operating income increased by just 6% (vs. 13.7%). This caused the operating margin to decrease from 32.5% to a little bit in excess of 30% in the second quarter of the financial year 2016. The total net income increased by approximately 10% to $67.8 million bringing the net income for the first half of the year to almost $128 million. Thanks to the reduced share count due to the ongoing share buyback program, the EPS increased by approximately 10% to $3.06 per share.
In my most recent article about FactSet Research, I said I was expecting the company to generate a positive free cash flow of approximately $250 million in the financial year 2016. That's a pretty decent amount of money, but as the company was trading at a market capitalization of approximately $7 billion, I wasn't really too impressed. However, as market cap has now decreased to just a little bit over $6 billion, I wanted to revisit my free cash flow targets to find out if the company has become more appealing.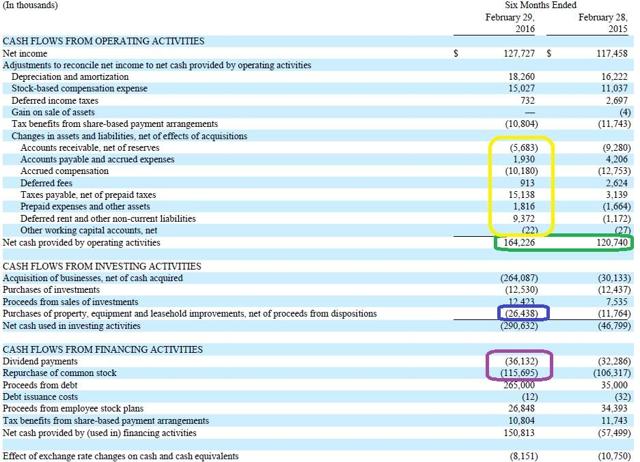 Click to enlarge
Source: SEC filings
At first sight, the operating cash flow has improved tremendously considering it increased from $121 million to $164 million. However, this does take some changes in the company's working capital position into account, and if you would isolate these changes from the equation, the adjusted operating cash flow would have been approximately $151 million. Considering the company's capital expenditures remained relatively low at $26 million (which is just 5% of the total revenue in the corresponding period), the company generated an adjusted free cash flow of approximately $125 million in the first half of the year which basically means the company is on track to generate a quarter of a billion in free cash flow in the current financial year.
The company has increased its buyback rate
Generating $250 million on an annualized basis in free cash flow is a great achievement for a company, but the main question investors and shareholders should always ask themselves is whether or not the company is spending its cash wisely.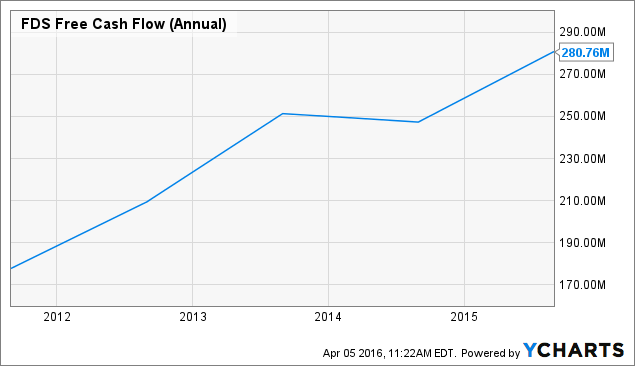 FDS Free Cash Flow (Annual) data by YCharts
After having increased the quarterly dividend by 11% last years, the total cost of the dividend increased to just in excess of $36 million. This would mean FactSet had approximately $90 million left to spend on share buybacks in the first semester of this year, but it looks like the company has spent almost $116 million on buying back its own shares. In the second quarter of the current financial year, the company has repurchased almost half a million shares at an average price of approximately $153 per share, reducing the share count by an additional 1%.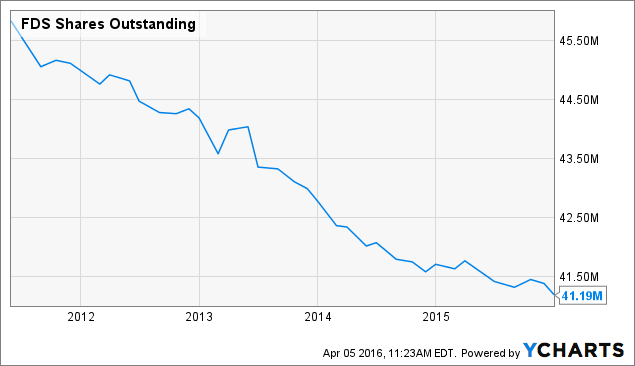 FDS Shares Outstanding data by YCharts
This also means the company will very likely end its financial year with less than 41 million shares outstanding. Based on my expectation to see a positive free cash flow of approximately $250 million this year, the company will be generating a free cash flow per share of approximately six dollars. Based on the current share price of just a little bit over $150, FactSet is trading at a free cash flow yield of roughly 4%.
Investment thesis
As the company's cash flows have definitely been increasing and the share price has lost approximately 10% since my previous article, FactSet does look a little bit more appealing right now than it used to be half a year ago. However, I'm still not too impressed with the free cash flow yield of approximately 4%. A solution for this could be to write a put option, but due to the relatively low volatility in the company's share price, the option premiums aren't very high either.
In order to achieve a minimum free cash flow yield of 5%, one would need to look at writing a put option with a strike price of $120, and it looks like the options expiring in September might be the best choice. You would receive option premium of approximately $1.7, which would result in an annualized return of 2.75% in case you do not get assigned by the shares at the $120.
Disclosure: I/we have no positions in any stocks mentioned, and no plans to initiate any positions within the next 72 hours.
I wrote this article myself, and it expresses my own opinions. I am not receiving compensation for it (other than from Seeking Alpha). I have no business relationship with any company whose stock is mentioned in this article.