Having fallen sharply from its highs, Twitter (NYSE:TWTR) has partnered with the NFL in an effort to kickstart its stalling user growth. Let's take a look at what the deal means for Twitter's stock.
How It Affects Twitter
Part of the deal is that Twitter will be rebroadcasting NBC (NASDAQ:CMCSA) and CBS (NYSE:CBS) feeds, which means that Twitter will have to show NBC and CBS ads. Due to this, Twitter is estimated to only be able to sell 15 of its own ads during the stream.
The average Thursday night football ad costs $547,151. Assuming Twitter is able to sell 150 ads for the same price as TV ads, then it would be adding approximately $82 million to its revenue. Twitter should be able to get close to the same price per ad, because TV broadcast Thursday night football averages 17.6 million viewers, which is similar in size to the 15.2 million viewers Yahoo (NASDAQ:YHOO) received during their live stream. Internet ads also allow consumers to interact with them in real time, which makes them more attractive to advertisers.
The main goals of the deal are to further establish Twitter as the go-to brand for live content and to attempt to reignite Twitter's stagnant user base. During Yahoo's NFL live stream, it reported receiving 15.2 million unique users. According to our model's projected ARPU, capturing even 10% of those 15.2 million users could add over $20 million to Twitter's Q3-Q4 revenue.
A 2014 report from the Digital Citizens Alliance estimates that over $220 million revenue is lost annually to illegal content on the web, which includes illegal sports streaming. This represents a large audience that Twitter can tap into, because viewers will no longer have to resort to illegal streaming sites. As users from illegal streaming sites migrate to Twitter for content, Twitter will be able to convert some of these users into Twitter accounts. This is important for Twitter because each new average user will add over $6.30 to Twiter's revenue. This figure comes from Twitter's yearly average revenue per user.
Modeling The Impact On Twitter's Valuation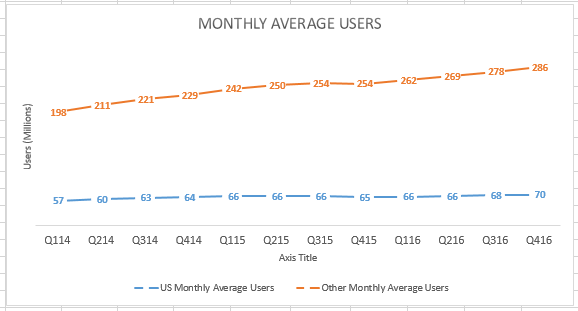 Our model forecasts Twitter's US user growth to remain stagnant until Q3'16, when Twitter begins to broadcast NFL games, where we expect to see user growth begin increasing slowly. Foreign user growth is expected to keep pace with its current rate, and then gradually begin decreasing to a rate that is similar to the US as the market becomes more saturated.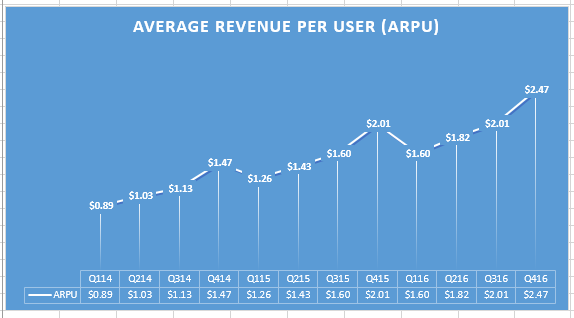 We expect average revenue per user to dip slightly into Q1'16, in line with company guidance, as advertiser spending decreases from the Q4 holiday season. We then expect it to begin rising again, and accelerating into Q3-Q4, as advertising revenue from the NFL and holiday spending begin to take hold.

We expect data licensing revenue to increase at a steady pace as Twitter continues to work with developers and increase integration with other platforms. Twitter will also be able to boost revenue by licensing the stream through the Xbox game console, and through Alphabet (NASDAQ:GOOG) (NASDAQ:GOOGL) and Yahoo, who are NFL syndication partners.

Above is our long-term forecast. We expect Twitter to begin turning a net profit in 2019. We expect user growth to re-accelerate and revenue growth to continue as Twitter enhances its live content library and simplifies its user interface.
Conclusion
In conclusion, with an extremely conservative discount rate of 10% and a terminal growth rate of -2%, our model forecasts Twitter to be worth approximately $21.10 a share. If you use a less conservative discount rate of 8% and a terminal rate of 0%, which is still conservative, then our model values Twitter at $33.85 a share. This represents a 24% and 99% discount to its current share price, respectively.
The biggest risk to these forecasts is Twitter's inability to grow users. We believe Twitter is fairly priced at $16 a share, if it is unable to re-accelerate user growth. We believe that this NFL partnership is a strong first step towards growth and will help it compete with other platforms, like Facebook (NASDAQ:FB).
Here is a link to the model.
Disclosure: I/we have no positions in any stocks mentioned, and no plans to initiate any positions within the next 72 hours.
I wrote this article myself, and it expresses my own opinions. I am not receiving compensation for it (other than from Seeking Alpha). I have no business relationship with any company whose stock is mentioned in this article.