Block trades in Tesla (NASDAQ:TSLA) transmit expectation messages

For now, there is encouragement in Tesla Motors' stock. On top

of a strong recovery from year-end and new-year stock price weakness, it is apparent that serious players see justification for even higher prices.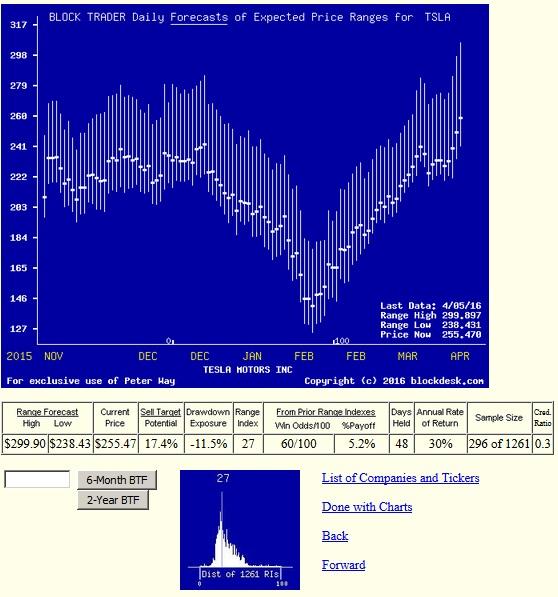 (Used with permission)
The price range expectations seen possible, even likely, by the market-making community as they service the volume trade orders of their big-money fund clients, continuing to rise, now with a new-found enthusiasm. Even on a sick-market day.
Whether those vertical lines in the picture above will continue to march upwards in concert with the contemporary heavy-dot market quotes day by day - that is another question. The highs now seen as viable are at $300, another +17% above the current quote.
Prior forecasts like this one do not have a flawless record. In a discipline demanding the range highs as sell targets to be achieved, with holdings patience limited to the next three months after the forecast, in nearly 300 similar forecasts of the past five years, profitability has been achieved in 60 out of each 100 occasions. The other 40 pulled down the average net gains to only 5% rather than the mid-teen percents the forecasts aimed for.
But the past average disciplined holding period of 10 weeks compounds that 5+% gain into a CAGR of 30%. Not a bad addition to most portfolio performances.
Conclusion
This is not a long-term analysis or forecast, just a reading of how market players with the money muscle to move prices, feel about the stock at present. Tomorrow may be different, next week likely will be. You are encouraged to enjoy keeping tabs on the ongoing development via blockdesk.com at your command, or via Seeking Alpha when it seems opportune to us.
Disclosure: I/we have no positions in any stocks mentioned, and no plans to initiate any positions within the next 72 hours.
I wrote this article myself, and it expresses my own opinions. I am not receiving compensation for it (other than from Seeking Alpha). I have no business relationship with any company whose stock is mentioned in this article.