At the end of 2015, Devon Energy Corporation (NYSE:DVN) was running five rigs in the Eagle Ford through its joint venture with BHP Billiton Limited (NYSE:BHP). The JV was developing 50,000 net acres in DeWitt County, one of the most economical areas of the prolific Eagle Ford play down in Texas. All of that acreage is fully derisked, with at least one producing well in each drilling unit. Devon also owns 32,000 net acres in the neighboring Lavaca County, which is less developed and less economical than its DeWitt position. In Q4 2015, Devon pumped out a net 111,000 BOE/d (54% oil, 24.3% NGLs) from its Eagle Ford asset.
Devon noted that the rough breakeven oil price required for Eagle Ford wells in DeWitt County is around $27/barrel, one of the lowest in the entire play. As that number is significantly higher in Lavaca County, Devon is focusing primarily on developing its JV acreage. In 2016, Devon and BHP plan to run two to three drilling rigs and one frac crew in the Eagle Ford for a cost of $200 million net to Devon.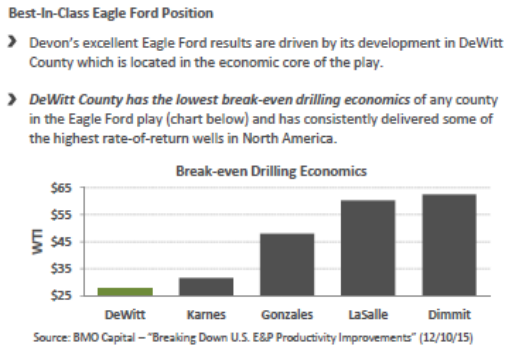 Source: Devon Energy Corporation Operations Report
Since acquiring its Eagle Ford position back in early 2014, Devon and BHP have been able to boost 30-day IP rates in DeWitt County from 1,120 BOE/d to 2,260 BOE/d by Q4 2015. Several of the joint venture's wells have exceeded that rate significantly, including the Rayes B 2H (3,640 BOE/d), Wagner B 8H (3,540 BOE/d), Wagner B 7H (3,320 BOE/d), Wagner B 9H (3,180 BOE/d) and Hartman A 11H (3,070 BOE/d). Devon's average 90-day IP rate in the Eagle Ford came in at 1,050 BOE/d, materially higher than many of its peers.
On the drilling speed front, Devon reported that it was able to drill 22.7 wells in DeWitt County per rig per year in 2015, up from 16.6 in 2014. That came in at 24.1 wells in Q4 2015. Faster drilling times and cheaper third-party rates enabled Devon to lower its completed well cost in DeWitt County by over 30% versus its 2014 peak to $6.5 million.
The combination of cheaper completed well costs and better well productivity greatly enhanced Devon's and BHP Billiton's drilling economics, creating an incentive to keep developing the JV's position in the current environment. Devon's LOE costs moved 23% lower last year versus 2014, with its Q4 2015 LOE coming in at $4.13/BOE (well below its 2015 average of $4.57/BOE). Another aspect boosting the partnership's returns is the ability to export condensate. On average, Devon exported 25,000 bpd of condensate in 2015, enabling the company to realize a pricing uplift of $3/barrel.
Due to the relatively thick and high quality nature of the Eagle Ford reservoir, Devon began testing out a staggered well lateral program in the Lower Eagle Ford during the second half of 2015. As you can see in the graph below, this may enable Devon and BHP to bring more wells online on their JV acreage. 15 wells are going to be drilled and completed in the southern, undeveloped portion of the DeWitt County position, with production results expected during the first half of 2016. The biggest thing to watch is whether the wells "communicate," or interfere with each other's production.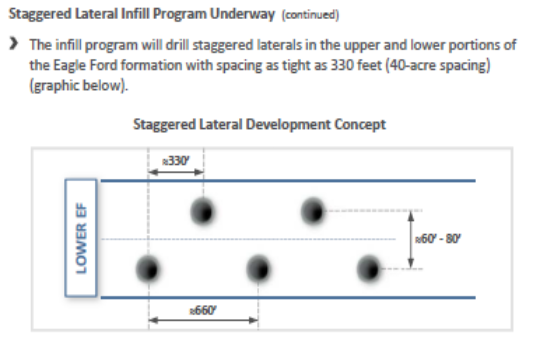 Source: Devon Energy Corporation Operations Report
If successful, Devon sees this lateral spacing strategy boosting its drilling inventory by over 200 locations. That would increase its portfolio to over 1,500 possible well locations, with room for additional upside through the delineation of the Upper Eagle Ford horizon and the future development of its Lavaca acreage.
Barnett shale
In a play that hasn't gotten much attention since surging natural gas production out of the Marcellus and Utica shales sent Henry Hub spiraling lower, Devon is testing its luck on horizontal restimulation efforts. This comes after Devon recompleted 140 vertical wells in the Barnett play, which like the Eagle Ford is located in Texas, last year. Devon was able to push down the recompletion costs to as low as $250,000 (cheaper than initially estimated), with the average per well uplift of 440 Mcf/d exceeding type curve expectations by 12%. At the end of 2015, ~60% of Devon's 1,900 legacy vertical Barnett wells had been restimulated.
With over 3,000 horizontal wells in the Barnett shale, Devon has plenty to work with. To start things off, Devon launched a 25 pilot well refrac program under the assumption each recompletion job would cost around $1.2 million and yield a 30-day IP uplift of 1 MMcf/d. Out of the 19 wells that had been online long enough to reach a peak 30-day IP rate (from its 25 well pilot program, which was boosted from its initial 15 well program), the average 30-day IP uplift came in at 1.1 MMcf/d, above its guidance. That is equal to a rough 340% increase in per well production and a strong sign that this program may have legs.
Refrac costs have also been coming in lower than expected, as recent refracturing jobs are coming in close to $1 million. Combined with large declines in its Barnett LOE and production taxes, which came in at a combined $1.07/Mcfe in Q4 2015 (down 14% quarter-over-quarter), Devon has enough of an incentive to test out refracking an additional six wells this year. However, with natural gas prices so low, Devon is holding off on moving towards full field deployment of its refrac program until natural gas prices recover.
Final thoughts
Devon Energy Corporation is sitting on a nice ~$3 billion cash pile pro forma for its equity raise, which added $1.47 billion to its $1.5 billion cash balance at the end of 2015. Cuts to its common dividend, workforce reductions, lower third-party rates and operational gains are helping Devon save $1 billion a year. Add in a 75% reduction in capital expenditures, which are guided to come in around $1 billion this year, and Devon's financial trajectory looks solid.
The upstream player has $350 million in debt maturing in Q4 2016, with the next maturity not coming up until Q3 2018, which will be easy to service as Devon deploys cash raised from its upstream divestitures to pay down debt. In another good piece of news, the Access Pipeline is expected to be sold off during the first half of 2016, enabling Devon to plug its potential 2016 outspend.
As Devon no longer faces a probable cash crunch, the company can camp, wait out the downturn, then strike while the iron is hot in the event of a pricing recovery. If oil prices recover, Devon Energy can ramp up its Eagle Ford drilling activity. If natural gas prices recover, Devon Energy can move forward with its horizontal well restimulation program in the Barnett shale.
Devon will continue to trade in tandem with West Texas Intermediate prices more or less, with an asymmetrical upside-downside profile (non-core asset sales, strong balance sheet, debt reduction, solid operational performance provides downside protection) offering investors a chance at outperformance during a recovery. Investors should consider Devon Energy Corporation, and if you want to read more about the company, check out its Powder River Basin and STACK operations.
Disclosure: I/we have no positions in any stocks mentioned, and no plans to initiate any positions within the next 72 hours.
I wrote this article myself, and it expresses my own opinions. I am not receiving compensation for it (other than from Seeking Alpha). I have no business relationship with any company whose stock is mentioned in this article.