Shares of BreitBurn Energy Partners (BBEP) are trading down 5.4% compared to last Friday when management announced that it had negotiated a short-term hold on its credit facility redetermination. The news, while initially slamming shares, seems to have been muted two days after the announcement but the fact remains that there's a great deal of uncertainty involved in this situation. In what follows, I will dig into the data and see whether management's move makes any sense and to see what the next steps are for the enterprise.
A temporary hold
On Friday, BreitBurn released an 8-K filing that stated that it had negotiated with its credit facility lenders a deal to delay the business's semi-annual redetermination by one month from April 1st to May 1st. What this means is that, despite the fact that lenders can tell the business twice each year how much it is willing to allow BreitBurn to have outstanding under its credit facilities, that permission has been waived by the lenders for exactly one month.
In exchange for this, BreitBurn has immediately stated that it is willing to let its capacity, until the borrowing base is decided in a few weeks, drop from its current level of $1.80 billion to $1.40 billion, representing a drop of $400 million. While this may sound like a nice chunk of change, we should keep in mind that the entity still has capacity to spare on the facility which, as of the end of 2015, stood at $1.23 billion. Assuming that lenders do take the $1.40 billion as acceptable on or before May 1st, this would imply excess borrowing capacity on BreitBurn's facility totaling $171 million, which will give the entity time for oil prices to recover between now and October of this year, when the facility will be up for another redetermination.
What does the future hold for BreitBurn?
All-in-all, seeing liquidity dry up is never a good thing but it's to be expected in the current energy environment. With oil prices down from more than $100 per barrel in 2014 to $36.64 per barrel as of the time of this writing, it's not feasible to expect lenders to have as much lenience as they had when the energy downturn began. The big question, though, is not whether a drop is warranted but, rather, whether a drop large enough to potentially bankrupt the business is warranted.
You see, in the event that lenders come back on May 1st and announce that the credit facility will be cut below the $1.23 billion limit currently outstanding, it would signal the start of a 6-month clock whereby management would need to come up with the difference between what is borrowed and what is allowed and pay that difference back to the credit facility lenders. If this is a small amount, it shouldn't be a problem but what would be a concern is if the difference is a large sum.
The reason behind this is that the amount of cash BreitBurn should generate this year is limited (though still quite high for the company's current market capitalization). In the table below, you can see just what the financial picture for the business looks like for each of the next four years with oil at $36.64 per barrel and natural gas at $1.936 per Mcf. During 2016, if BreitBurn were to continue paying its preferred distributions, the company's free cash flow would be roughly $169.65 million, while putting the distributions on hold (and allowing them to accrue) would generate cash flow of $186.15 million for the year (though this does not assume the modest amounts already paid).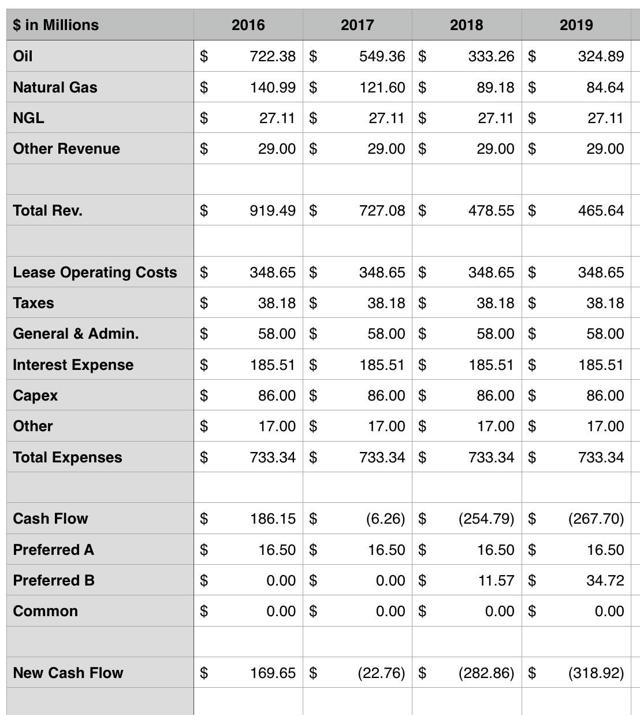 Click to enlarge
So far, the picture for 2016 looks positive and the picture for 2017 could certainly be worse, with cash flow expected to be between -$6.26 million and -$22.76 million. 2018 and 2019, on the other hand, would mark the end of BreitBurn's existence at the absolute latest because, as you can see in that table, cash flow will be significantly negative no matter how you look at it. The fact of the matter is that BreitBurn will need for energy prices to rise meaningfully by that point and/or will have to cut costs significantly.
This entire situation suggests that if the company's credit facility were lowered below the $1.23 billion limit currently being borrowed, it could scrape by (if it has been saving its excess cash flows during the first quarter) so long as its facility is not pushed down below the $1.08 billion mark. Of course, by scrapping capital expenditures this year that are estimated to be around $86 million, we could be looking at an acceptable level that is below $1 billion but that's certainly stretching things quite a bit and would be setting the stage for BreitBurn to go under in October if we don't see the energy market turn around in a meaningful way between now and then.
Takeaway
At this moment, I am a little perplexed regarding this move by management because, other than using it to negotiate with its credit facility lenders, I don't see much rationale since the company isn't helped or hurt by the strategy. For now, we will have to sit back and wait for the company's redetermination and its first-quarter results but we understand the limit that the business can handle should things head south and we also understand that there is some uncertainty-related risk associated with this as well, something investors should gauge very carefully before deciding whether or not to invest in BreitBurn. As for me, I am still holding my shares for the foreseeable future and do not have any intention to sell right now.
Disclosure: I am/we are long BBEP.
I wrote this article myself, and it expresses my own opinions. I am not receiving compensation for it (other than from Seeking Alpha). I have no business relationship with any company whose stock is mentioned in this article.
Editor's Note: This article covers one or more stocks trading at less than $1 per share and/or with less than a $100 million market cap. Please be aware of the risks associated with these stocks.