Last night, news broke that Allergan (NYSE:AGN) and Pfizer (NYSE:PFE) had agreed to mutually terminate their merger. This didn't really arrive as a huge surprise given all the commotion surrounding the new tax laws dealt by the US Department of Treasury on Monday to curb inversions. While the deal wasn't technically an inversion, the Democratic party made stopping the deal a top priority since it was announced back in November of 2015.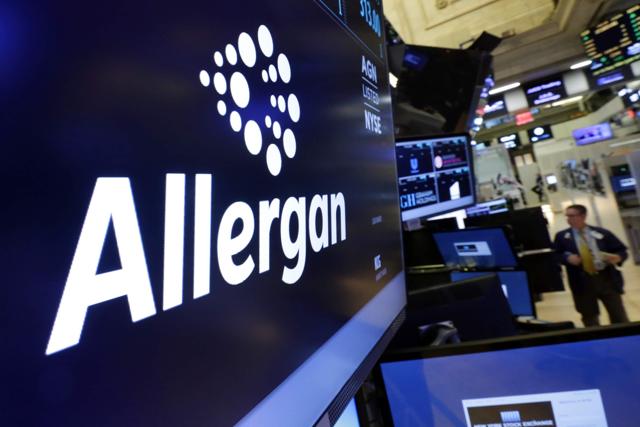 Pfizer will be paying Allergan a breakup fee of up to $400 million, which the two companies had agreed on during talks. Now that the two companies will remain separate entities and powerhouses in the biopharmaceutical industry, I'd expect M&A to pickup at a more rapid pace, considering the fact that Allergan had been an M&A powerhouse for the past five-six years. The deal between Teva Pharmaceuticals (NYSE:TEVA) and Allergan should close in mid-2016, and Allergan is set to score big on the completion of it. Allergan hit the jackpot in mid-2015 when the company agreed to sell its generics unit to Teva, at a time when premiums in the biotech and pharmaceutical industry were skyrocketing higher. I think that it's safe to say that the exact same acquisition would be worth much less today.
I think the comparisons between Allergan and Valeant (NYSE:VRX) are baseless. Sure, they're both rollups in a way, and both have fueled growth with bolt-on acquisitions. There's a stark contrast however in the amount of research and development the companies conduct, with Allergan's R&D being 15% of revenue generated versus Valeant's 3%. Therein lies the answer to the difference between Valeant and Allergan, and why one's horrific fate as of late will certainly not be the case for the other. Furthermore, Allergan's executive team led by arguably the best deal-maker in the industry, Brent Saunders, caps off a terrific operation that should lead to years of additional growth.
Being an M&A Powerhouse, The Deals Should Continue, Right?
Following the sale of its generics unit, the company should have most of its approximately $41.6 billion in debt diminished if they decide to put the $40.5 billion towards cleaning the balance sheet. Once the balance sheet is clean, I'd expect the company to continue its journey of acquiring small-mid (even larger if needed) pharmaceuticals to complement the various areas in its pipeline or commercial portfolio. I've compiled a list of the three most attractive targets for Allergan.
Target 1: Ironwood Pharmaceuticals
Ironwood Pharmaceuticals' (NASDAQ:IRWD) lead drug LINZESS (linaclotide) is approved for irritable bowel syndrome with constipation (IBS-C) and chronic idiopathic constipation (CIC). Ironwood was in a collaboration agreement with Forest Laboratories (now owned by Actavis/Allergan) for the commercialization of LINZESS. Ironwood reported $455 million in sales attributable to LINZESS for the full-year 2015, and the company claims that it's on its way to potentially raking in over $1 billion in sales by 2020. I think acquiring Ironwood makes perfect sense, given the fact that Allergan already receives a portion of LINZESS's sales. This acquisition obviously would be a relatively small one compared to the normal sizes of Allergan's acquisitions, but I think it would definitely impact the sentiment of the sector in a positive way.
Target 2: Synergy Pharmaceuticals
Continuing on with the theme of GI and specifically IBS, Synergy Pharmaceuticals (NASDAQ:SGYP) lead compound Plecanatide is currently being reviewed by the FDA for the treatment of CIC. The company is also testing Plecanatide in patients with IBS-C, with studies currently in Phase 3 testing. Why acquire both Synergy and/or Ironwood? Plenatide's structure as a compound helps differentiate it from LINZESS and may contribute to its best-in-class position as a simple and potent CIC and/or IBS-C treatment. LINZESS certainly won't vanish from the market if Plecanatide rolls around, and the familiarity of the drug in the GI space will keep it relevant for quite a while until Plecenatide starts eating up the market. The comparison between Linaclotide and Plecanatide can go much more in depth (and deserves to), so I'll save it for the future.
Target 3: Alkermes
Alkermes PLC (NASDAQ:ALKS) would certainly be a larger acquisition than Synergy or Ironwood, but for reasons that are well justified. The company's CNS portfolio is progressing at an impressive rate, and the recent launch of ARISTADA for the treatment of Schizophrenia is certainly exciting given the success of the various other drugs launched prior to ARISTADA. Alkermes suggests that the market for LAI (long-acting injectable) antipsychotics is around $2 billion at the present time, and with an impressive growth rate of above 20%, the company projects the market to be around $4 billion by 2020. The purchase of the company would also bring in VIVITROL, which brought in a little less than $150 million in sales in 2015 for the treatment of alcohol dependence. The company also has additional compounds in its pipeline for the treatment of multiple sclerosis and major depressive disorder as well. I think Alkermes would be a steal at current levels for Allergan to complement its CNS portfolio given the suppressed valuations at the present time.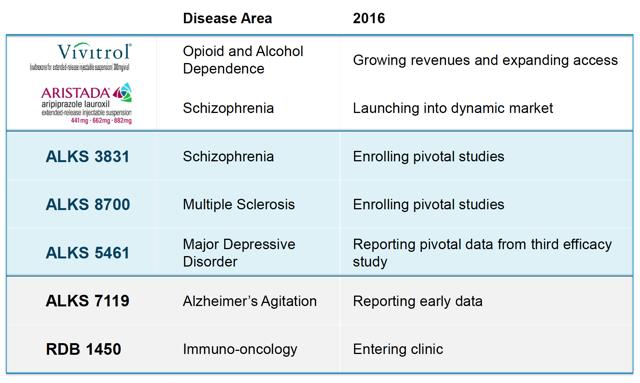 (Source: Alkermes Investor Presentation 2016)
Wrap-Up
As investors, it's frustrating to watch the government make up rules on the fly and retroactively apply them (indirectly or directly) at their discretion. US companies have always suffered from potentially enduring ridiculous tax rates unheard of around the world, and the government is shooting itself in the foot by neglecting to amend any laws. I believe Allergan possesses significant value as a standalone company and should continue to provide growth for shareholders in the near future. The knee-jerk sell-off from the news is unjustified and investors should take advantage of the opportunity to purchase Allergan at current levels.
Disclosure: I am/we are long AGN,SGYP.
I wrote this article myself, and it expresses my own opinions. I am not receiving compensation for it (other than from Seeking Alpha). I have no business relationship with any company whose stock is mentioned in this article.