Pre-orders are surging for the Tesla Model 3. In just a few days after the unveiling of the Model 3, over 300,000 pre-orders have been submitted. The surge in demand even caught Elon Musk by surprise. He half jokingly, half seriously tweeted. "Definitely going to need to rethink production planning…"
It is quite a feat for Tesla (NASDAQ:TSLA). Analysts were skeptical of the idea of an electric car given to the sharp decline in gas prices. Granted, consumers who are submitting orders will be in general more sensitive to higher prices at the pump, relative to buyers of the Models S and Model X. Still though, 180,000 pre-orders in 24 hours is very impressive. Tesla has only sold 107,000 cars in total since its existence. Not to mention the retail price for the Model 3 is $35,000. However, Musk himself said selling price with average option mix is around $42,000 a car in pre-orders. Thus in a few short days, Tesla has generated $12.6 billion in sales. A disclaimer though, the deposits taken are refundable. So buyers who are feeling buyer's remorse can ask for a refund.
Reliability
Do buyers of Tesla vehicles even care about reliability? So far, Tesla vehicles have lacked considerably in the reliability category. It even failed to get recommended by Consumer Reports due to its lacking reliability.
As part of our Annual Auto Reliability Survey, we received about 1,400 survey responses from Model S owners who chronicled an array of detailed and complicated maladies. From that data we forecast that owning that Tesla is likely to involve a worse-than-average overall problem rate. That's a step down from last year's "average" prediction for the Model S. It also means the Model S does not receive Consumer Reports' recommended designation."
The main areas of concern highlighted in the report are drivetrain, power equipment, charging equipment, center console, and body and sunroof squeaks, rattles, and leaks. Components such as climate control, steering, and suspension systems all received worse ratings compared to the previous year. What is more concerning is that complaints seem to pile up as the cars have aged. Yes, other automobile makers have problems as vehicles age, but Tesla only has a vehicle dating back to 2013, the car's first full model year.
Most of these problems still fall under Tesla's four-year/50,000-mile bumper-to-bumper warranty, so they are generally being corrected at no cost to owners. Yet there are costs to owners. When I am running late to work in the morning (per the usual), I expect to be able to hop in my car and speed off into the standstill rush hour traffic of the bay area. If my car is broken, it cost me valuable time at work as I wait for the Tesla technician to make their rounds. Tesla is moving into a new socioeconomic market. Model 3 drivers might not have the luxury of a backup car as the Model S or Model X might have.
Warranty Accounting
The fact is, for every repair Tesla has to make free of charge to fix issues in their vehicles it is nickel and diming its margins. I am sure Tesla reserves a percentage of every vehicle sale based off an internal algorithm and accrues for it in a warranty account. The accrual should take place in the same reporting period in which the vehicle sale is recorded. Therefore, the reporting period represents all costs associated with product sales, and therefore indicate the true profitability. You may wonder why not just recognize the cost when the warranty claim is made? The financial reporting under this approach would yield inordinately high initial profits, followed by depressed profits in later months, for as long as the warranty period lasts. My point here is investors should not fear reduced profitability in the future due to claims on warranties because Tesla is already accounting for them as vehicles are sold.
Addressing the Problem
Tesla has acknowledged it has a reliability problem. In a letter to shareholders Tesla is adamant on continuous improvement of its reliability:
Reflecting our philosophy of continuous improvement, we have not relaxed our pursuit of making the world's most reliable cars. The cost of first year repair claims on cars produced in 2015 was at about half the level of cars produced in 2014, and about one quarter the level of cars produced in 2012."
Tesla went as far as limiting the Model X production in January 2016 for a period of time to increase quality production standards. Musk states that Tesla is "already seeing improvement from these efforts and we are now significantly increasing our Model X production throughout the balance of the quarter. We anticipate approaching a Model X production rate of 1,000 vehicles a week in Q2."
Brand Vs. Warranty
It appears that its current reliability problem is not an issue for current, new, and future Tesla owners.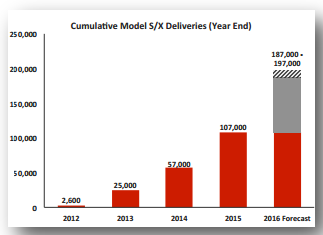 Sales of the Model S surged ahead in 2015 despite the reliability concerns. New Model S orders grew over 35% year over year in Q4, with growth in all regions. Tesla is confident the strong growth will continue. For a full-year 2016 outlook, it gave guidance on delivering 80,000 to 90,000 new Model S and Model X vehicles, representing accelerating growth over 2015 at the midpoint of the range.
Current Tesla owners are valuing a Tesla vehicle more for its superior performance, technology, safety, lower environmental impact and style than for its ability to be reliable and save money on fuel cost.
Mass-Market Ownership
As expressed before, the Model 3 is opening up Tesla to a new market. The base price of $35,000 is nothing to scoff at, but it is far away from the luxury price cars that have been purchased by its traditional buyers. I believe this market will make or break Tesla as a company. Billions of dollars of capital have been invested into this model. Any type of failure here would result in a disaster for the company. I think it is critical for Tesla to not deliver the Model 3 until reliability issues are fully addressed. The 300,000 pre-orders are from passionate Tesla-loving buyers who have been waiting to place their hands on the wheel of a Tesla-made vehicle once its price entered their budget, regardless if it works half of the time. They do not represent the mass car market buyer. The real fate of Tesla will be determined by the reviews of these owners and the reliability of the car. These 300,000 orders are meaningless if Tesla cannot attract more buyers and continue growth beyond the momentum of the launch of the Model 3. The mass car market buyer is very unforgiving - just look back at all the failed models of other automakers like General Motors (NYSE:GM) and Ford (NYSE:F). A strong start out of the starting gate is fruitless if one does not have the endurance to make it to the finish line.
Conclusion
Overall, I am bullish and long on Tesla. I believe in the short term, you will continue to see price volatility that might offer buying opportunities. Any significant pullback in the stock price, I would consider taking a position. I think the stock has tremendous potential over the next 5-10 years. Risks to this, however, are Tesla's ability to fix reliability issues and when car buyers hold Tesla to the same reliability standards as other automakers.
Disclosure: I/we have no positions in any stocks mentioned, and no plans to initiate any positions within the next 72 hours.
I wrote this article myself, and it expresses my own opinions. I am not receiving compensation for it (other than from Seeking Alpha). I have no business relationship with any company whose stock is mentioned in this article.