The Great Recession of 2008 and 2009 did many remarkable things to the economy, both in the United States and abroad. The effects are still being felt throughout the world as much of the major economies employ quantitative easing and even negative interest rates to provide a backstop. Here in the United States the FOMC and Janet Yellen constantly dangle interest rate hikes in front of the world creating an entertaining amount of turmoil in the markets. With the "threat" of rate hikes comes investors concerned with their security investments.
If you follow AT&T (NYSE:T) a popular concern is that interest rate hikes will derail these companies share prices. The logic is there, higher interest rates will increase the cost of debt and provide better returns on treasury offerings and their risk-free returns. Before the recession retirees were safely invested in treasury notes and bonds that yielded an incredible 5% or more, they had no reason to be invested in volatile securities. Sadly their 5% yield was slashed rapidly and investors could no longer purchase new bonds and notes at that yield and had to seek out replacement income.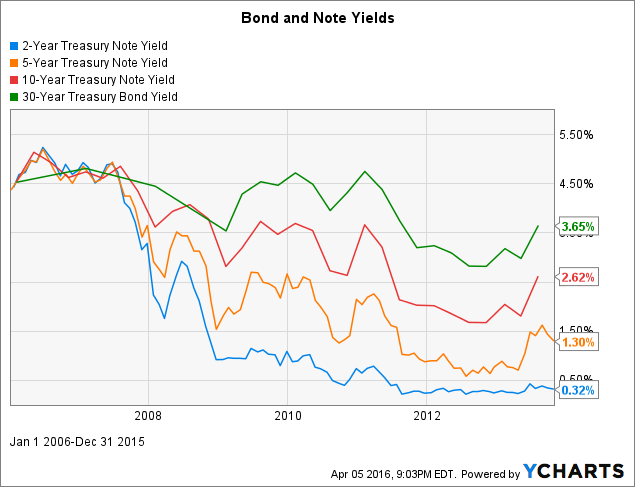 2-Year Treasury Note Yield data by YCharts
With a yield that didn't even meaningfully outpace inflation from the short-term products retirees and risk-averse investors had little choice but to venture into the stock market to put their money to work earning them income. While the treasury yields were crashing so were the share prices of even the most rock-solid companies such as Proctor and Gamble (NYSE:PG).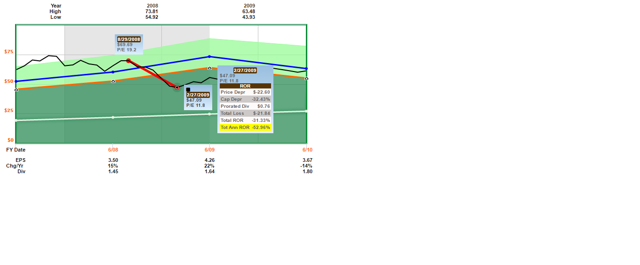 Click to enlarge
Fear was at an all time high in the markets as retirees and others seeking income had to allocate capital into the stock market. Retirees were between a rock and a hard place here, with treasury yields crashing as investors sought safety looking at the market only showed crashing share prices.
Jumping into the trading characteristics of AT&T prior to the recession and tracking it to the present gives a wealth of information on what we can expect. The table below makes it much easier to take in all the information.
| | | | | | | |
| --- | --- | --- | --- | --- | --- | --- |
| YEAR | DIVIDEND | HIGH PRICE | LOW PRICE | HIGH YIELD | LOW YIELD | EPS |
| 2006 | $1.35 | $36.21 | $24.24 | 5.5% | 3.7% | $2.34 |
| 2007 | $1.47 | $42.97 | $32.70 | 4.5% | 3.4% | $2.77 |
| 2008 | $1.61 | $41.94 | $20.90 | 7.7% | 3.8% | $2.82 |
| 2009 | $1.65 | $29.46 | $21.44 | 7.6% | 5.6% | $2.12 |
| 2010 | $1.69 | $29.56 | $23.78 | 7.1% | 5.7% | $2.29 |
| 2011 | $1.73 | $31.94 | $27.20 | 6.3% | 5.4% | $2.20 |
| 2012 | $1.77 | $38.58 | $29.02 | 6.0% | 4.6% | $2.31 |
| 2013 | $1.81 | $39.00 | $32.76 | 5.5% | 4.6% | $2.50 |
| 2014 | $1.85 | $37.48 | $31.74 | 5.8% | 4.9% | $2.51 |
| 2015 | $1.89 | $36.45 | $30.97 | 6.1% | 5.1% | $2.71 |
This highest yield that the company offered was in the darkest days of the recession when shares were trading hands at just $20.90. At 7.7% the yield AT&T offered was over 200 bps more than the best yield the treasury offered at it's highest point. The lowest yield was when shares were trading at a level we still have yet to see but are approaching slowly, still at 3.4% it was competitive with the treasury offerings. Supporting the price of the stock was the earnings in 2007, unfortunately the company was sold off during the recession despite the company earning a very respectable $2.82 in 2008. During this sell off it is safe to assume many investors flocked to the treasury offerings in order to protect capital. As earnings approach pre-recession highs and the company appears to be primed for growth with their recent DirecTV acquisition we can expect continued share price appreciation. What I find most interesting is that even when treasury offerings yielded 5% the company was trading at all time highs with a historically low yield (dotcom era boom and bust excluded). This simple data says a lot about investors and why AT&T is a perennial favorite amongst investors of all types.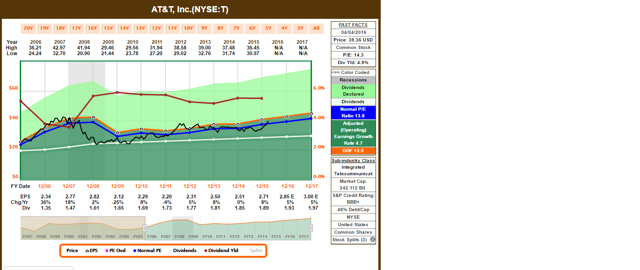 Click to enlarge
With the FOMC raising short term interest rates in December of 2015 a measly 25 bps to settle between .25%-.50% can we expect this to have a material effect on the share price? After looking at this basic data I'm not convinced. First we have to look at the pace of the hikes and so far the FOMC has been incredibly dovish thanks to the health (or lack of it) of the global economy. Even if the FOMC raised rates at a rate of 100 bps a year it would be about five years before we saw a return to 5% on short term rates. A lot has to go right for this to happen and all indications are a five year streak of interest rate hikes is highly unlikely. Any sign of weakness in the overall economy will send investors back into the treasury which will increase the premium paid and lower the overall yield forcing them back to the market.
On top of that, the company was trading at all time highs right after we saw an interest rate hike in 2006. It appears that so long as earnings are increasing along with the dividend then investors will remain with T. Speaking on the dividend, the company increased it through the recession and through the share price crashes. Income investors can rest easy knowing that while they could no longer get 5% from bonds and notes from the treasury this company was paying them and giving them raises. Those that are after income typically don't care much for short term price action unless it gives them a good chance to pick up more shares. The bond-like returns and relative safety of T coupled with the chance for capital appreciation is likely to retain a good number of income seeking investors and prop up the share price.
Lastly, the very nature of interest rate hikes implies that the economy is doing well. If the economy is actually doing well with unemployment low, job creation high, and consumer spending high one can only assume AT&T would benefit overall. If investor sentiment and confidence is high what reason do they have for running to the treasury to stash their cash? I think we saw this at the December hike, though that ended up being short lived.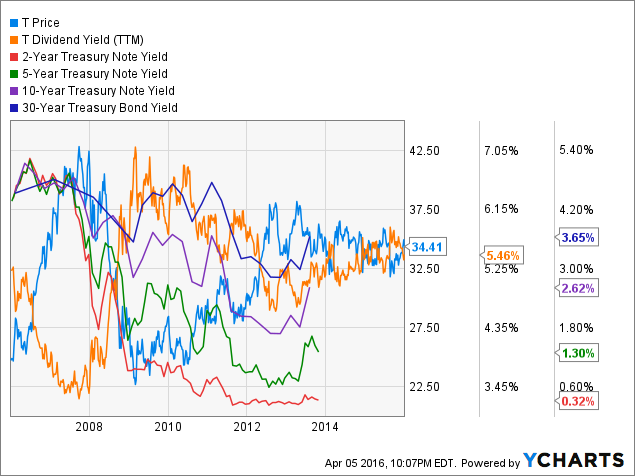 In conclusion I don't really feel like short term interest rate hikes will have a materially negative effect on the company. Until treasury products offer a yield competitive with T income investors will likely stay put. The company has done a great job earning the trust and confidence of investors. If short term rates are to reach pre-2007 level the FOMC needs to pick up the pace significantly. The road back to 5% will be fraught with challenges and I don't foresee the stars aligning for that move to happen. Even then, I'm not convinced and am open to other ideas. There is a lot that goes into this and I am looking forward to the conversation.
Disclosure: I am/we are long T.
I wrote this article myself, and it expresses my own opinions. I am not receiving compensation for it (other than from Seeking Alpha). I have no business relationship with any company whose stock is mentioned in this article.