After dropping nearly 10% during the quarter, markets certainly have staged a furious comeback to close the quarter positive, perplexing the market participants, to say the least. Oil has rebounded, gaining nearly 45% from the lows seen on Feb 11th, and the prevalent schizophrenia towards commodities has abated. 'Group-thinking' that dominated investor views noted at the beginning of the year remains at play, although in an opposite direction this time. With the first quarter behind us now, the timing couldn't have been more apt to revisit the unfolding macro developments and their repercussions on the markets going forward.
One major macro underpinning fueling the volatility in the global financial markets of late has been the divergent central bank policies. As the Fed moved towards 'normalization' after a decade of easing, ECB lowered deposit rate further to minus 0.4%, and BOJ surprised investors by adopting a negative interest rate strategy earlier this year. Although the Fed officially raised interest rates in Dec. 2015, I'd argue this rate hike got priced well before the actual rate hike via Fed posturing since 2014. Consequentially, the dollar surged over 20%, something it has done only three times since 70s.
Click to enlarge
Figure 1: Graph taken from FRED
Rising dollar took a toll on corporate sales and profits, squeezing nearly as much as $93B or $10 per S&P 500 as illustrated below, while another unintended consequence has been un-welcomed tightening in the dollar bloc nations via the dollar peg, especially China. Most recently, however, against the backdrop of coordinated action among central bankers coming out of G-20, the dollar has pared back some of its gains, losing 5% so far this year.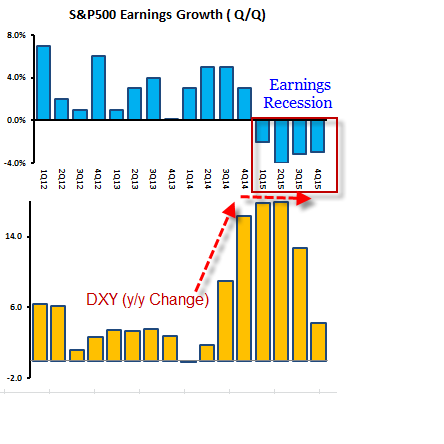 Figure 2: Raw Data taken from S&P and FRED
Notably, USD has now fallen below its 200-day moving average as this correction picks up steam. We note, in the table below, the dollar historically has experienced peak to trough decline of 20% on an average basis, implying Dollar Index ($DXY) at 90ish - another 5% lower from current levels is certainly in the cards or at least appears priced in the market's expectations.
| | |
| --- | --- |
| Dollar Peak | Peak-to-Trough |
| Q2-76 | 17.4% |
| Q3-81 | 15.0% |
| Q1-85 | 35.0% |
| Q2-89 | 15.0% |
| Q3-93 | 17.0% |
| Q4-97 | 12.0% |
| Q4-00 | 25.0% |
| Q1-06 | 16.5% |
| Q1-09 | 26.0% |
| Median | 19.9% |
A natural beneficiary of falling dollar is commodities, and oil, in particular, has risen by 45% in a very short time scale. I believe, we'll see a repeat of last year's January-May rally which saw oil prices rise by 50%, from $45/bbl to $70/bbl. The current rally has produced a similar effect and stands on equally fragile foundations regarding the fundamentals of supply and demand.
What has continued to amaze me is a 'production-freeze', the equivalent of a 'cut-back'. Although all the major producers are proposing a freeze, nobody has so far proposed a cut back, which suggests 'business as usual' scenario.
In my opinion, participants have taken this surge in oil prices as a reflection of apparent 'demand', which under a world free from stimulative monetary policies is a key driver of pricing. So on a long-term basis, I remain bearish on oil, but I continue to respect the cyclical gyrations oil historically has exhibited, as illustrated in the chart below. And, if history does indeed rhyme once again, $45-50 price levels in the near-to-intermediate term should be surprising.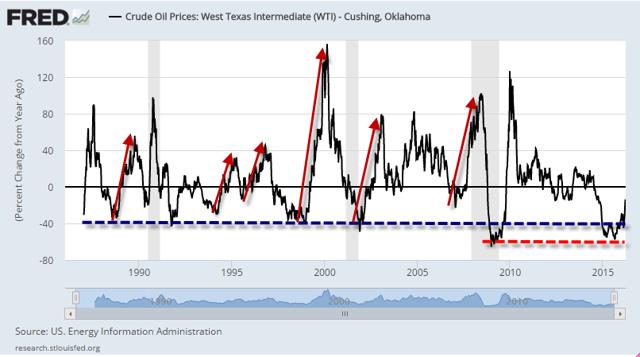 Click to enlarge
Figure 3: Graph taken from FRED
This speed of this change, however, is what I fear will feed into an illusion of aggregate demand growth pushing inflation expectations higher, which could potentially force the central bankers on a divergent path yet again. Global markets witnessed an oil glut during the 80s primarily caused by falling demand following the 1970s' energy crisis. The price of oil after peaking near $35/bbl fell below $10/bbl by the spring of 1986. As the oil prices (colored black in the chart below) rebounded, average hourly earnings (pink), CPI (orange) and PCE (blue), after stabilizing for the most of 1986, accelerated to the upside, and bond market reacted in unison with yields rising swiftly.
Fast forward to 2016, we are seeing very similar patterns unfold, as these metrics have started to accelerate to the upside without accounting for the rebound noted since the Feb of this year in the oil prices. PCE now sits near 4% y/y, average hourly earnings at 2%, while CPI at 1%.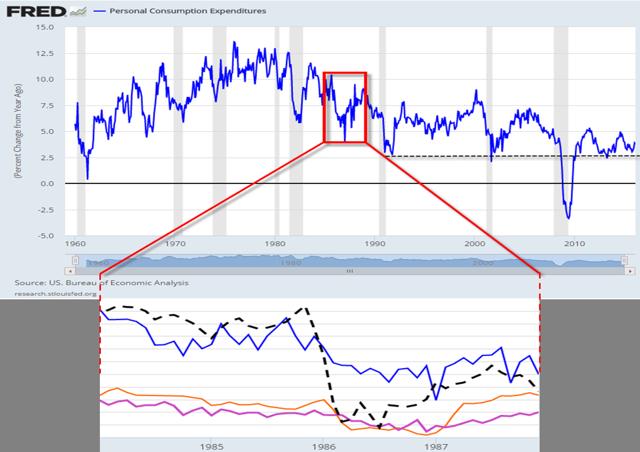 Click to enlarge
Figure 4: Graph taken from FRED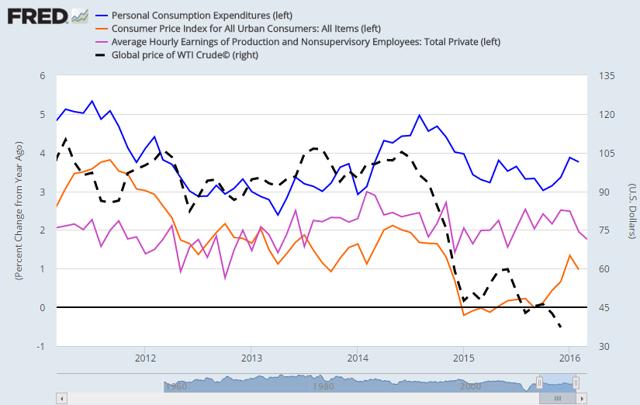 Click to enlarge
Figure 5: Graph taken from FRED
So far, equity markets have welcomed the Fed putting further increases in US interest rates on hold after fears of a slowdown in China or looming Chinese devaluation have rattled investors worldwide. Despite the dovish hold from the Fed, I believe, there is an asymmetric risk with inflation overshooting above Fed's mandated target, and it's becoming hard to square with the fact that Fed officials are keeping their inflation projections unchanged.
If the above-referenced metrics continue their upward trajectory, we fear the Fed will be forced to raise interest rates against their will to preserve their credibility in the global financial markets.
Disclosure: I am/we are short SPY.
I wrote this article myself, and it expresses my own opinions. I am not receiving compensation for it (other than from Seeking Alpha). I have no business relationship with any company whose stock is mentioned in this article.
Additional disclosure: Short via June 2017 puts