Over the past year, the Dry Bulk Industry has tanked due to a slowdown in coal and iron ore imports and an oversupply of ships in the industry. Some of the once high-flying companies are now sitting at fractions of their asset values.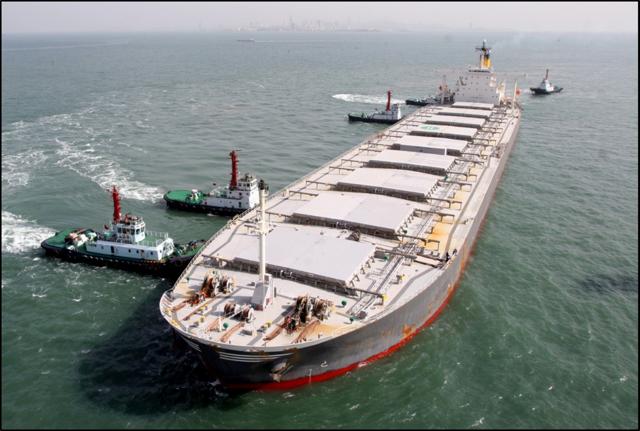 Click to enlarge
This series will attempt to break down the quarterly results on a per ship and per DWT basis. The intent is to break the results down into like units to compare productivity and health of the companies.
The companies looked at are DryShips, Inc. (NASDAQ:DRYS), Diana Shipping Inc. (NYSE:DSX), Genco Shipping and Trading Limited (NYSE:GNK), Golden Ocean Group Limited (Nasdaq: GOGL), Navios Maritime Holdings Inc. (NYSE:NM), Navios Maritime Partners L.P. (NYSE:NMM), Safe Bulkers (NYSE:SB), and Star Bulk Carriers (NASDAQ:SBLK).

Click to enlarge
Before diving too far into this, there are a couple of caveats.
#1: Not all of the companies are completely involved in the Dry Bulk movement sector.
#2: Each of the companies has a different strategy of employing their fleet that have benefits and drawbacks. The two primary means of employing the fleets are Voyage Charter and Time Charter.
Voyage Charter: In a Voyage Charter, a company hires a shipper to move its product from one location to another. The charterer pays the shipper on a per-ton basis and the shipper pays the port costs, fuel costs and crew costs. Most of the voyages are typically one way with a shipper moving a load of oil from the Middle East (or another Oil producing country) but have to return empty on their dime.
Time Charter: In a time charter, the ship is chartered for a specific period of time and the charterer will decide the ports and routes. The charterer will pay for all fuel, port charges, commissions, and a daily hire to the owner of the vessel.
Revenue
Rates have slumped over the past few years, but they hit historic lows at the end of the 4th quarter before sinking even lower.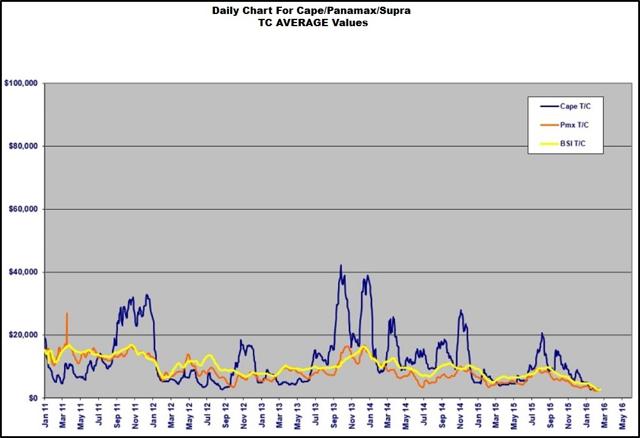 Click to enlarge
(Source: DryShips website)
With those lows, revenues were generally lower from the previous quarters.

Click to enlarge
When the revenue is broken down, NM and NMM came out on top on both a per Ship and per DWT basis with $1.9M per ship and $18.62 per DWT for NM and $1.7M and $16.38 per DWT for NMM. GOGL posted a strong $1.2M per ship and $10 per DWT. With as much trouble as DRYS is in, it still posted over $1M per ship and $11 per DWT. On the low end of revenue was GNK with $500K per ship and almost $7 per DWT.

Click to enlarge
Earnings Comparison
On an earnings comparison, both NM and NMM were the only two companies that posted positive EBITDA with $16M and $35.7M respectively. The negative EBITDA for SBLK was mainly inflated due to non-cash write offs from selling several vessels and the losses charged from them, but would have posted positive EBITDA of $6.6M.

Click to enlarge
Conclusion
Looking strictly at revenue and earnings, NM and NMM were the winners this past quarter. SBLK would have posted respectable numbers if not for the one time write off, but that may help cure future woes. DRYS's revenue and earnings were actually in line with the rest of the industry, but has other issues that will be explored as the results are compared.
Disclosure: I/we have no positions in any stocks mentioned, and no plans to initiate any positions within the next 72 hours.
I wrote this article myself, and it expresses my own opinions. I am not receiving compensation for it (other than from Seeking Alpha). I have no business relationship with any company whose stock is mentioned in this article.
Editor's Note: This article covers one or more stocks trading at less than $1 per share and/or with less than a $100 million market cap. Please be aware of the risks associated with these stocks.