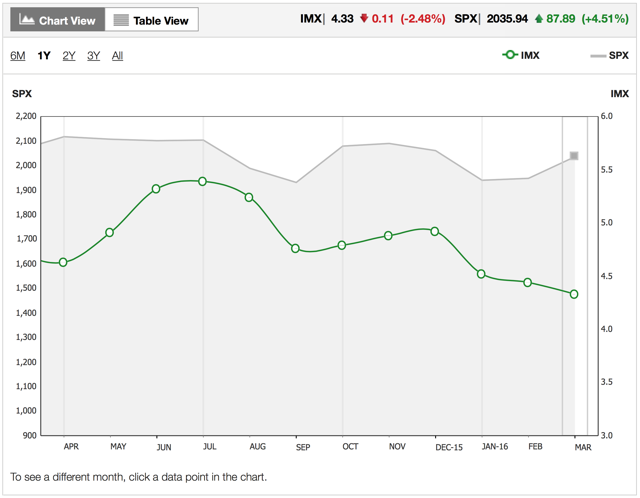 Click to enlarge
Retail traders tracked by TD Ameritrade remained cautious in March, cutting back on their equity market exposure for the third month in a row, according to the Investor Movement Index, or the IMXSM.
The IMX decreased to 4.33 in February, marking a new 52-week low. Last month, we posed the question of whether the market's then fledgling recovery would lead to investors dipping their toes back into stocks. The market continued to recover in March, but retail traders were careful not to venture in too quickly, possibly because last fall's rally ended so abruptly, but also, perhaps because they were taking profits during the market uptrend.
In the accompanying video, you'll get my take on the March IMX reading and learn which stocks TD Ameritrade clients were buying and selling during the month. I'll tell you this much: Entertainment and technology names remain popular, and some retail investors are trying out the energy sector once again. Maybe they're hoping the recent rally in crude oil from February's decade lows could be a sign of economic vigor. We'll see.
Remember, this sophisticated index is a tool that lets you see what hundreds of thousands of actual traders were doing in March across all markets. While retail traders didn't get bullish enough to dive back into stocks last month, it's worth watching to see what they'll do in April if strength in equities and low volatility continue.
Watch this video to get my take on the March IMX.
Click here for a copy of the report.
Past performance of a security, strategy or index is no guarantee of future results or investment success. Investing in stocks involves risks, including loss of principal. Commentary provided for educational purposes only.
Historical data should not be used alone when making investment decisions. Please consult other sources of information and consider your individual financial position and goals before making an independent investment decision.
The IMX is not a tradable index. The IMX should not be used as an indicator or predictor of future client trading volume or financial performance for TD Ameritrade.
Options involve risks and are not suitable for all investors. Please read Characteristics and Risks of Standardized Options before investing.
© 2016 TD Ameritrade IP Company, Inc. TD Ameritrade, Inc., member FINRA/SIPC.