What is good about commodity trading is that commodities have no profits and business risk. Earnings are subject to strong volatility, while business risk might prove to be large even for the well-known companies. Moreover, additional uncertainty, which in most cases is bad for the business, might eventually benefit commodity prices. This is especially the case when the market experiences an unexpected supply shock.
Commodity futures do not grow in value just because the investor sentiment is improving over the cycle of a bullish trend. As the world is experiencing bubble levels in the largest stock markets, solid fundamentals are becoming a scarcity among all asset classes. Meanwhile, as the long-lasting commodity bear market is starting to show signs of hope for the bulls, investors who have not yet given up searching for solid fundamentals might find themselves a shelter.
As opposed to stocks, commodity prices are primarily a function of supply and demand, which at this point, seems to be more straightforward and less uncertain than distinguishing between the real and fake stock market rallies. It is becoming a trader market, and even though I have been successfully using inverse biotech and emerging market ETFs to profit from the corrections with a small part of my portfolio, I am gradually shifting my focus to areas where solid fundamentals are still present (or are more likely to improve).
Where fundamentals matter
Nevertheless, it is important to remember that even the seemingly obvious supply and demand game might easily become a riddle. After carefully watching coffee since autumn, I have come to a conclusion that, even though the fundamentals are getting stronger, coffee prices will most probably only reverse their downtrend when the Brazilian Real ceases to fall.
Another relevant conclusion is that it might be valuable to focus on particular commodities, demand for which is less cyclical, and preferably, continues rising. An example one may come up with is sugar, and it may actually become a great example over the next year, it turns out. As opposed to coffee, where the fundamentals are only improving, difference between supply and demand in the sugar industry is widening at an alarming pace.
The industry is forecast to experience a supply shock of a scale which has been historically enough to drive sugar prices much higher than they are now. Despite the fact that prices seem to have bottomed in September 2015, the 30% move higher is not enough to compensate for the supply issues the industry is expected to have.
El Niño
After 5 consecutive years of global production exceeding the demand, a major supply deficit is expected to enter the sugar market. Droughts brought by El Niño have a negative impact on production in India, Thailand and China. The impact on the largest producing countries is summarized below. It is important to note that the real outcome of the supply-demand game is quite uncertain, as there is a wide range of production estimates and no consensus regarding the El Niño's final impact.
Even though the real story remains to be seen, increased volatility is what sugar prices will definitely experience this year. My bullish thesis is based on the fact that a supply deficit of such magnitude is capable of driving the sugar prices much higher before the world learns the exact situation persisting in the market. Even though the fundamentals are mainly bullish for the commodity (and so am I), this article outlines the less-discussed factors that might undermine the bullish thesis for sugar this year.
Brazil
The situation in Brazil, the world's largest sugar producer, is quite different from the one faced by the other major producers. It has not experienced serious production disruptions this year, and there are reports of usual crushing season being extended into March, which is well beyond the usual stop date. On March 16, 2016, NASDAQ quoted the Hightower report:
"There had been talk that several Brazilian mills would start up their crushing operations for the upcoming crop late this month due to a potential capacity issue for what is widely expected to be a record-sized crop."
Indeed, as the world is experiencing higher prices, producers should do their best to profit from the opportunity. The current conditions are favorable for producers from the North-Eastern part of Brazil to export sugar to the EU.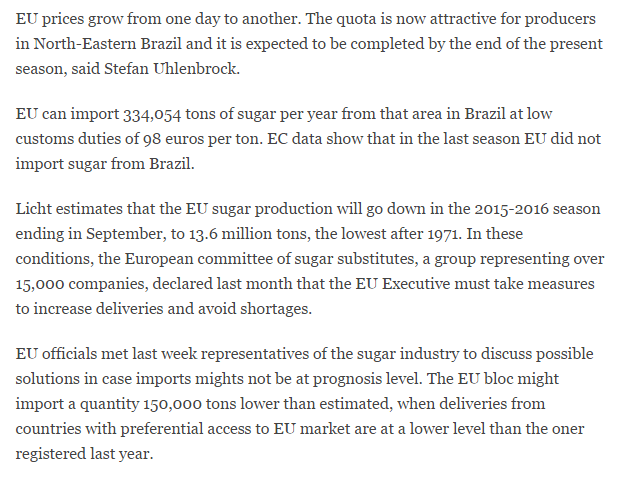 Source: ACTMedia (2016).
In fact, Brazilian production benefited from the weather conditions. A strong El Niño has resulted in an increased amount of rainfall in most of the Center South region of the country, the country's main cane belt (90% of domestic sugar output). The region is forecast to produce 33.15 million tons of sugar in the new crop, 7.6% higher relative to the latest crop, according to Agroconsult. Certain mills are already crushing the proceeds from the next crop.
Reporting that mills are even increasing early reopenings at an alarming pace, industry group Unica said that mills of the Center South have already crushed 5.26 million tons of cane in the first half of this month, which is a significant increase from just 292,600 tons a year before. It also predicted the number of mill re-openings to increase by 45 by the end of March. The question is, where will all the excess production go?
Ethanol vs. sugar
If the Brazilian Real appreciates further, there will be a higher possibility that a larger part of the cane will be used in ethanol production. Currently, Agroconsult estimates Brazil's center-south cane production to represent a mix of 41.7% sugar and 58.3% ethanol. The possibility of this outcome is challenged by the fact that there is already an ethanol oversupply in Brazil, however. According to Bloomberg, Brazilian ethanol producers have been struggling since the country's ethanol boom in 2008. As part of efforts to control inflation, authorities have capped fuel prices, and approximately 70 ethanol and sugar mills have filed for bankruptcy 2011.
Unica states that 70.5% of additional cane is turned into ethanol, supply of which is "much higher than expected," as it has increased 8-fold. Another argument to consider is that ethanol can directly compete with gasoline in case the latter increases in price in Brazil, and gasoline prices have increased by more than 26 percent since September in the country, according to Trading Economics.
At this point, it is difficult to conclude whether the ethanol production is going to decrease or not. What is more clear, however, is that the world might receive a plenty of additional sugar supply in case the increase in prices makes it more attractive for Brazilian producers to export sugar. On the other hand, in case the Brazilian Real continues appreciating, sugar prices will not hesitate to take the elevator up.
Another argument in favor of ethanol production decrease in Brazil is that ethanol prices are getting lower in both the domestic and world markets (with Brazil being the second largest producer after the U.S.). On February 29, 2016, EIA reported that "New records were set in 2015 for U.S. ethanol production and blending. According to the EIA data, U.S. ethanol producers churned out 14.81 billion gallons of ethanol in 2015, while refiners and blenders integrated an unprecedented 13.69 billion gallons into the U.S. gasoline supply. The industry's monthly average output in December 2015 also crested the 1 million-barrel-per-day mark for the first time in history. Meanwhile, recent U.S. Environmental Protection Agency (EPA) data show that historic output levels of corn ethanol were primarily responsible for the generation of a record 14.83 billion renewable fuel RIN credits, which are used to oil companies to demonstrate compliance with the Renewable Fuel Standard (RFS)." Higher oil prices might result in a higher demand for ethanol, but I would expect crude not to trade above $40 for prolonged periods over the next 3-6 months.
Another recent development that is important to mention is the global shift away from coal, which is currently expected to have a strong positive impact on Brazilian biomass pellet production and cane producers in total.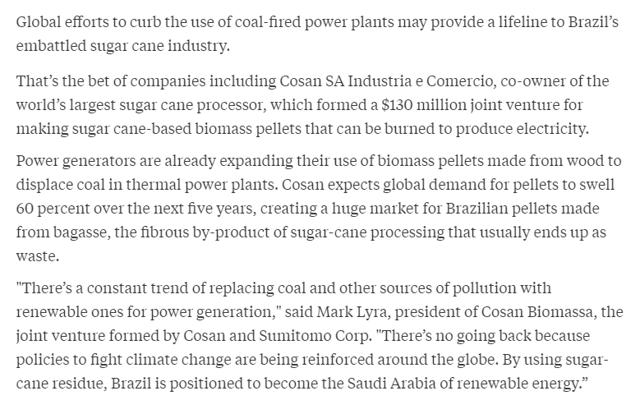 Source: Bloomberg (2016).
While the statements above might sound overly optimistic, it is important to consider the importance of this development for the long run. Pelletized sugar cane biomass is a low-carbon alternative and might represent significant long-term potential, with Japanese imports more than doubling last year. Nonetheless, it is most probably too early to expect a strong impact on the short-term dynamics of the Brazilian sugar exports.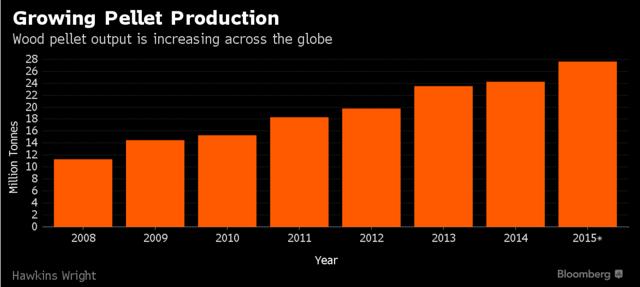 Source: Bloomberg (2016).
Due to the above-mentioned facts, it would be risky to expect lower sugar exports from Brazil this year. Nevertheless, the possibility of a further Real appreciation might undermine the unfavorable impact higher exports may have, especially when expectations of lower production in other major producing countries are taken into account. Another argument against a Brazilian oversupply is that sugar stocks in Brazil on February 29 were 19% lower y-o-y at nearly 4.7 million tons, according to the data from the agriculture ministry.
All eyes on the Brazilian Real
Here is the 5-year performance of the Brazilian currency relative to the USD as represented by WisdomTree Brazilian Real ETF (NYSEARCA:BZF). The political situation that is currently present in the country leaves room for any scenarios, but the overall market sentiment seems to be more or less bullish on the currency at the time being.
BZF data by YCharts
Sugar prices, as represented by iPath Bloomberg Sugar Subindex Total Return ETN (NYSEARCA:SGG), have demonstrated a notably strong correlation with the Brazilian currency of late. Wherever the Real goes, sugar prices will be mainly expected to move in the same direction.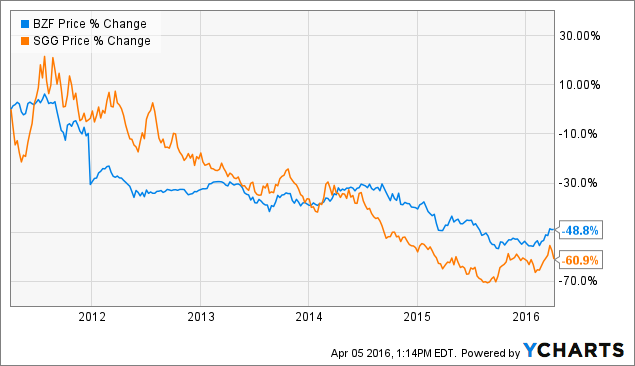 BZF data by YCharts
Is it possible to forecast the Real's short-term movements with certainty? No, definitely not. However, of note is the fact that the currency is demonstrating a certain degree of stubbornness while moving further away from its recent bottom despite all the political and economic turmoil. Even though one should be quite skeptical on the Real's ability to sustain its strong uptrend given the political uncertainty, the question that remains is, how much lower can it go? At the same time, further weakness in the dollar (NYSEARCA:UUP) might benefit the Brazilian Real in the near term.
This SA article provides a thorough analysis on the near-term performance of the currency.
To sum up, Brazilian sugar production will most probably benefit from the weather conditions this year. Rabobank expects the Center South region to produce 34 million tons of sugar this year, +10% y-o-y. Even though there are (as noted above) multiple factors affecting the Brazilian sugar supply at the moment, it is the Brazilian Real that has the most power. The direction sugar prices will go in if the currency depreciates further is impossible to determine with certainty, but the outlook would be rather pessimistic. It can be concluded, however, that sugar prices have all chances of increasing should the currency rise or at least stay at the present levels.
The potential risks might be expressed in the possibility of Brazil oversupplying the market in case the production becomes really sweet indeed. Nevertheless, this equation has quite many variables, and a possible appreciation of the Real might discourage producers from exporting, thus driving the world prices higher. In addition, an increased amount of rainfall might decrease the sugar content of sugarcanes as it did in 2011 after the strong El Niño of 2009 (sugarcane growth period lasts approximately 9-17 months).
India
Sugar production and planting in India, the world's second largest producer, has been hit by below-average rainfalls this year. Due to a lower amount of cane to crush, only 215 mills were operating as of March 31, 2016, compared with 366 a year before. The Indian Sugar Mills Association expects this marketing year's (October-September) production to account for 26 million tons, 8.13% lower y-o-y. Current production (as of March 31, 2016) stands at 23.7 million tons, approximately 4.44% lower than in the previous year. Nonetheless, the organization notes that this year's production nearly equals total domestic consumption, and the current season has been opened with a quite high opening stock totaling 9.1 million tons.
By the beginning of the next season, it expects inventories to come down to 7.5 million tons, and the association is not too pessimistic regarding the country's future exports: "…Very comfortable at about 7.5 MT and, therefore, there will be enough sugar to not only take care of the domestic requirement for the whole year, but will also leave a reasonable opening balance for 2017-18 marketing year."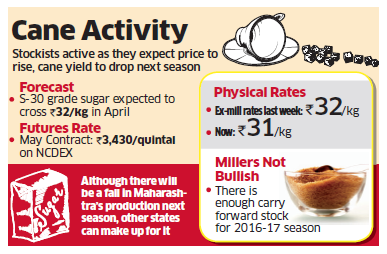 Source: The Economic Times (2016).
While domestic prices have been rising for some time, creating additional physical demand and incentive to increase sugar inventories on the expectations of higher prices, Indian millers are clearly not as bullish as traders are:
Ashok Jain, president of Bombay Sugar Merchants' Association: "The market will continue to see upward trend and price of S-30 grade sugar will cross Rs 32 per kg in April."
Sanjiv Babar, managing director of Maharashtra State Co-operative Sugar Factories Federation: "We will still have enough carry forward stock of sugar for 2016-17 season. Although there will be a fall in Maharashtra's sugar production next season due to drought, other states can make up for the fall."
Lower production from Maharashtra and Karnataka regions is expected to be compensated by higher production from U.P. and Tamil Nadu. However, according to the Indian Sugar Mills Association, as of March 31, 2016, production figures are as follows:
Maharashtra: 8.2 million tons vs. 9.36 a year before (-12.39% y-o-y)
Karnataka: 4.016 million tons vs. 4.247 million tons a year before (-5.44% y-o-y)
U.P.: 6.57 million tons vs. 6.34 million tons a year before (+3.63% y-o-y)
Tamil Nadu: only 0.8 million tons vs. 0.753 million tons a year before (+6.24% y-o-y)
Even though the final production figures might strongly differ from the March data, the current production decline in excess of 1 million tons might suggest a negative impact on Indian sugar inventories if the trend continues, and it certainly sounds more bullish than the millers' take on the market. However, the source of producers' pessimism comes from the fact that sugarcane acreage in U.P. and Tamil Nadu is expected to rise strongly next year.
There is no consensus among the producers either, as Balrampur Chini Mills Ltd., the second-biggest Indian sugar producer, is bullish on the commodity. "Considering the demand-supply scenario, the trend is expected to be firm for sugar prices for 2016-17," the company said.
Despite the falling production, India exported 1.15 million tons during the October-March period, and is generally expected to export 1.9-2 million tons of sugar this year, which is an increase of approximately 80% over the previous year.
Meanwhile, worries associated with domestic sugar prices might force the government to rethink its export policy. The Economic Times writes, "People familiar with the developments in the industry told ET that authorities are concerned about the current import and export policies, which offer incentives for exports but discourage imports, with a duty of 40%. The central government may consider withdrawing the subsidy of Rs 45/tonne on sugarcane, which is linked to mandatory sugar exports."
Falling sugar inventories might negatively impact Indian sugar fundamentals next year, but expectations of higher exports clearly undermine the bullish thesis. The disagreement between the opinions leaves much room for uncertainty, and the fact that the current prices rely on the forward-looking figures increases the possibility of a strong mismatch between the expectations and reality, which might fuel both upside and downside price movements. However, the Indian fundamentals are mainly in favor of sugar prices going higher over the next year, as the facts demonstrate that production is falling, whilst expectations suggest that the future supply will be strong enough to keep the prices from rising too much.
Thailand
In Thailand, cane output is expected to fall below 100 million tons, the lowest in 4 years. According to the Thai Sugar Millers Corp., sugar production in the first 91 days of the current season accounted for 7.19 million tons vs. 8 million tons a year before.
Meanwhile, according to Boonthin Kotsiri, production director at the Office of Cane and Sugar Board, Thai sugar cane production is expected to fall below 95 million tons both this year and the next. "Farmers can't grow cane. There's no water," he said. Reuters emphasizes that certain sugar farmers from the central Thai province of Ratchaburi reported that they have lost 20-30 percent of their output this year due to the drought, with expectations for the next year's output diminishing as well. In addition, sugarcane became less sweet as a result of dry weather conditions, and more sugar cane is now needed to produce the same amount of the product. The country's 2015/16 exports are expected to decline 20.23% to 7.1 million tons.
Forecasts
F.O. Licht currently expects the 2015-16 world production of sugar to total 171.1 million tons, down by 5.2 million tons from its December estimate, creating a supply deficit of 7.2 million tons.
The International Sugar Organization forecasts the 2015/16 global supply deficit at 5 million tons.
Green Pool Commodities estimates the world supply deficit at 6.648 million tons.
Rabobank forecasts a global supply deficit of 6.8 million tons this year.
Datagro has raised its deficit forecast from 3.87 to 4.37 million tons.
FC Stone has increased its deficit forecast to 7.0 million tons from the initial estimate of 5.6 million tons.
Platts Kingsman has upped its deficit forecast to 7.62 million tons from the previous estimate of 5.14 million tons.
As of November, USDA forecast the 2015/16 global sugar production and consumption at 172,146 and 172,768 million tons, respectively, which is worse than its initial May estimate of 173,405 (production) and 173,413 (consumption) million tons.
History of USDA estimate revisions
A paper by Stephen Haley from the Economic Research Service (published by the USDA in 2013) studied the influence of Brazilian costs of production and world surplus/deficit measures. I am focusing on one particular table from the report, as I am drawing a connection between the USDA estimate revisions and the sugar price performance. The USDA will publish its next sugar report in late May.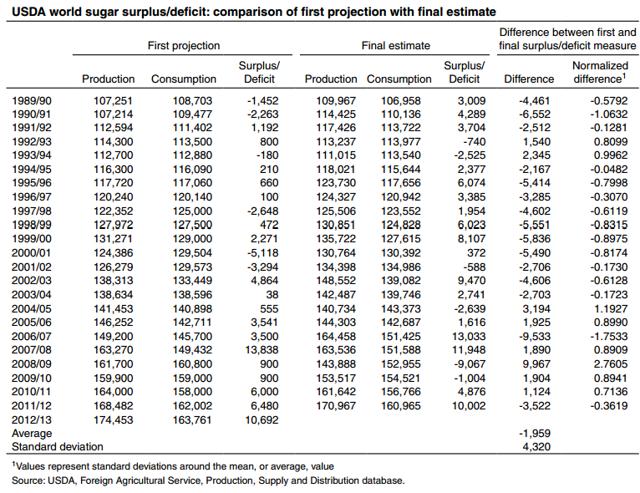 Source: The Influence of Brazilian Costs of Production and World Surplus/Deficit Measures by Haley, S. (2013). Deficits are represented by negative numbers.
The history clearly demonstrates the unpredictability of sugar prices. The tables below demonstrate USDA's yearly surplus/deficit estimates and sugar price charts during the corresponding years. Please note that the chart pictures have been centered and thus might not always form a one long-term chart since I aimed to emphasize the price movements during particular years. As it can be seen, one cannot always predict the sugar price movements using the simple demand/supply logic.

Made by the author using the data from the table above. Charts: Trading Economics.

Made by the author using the data from the table above. Charts: Trading Economics.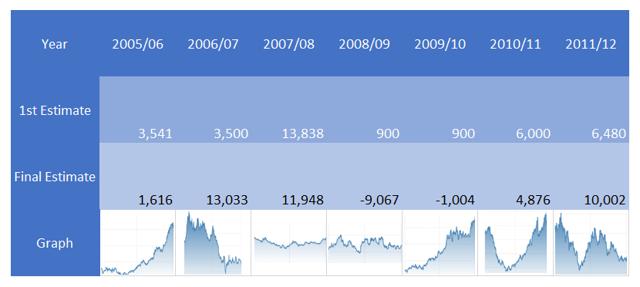 Made by the author using the data from the table above. Charts:Trading Economics.
It can be concluded that the sharp appreciation of the Brazilian Real in 2003 did not drive sugar prices higher despite a strongly negative production revision (which currently looks quite similar to what is expected this year). Secondly, a significant depreciation in the Real in 2008 seems to have prevented sugar from increasing in price that year. As supply issues have lasted for another year, it has rebounded in 2009 (accompanied by an increase in the value of the Real vs. the USD this time).
As the present situation might be seen as a repeat of 2009/10, one should definitely keep an eye on the performance of the Brazilian currency. It should not be treated as a sole and reliable predictor of the future sugar prices, however, as the tables above demonstrate. Import tariffs, previous years' production numbers and country-specific factors described above play a quite important role as well.
It is important to note that significant price fluctuations might increase the probability of exiting a sugar bet profitably even if the absolute yearly performance of the commodity disappoints (2008/09 is a good example, as it was reasonable to expect sugar prices to outperform that year). One should also not exclude the possibility of sugar prices outperforming next year instead of this one, as (1) recession in Brazil might weigh on the currency in the future and (2) the world might simply need two consecutive years of lower production to experience a proper supply deficit and inventory reduction.
Even though this is clearly not what the bulls currently expect, it can be concluded that this scenario will not be entirely bearish for the sugar prices either (unless the commodity gets overbought). Recent (as of April 4) speculations that Petrobras (NYSE:PBR) might cut gasoline prices and thus decrease ethanol demand in Brazil should also be taken into account when assessing the Brazilian sugar-ethanol equation.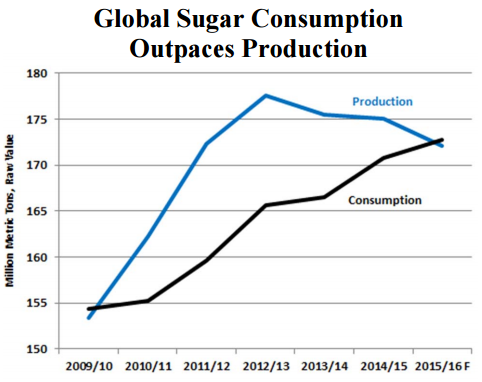 Source: USDA (2016).
Risks
Even though I have done my best to state the potential risks for the bullish thesis on sugar, there still might be factors that have not been mentioned in the article or are currently not publicly disclosed. I would like to reemphasize Brazil's impact on the world sugar prices, as it is the producer that can both make or break sugar futures this year. Import and export tariffs will also play a large role, although there have been seemingly no crucial changes recently. Moreover, sugar is a volatile commodity, and it is of paramount importance to remember that it can switch from overbought to oversold levels (and vice versa) quite fast.
One should take this into account and act accordingly, as strong paper profits (e.g. if more negative supply news come out) may turn to losses if the sentiment changes, which certainly will do so over the course of this year. Even though my personal view is positive and fundamentals are more in favor of sugar this year than against it, the deficit- and drought-associated noise should be assessed with a large amount of cautiousness. A potential dollar rebound might also weigh on the sugar prices due to an inverse relationship between the two.
Sugar tax?
The recent developments in the world's view on sugar should be taken into account as well. The introduction and consideration of sugar tax (or soda/soft drink tax) policies in various countries has created a lot of public discussion, even though no consensus regarding the impact on the soda and confectionery industry, as well as sugar consumption, has been reached by now. Currently, the public debate is focusing on the initiative of the U.K. government to proceed with a soda tax policy, which is expected to come into effect in 2018. Thailand media's efforts to emphasize the issues associated with excess sugar consumption should be noted as well.
Nevertheless, it can be argued that the world is not expected to encounter any significant short-term impact on sugar demand this year. More research and data availability in the consequent years will make it easier to assess the future impact of the policy. Currently, the global consumption of sugar continues to grow.
The iPath Bloomberg Sugar Subindex Total Return ETN
SGG, the iPath Sugar ETN, is my preferred way of obtaining exposure to sugar. It has an expense ratio of 0.75% and a market capitalization of $50.77 million. SGG tracks the performance of the Bloomberg Sugar Subindex Total Return Index, but one should remember that the ETN might often deviate from the performance of the underlying index and the S&P GSCI Sugar index - see the graph in the "Efficiency" section of the ETN's page on the Etf.com website. In addition, it should be mentioned that this ETN might both overreact to the downside and underperform the underlying index when sugar increases in price.
Disclosure: I am/we are long SGG.
I wrote this article myself, and it expresses my own opinions. I am not receiving compensation for it (other than from Seeking Alpha). I have no business relationship with any company whose stock is mentioned in this article.
Additional disclosure: Not an investment advice. I am not an investment advisor.