Last month, the IEA (International Energy Agency) called for an oil price bottom as "shrinking U.S. supply eroded [the] world's crude glut." Earlier in the year, Seeking Alpha reported on Citi's and Goldman Sachs' beliefs that oil prices were set to bottom later in 2H16. All three opinions were founded on the argument of a slowdown in oil production.
In fact, most discussions that I have read regarding an oil price bottom seem to revolve around oversupply. At face value, the argument makes sense, since inventories and production are near the highest levels they've been in the past 35 years, at least.
However, when I looked at data released by the EIA (Energy Information Administration) yesterday, I noticed that U.S. oil production was not only down 0.6% sequentially in January 2016, but - surprise - also down 1.7% vs. January of the previous year. In fact, production in the country has been coming down, albeit rather erratically, since crude prices started to plunge, late in 2014. Yet, little has it done to prevent the free-fall of oil prices since then, one year and a half later.
So where is this supply-demand imbalance that existed one year ago and that now, according to analysts, is drawing close to an end? And how could they be so confident that, even if production drops further in the next few months, crude prices will rebound later in 2016?
To answer these questions, I took up the challenge of digging through the historical data looking for clues. What macro forces have caused oil prices to rise and fall in the past? Have we seen a production decrease drive crude prices higher recently? How could the analysts be wrong about their latest predictions?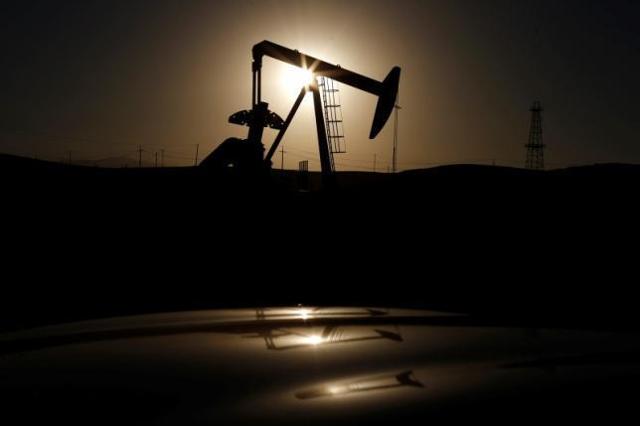 Click to enlarge
Credit: dailymessenger.com.pk
Production and inventories are only two pieces of the puzzle
Going back to 1980, I compared the evolution of oil production and inventories against that of crude prices. The first graph below illustrates how prices, in the past 35 years, have fluctuated almost independently from changes in production. Notice that for nearly 10 years, between 1987 and 1996, crude prices counter intuitively increased 55% at the same time that production rose 16%, going down 50% between 1990 and 1993, when production was flat.
Confused?
Something similar happened between 2001 and 2007, when prices skyrocketed by 380% while production also rose, by 10%. Between 2006 and 2014, prices bounced all over the place, rising to highs of $100/bbl and dipping to lows of $45/bbl, while the shale boom caused production to march consistently higher during the same period.
Pick a period of time since the 1980s, and probably fluctuations in oil production did very little to impact prices in a way that many would expect it to. The correlation between the two metrics, as it turns out, has been negative but very weak - only -0.21 since 1981, almost uncorrelated.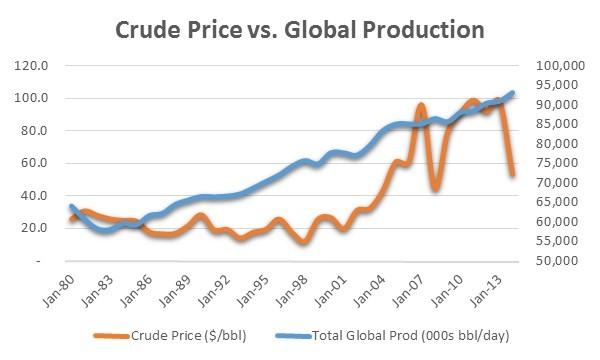 Source: DM Martins Research, using data from EIA
This first discovery led me to the conclusion that analysts are paying too much attention to production, waiting for it to catch up with demand and establish an equilibrium before prices can bounce back. The truth is that producing oil has never been so easy and affordable. Oil producers can now drill horizontally, deeper, faster, more efficiently, in ultra-deep waters, and they can re-frac what has already been drilled before. And there's much more where it came from. The 10 countries with the largest quantities of proved reserves in the world had 23% more underground oil in 2014 than they did ten years before.
As a result, production can be much more easily and quickly turned on and off - setting aside oil politics, especially among OPEC countries. Something else will probably need to happen before prices can finally climb out of the gutter.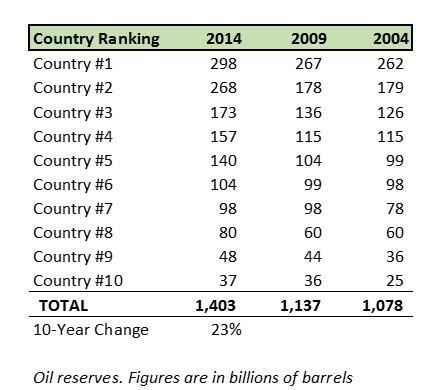 Source: DM Martins Research, using data from EIA
Bringing in U.S. crude oil inventories made the analysis more interesting. But in the end, it did little to help me predict the direction of oil prices.
As the graph below indicates, inventories and prices are negatively correlated, as I expected them to be - more so in the past 8 to 10 years (-0.47 since 2007 and only -0.19 since 1981). Notice how (see red circles), beginning in 2007, inventory lows (2007, 2011 and 2013) almost perfectly coincided with oil price highs, while inventory highs (2009, 2012 and 2014) matched oil price lows. Looking good so far.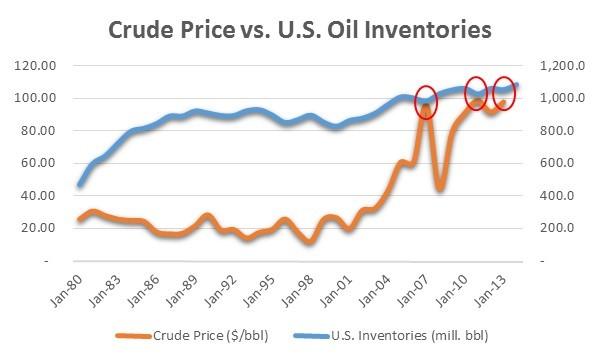 Source: DM Martins Research, using data from EIA
But a better interpretation of the historical data is that price fluctuations are the cause of the inventory changes, not the consequence. The rationale is that sellers are better compensated, therefore more incentivized to liquidate, when they can sell their inventories at higher market prices - and not that a drop in inventories, which in fact results in an increase in supply, causes market prices to rise. This is a logic that, in my view, most analysts seem to be missing when they pore over the weekly inventory reports to make their predictions on the future of oil prices.
Global GDP growth has been one of the best indicators of crude prices
Sifting further through the data, I made my next important discovery. In this century, GDP growth has been one of the best, if not the best, lagging indicators (one year) of crude prices, with a strong correlation of +0.61 since 2000.
This realization came to no surprise. After all, what do growing economies usually consume a lot of? Oil. So more than just a tight lagging correlation, the cause-consequence dynamic seems intuitive to me: crude prices spike just as countries around the world gear up for economic growth. I would also point out that the lagging effect more likely suggests that "growth demands oil" rather than "rising crude prices stimulate economies."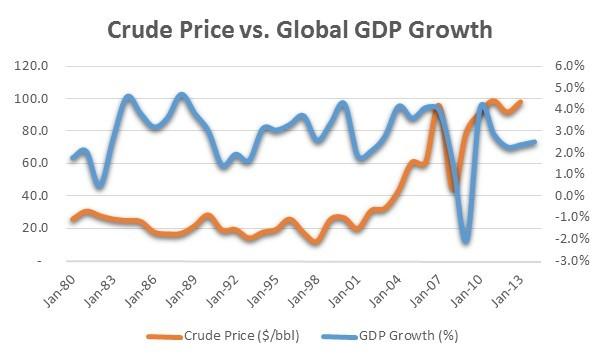 Source: DM Martins Research, using data from EIA and the World Bank
Also unsurprisingly, total crude consumption has been very tightly correlated (no lag) with GDP growth: +0.76 since 2000, and +0.66 since 1981. In other words, crude prices rise just ahead of GDP growth, which in turn stimulates oil consumption. This dynamic further supports the idea that oil price movements in general, and probably in the current case as well, are a lot more of a demand-side than a supply-side conversation.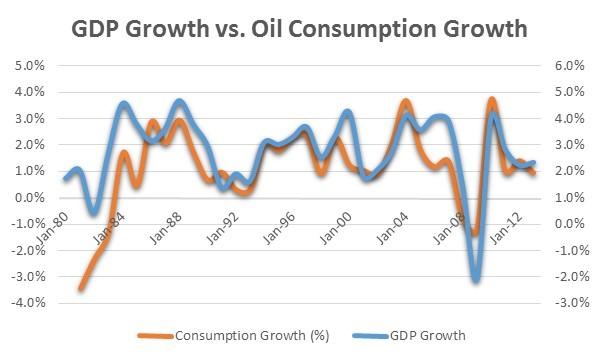 Source: DM Martins Research, using data from EIA and the World Bank
So have we reached a bottom?
WTI traded as low as $29.85/barrel intraday, in January 2016, levels not seen since 2001-2002. It is possible that we have touched the bottom of the well. But the better question is: how long will it take until oil recovers to levels that will make exploration economically viable once again? Notice, from the graph below, that virtually every major global resource theme has break-even points above $40/bbl (Brent), with many of them (particularly deepwater plays) being higher than $60/bbl. To almost all oil producers, little does it matter if $29/bbl was a bottom. What matters is: when will prices be sufficiently high?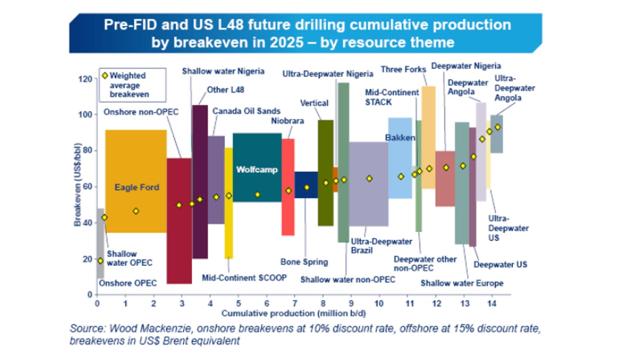 Click to enlarge
Source: DM Martins Research, using data from Wood Mackenzie
So following my recipe, let's turn to the demand side. According to the World Bank, GDP growth is expected to pick up in 2016 and beyond, after an estimated drop to 2.4% in 2015 from 2.6% in 2014. After reaching 2.9% in 2016, GDP should stabilize at 3.1% in 2017 and 2018, based on these projections and absent any global economic shock.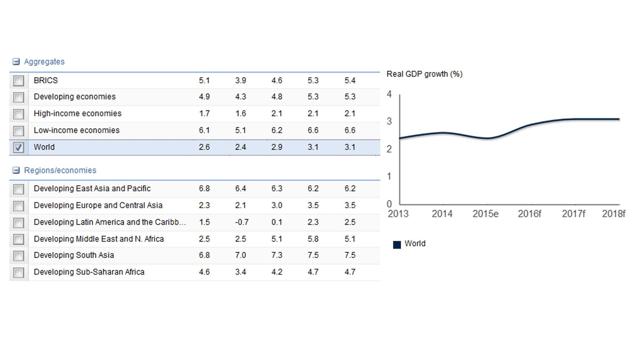 Click to enlarge
Source: DM Martins Research, using data from the World Bank
The last time that global GDP growth recovered from a low and breached the 3% mark was in 2004-2006, when oil prices bounced 87% from $32.50/bbl at the end of 2003 to $60.90/bbl in 2006. So we may in fact be approaching the time when oil prices finally get to stage a comeback. Granted, shale oil was not around to drive a meaningful increase in production until 2010, so the ride could be bumpier this time around.
We will have to wait and see if history will repeat itself, and whether the next pick-up in economic activity will bring about a surge in oil prices. Meanwhile, I will continue to cross my fingers, bet on a 2017 oil price rebound, and be very selective (but also very attentive to deep-value opportunities) on my energy plays.
Disclosure: I/we have no positions in any stocks mentioned, and no plans to initiate any positions within the next 72 hours.
I wrote this article myself, and it expresses my own opinions. I am not receiving compensation for it (other than from Seeking Alpha). I have no business relationship with any company whose stock is mentioned in this article.