The biotech sector has built off its considerable strength from late last week. It rallied Monday and pretty much was even on Tuesday despite the general sell-off in the overall market. This was impressive given the Treasury Department issued new policies Tuesday and appears to be trying to derail the huge proposed merger of Allergan (NYSE:AGN) and Pfizer (NYSE:PFE) with new and extensive rules to prevent so called tax inversions (see Newsflash section).
The biotech sector has reacted very negatively to this sort of event over the past six months as it has suffered through its deepest and longest bear market since the financial crisis. That the sector took this in stride yesterday could be another sign that the negative sentiment that has hovered over the industry during the past half a year be lifting.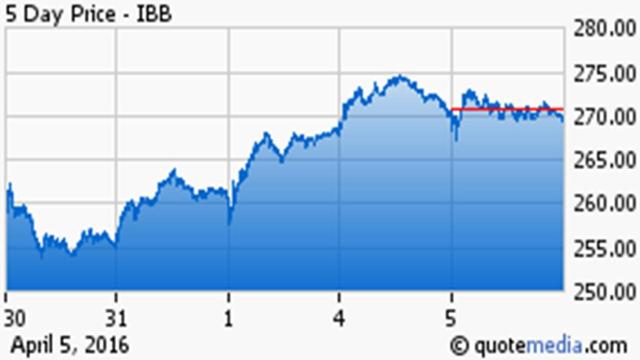 Click to enlarge
The sector has gained some seven percent over the past four trading sessions and is one of the strongest performing areas of the market so far in the second quarter. This is in stark contrast to its performance in the first quarter of 2016 and last quarter of 2015 where it significantly underperformed the overall market. Maybe the tide is turning on this oversold part of the market. Time will tell.

The big news in the pharma and biotech sectors since our last update was the Treasury conjuring up new rules to prevent so called "tax inversions" which has been a recurring focus area in this election year. In my over three decades of investing I can't recall a regulatory structure that has been as inconsistent, arbitrary or interventionist as the current one. The market certainly does not benefit from this sort of uncertainty introduced from the political/regulatory arena.
This effort directly impacted the prospects of the huge pending merger between Pfizer & Allergan. Pfizer's stock managed a two percent gain on Tuesday while Allergan fell more than 15%. I agree with an article put out by Abba's Aces yesterday that this is a great long-term entry point to pick up Allergan on the cheap and I picked up a stake at just under $232 a share in early trading Tuesday. A monkey wrench certainly has been thrown in these merger proceedings however and the chances of a successful deal seem much lower than where they began this week.
Note: Just as I was submitting this article, breaking news states Pfizer and Allergan are calling off their merger and Allergan will receive a $400 million breakup fee.
Speaking of companies going through the regulatory gauntlet, in this case justifiably so; Valeant Pharmaceuticals (NYSE:VRX) was up almost 10% on Tuesday after it said the Ad Hoc Committee it had assigned to look into its specialty pharmacy Philidor and related accounting matters had found no additional items that would necessitate a restatement beyond those already disclosed.
Given the utter inability of management at Valeant over the past few months to get a handle on and manage this unfolding crisis, I personally would take this with a huge grain of salt. Earlier this week the company stated it had fired the 140 person sales force for the female libido pill Addyi it acquired for $1 billion and introduced last fall, after the drug failed to gain traction in the first six months on the market.
On Monday, Gilead Sciences (GILD) purchased Nimbus Apollo, Inc., a wholly-owned subsidiary of privately held Cambridge, Massachusetts-based Nimbus Therapeutics for $400 million up front with $800 million additionally in potential incentive payments. The main asset of Nimbus Apollo is an early stage compound to treat NASH, a disease of the liver. NASH is the most extreme form of non-alcoholic fatty liver disease which is prevalent in some 80% of the obese population. It is a major cause of cirrhosis of the liver outside alcoholism.
This expands Gilead's own NASH focused efforts and I would not be surprised if this biotech juggernaut makes other acquisitions in this area of development in the foreseeable future. Analysts believe the overall NASH market could be potentially worth tens of billions of dollars given the huge potential market.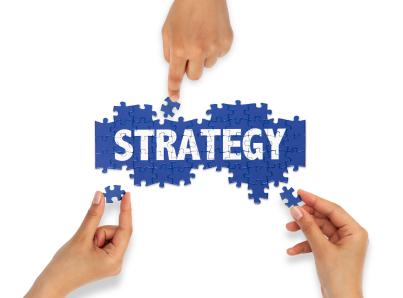 This is the second back end incentive laden deals Gilead has made in the past four months. In mid-December it struck a collaboration deal with Galapagos (NASDAQ:GLPG) to expand its footprint into inflammatory diseases. Galapagos' primary drug candidate will be conducting Phase III trials for rheumatoid arthritis and Crohn's disease in 2016. As I stated yesterday in this article, it appears Gilead's acquisition strategy will consist of 'small ball' which has several advantages and is another reason I own these cheap shares.

Intercept Pharmaceuticals (ICPT) got some love from analysts yesterday. In addition, its shares rose over 10% of Thursday's meeting of the FDA's Gastrointestinal Drugs Advisory Committee to review the company's New Drug Application (NDA) seeking approval of obeticholic acid oral tablets, in combination with ursodeoxycholic acid (UDCA), for the treatment of adults with primary biliary cirrhosis who fail to respond adequately to UDCA or as monotherapy in adults unable to tolerate UDCA. This looks like a similar pattern to ACADIA Pharmaceuticals (ACAD), a huge winner in the Biotech Forum portfolio whose stock rose into Ad Comm and then exploded higher after the committee voted to recommend its drug Nuplazid by a 12-2 vote for approval.
Analysts certainly seem to think the prospects for a positive recommendation are high. Citigroup reiterated its Buy rating and $275 price target on Tuesday. Its analyst believes his previous view that this drug had a 70% of getting recommendation for approval by Ad Comm as "conservative." Soon after Wells Fargo upgraded the shares to a Buy with a $273 price target as it views approval "likely." Cowen & Co. also reissued its Buy rating and $212 price target the same day. I don't own Intercept and don't follow it closely. However, it does appear likely that this compound is heading for a positive outcome later in the week and further upside could be ahead given the stock is significantly below these recently issued price targets.
Progenics Pharmaceuticals (NASDAQ:PGNX) which is highlighted in our spotlight feature below received some love from analysts early this week. Needham reiterated their Buy rating and $11 price target on Progenics on Monday. Progenics currently trades at a little over $4 a share. Brean Capital the same day reissued its Buy rating and $14 price target, noted any weakness caused by the FDA pushing back its PDUFA date for the oral version of Progenics' drug Relistor by three months should be bought. Jefferies had reiterated its Buy rating and $9 price target on PGNX on February 22nd. Prior to that it had almost been a year before any notable analyst activity on the stock.
Allergan, despite no longer merging with Pfizer, received some love from analysts yesterday. Nomura Holdings reiterated its Buy rating and $350 price target on Allergan yesterday. Cowen & Co. did same with an Outperform rating and $400 price target. Leerink Swann reiterated its Buy rating but did not provide a price target.
After the merger was called off early this morning, Mizuho Securities downgraded the shares to Neutral and reduced its price by $80 to $250 a share. My personal take is it may be a couple of days of rough shedding as arbs dump their stakes due to the merger falling apart. However, this creates a nice entry point for long-term investors. The stock at these prices is selling at discount to the overall market multiple.

Progenics Pharmaceuticals as noted in the Analyst Insight section is our small cap 'spotlight' stock today. This small biopharma has significant promise but suffered a setback this week as the FDA pushed back its review day for the oral form of its drug Relistor by three months.
The push back of the date is probably caused by the fact that the drug's distribution partner is current pariah Valeant Pharmaceuticals which acquired the rights to Relistor when it bought Salix Pharmaceuticals (SLXP) last year.
I think Needham's analyst hit the nail on the head when he reiterated his Buy rating on the stock Monday (see above section) by stating "Although Oral Relistor's PDUFA date is delayed by 3-months, we still fully expect approval. While we find Valeant's recent troubles worrisome, we don't believe they effect day to day Medical Affairs or create any risk to oral Relistor approval. A hobbled Valeant may not be the ideal marketing partner, but, in our view, PGNX shares already reflect this. We reiterate our BUY rating, ahead of oral Relistor approval and various other upcoming catalysts which we believe should reverse some of the Valeant overhang."
It does appear that approval of the oral Relistor is going to come a quarter later than expected. This means Progenics will have to wait for its $50 million milestone payment on approval and the expected boost to overall Relistor sales. Jefferies came out late yesterday and again reiterated their Buy rating and $9 price target, saying prospects for approval of oral Relistor remains unchanged in their eyes and Progenics sports a favorable "risk/reward" profile.
Relistor, which helps treat the source of opioid-induced constipation ('OIC') in pain from advanced illness, generated $3.4 million in royalties for Progenics last quarter on overall sales of $23 million as Progenics gets 15% of sales as a royalty. Overall royalties will probably be on the low end of a $20 million to $25 million range now given the PDUFA revised date. I agree with ONeil Trader who believes oral Relistor will add at least another $300 million in annual sales over the next three to five years. Salix believed before they were taken out by Valeant that oral Relistor could reach peak sales of $1.3 billion on top of the $300 million they modeled for the already approved injectable version of the compound. The company will get its royalties from that sales stream and also another $55 million in milestone payments on a successful rollout.
This is a significant income stream for a company with less than $300 million market capitalization. The company has a nice little pipeline developing for prostate cancer and its compound Azedra received a breakthrough designation from the FDA late in 2015 for the treatment of pheochromocytoma - rare tumors found primarily in the adrenal glands. The company has completed enrollment for a phase 2b trial whose results should be known within a year.
Over 25% of the company's market capitalization is in net cash so the company can easily deal with this PDUFA setback and continue to develop its pipeline. Progenics should still do a little better than breakeven this fiscal year.
Obviously Valeant getting its act together or selling the Relistor franchise to a less troubled competitor would be a positive for Progenics. In the meantime, I continue to accumulate these cheap shares as the future seems very bright for the company despite this recent setback and the fallout from the continuing soap opera at Valeant.
Disclosure: I am/we are long ACAD, AGN, GILD, PGNX.
I wrote this article myself, and it expresses my own opinions. I am not receiving compensation for it (other than from Seeking Alpha). I have no business relationship with any company whose stock is mentioned in this article.