Since the end of 2011, the SPDR S&P 500 Trust ETF (NYSEARCA:SPY) has risen by 63%. Take a quick guess: How much have S&P 500 earnings grown since 2011?
Trick question. Between 2011 and 2015, S&P earnings have in fact fallen slightly. Using actual GAAP earnings rather than adjusted figures, the market's PE ratio has expanded from 14.5 at the end of 2011 to 24 today as earnings have declined marginally while the index soared. The market's historical earnings yield has fallen from 6.9% to just over 4% now.
Even using operating earnings, which "smoothes" GAAP earnings for "unusual" items, earnings have grown by just 10% since 2011. The market is still trading at over 20x operating earnings. And many of those so-called one-time items are related to the large writedowns in the oil patch and currency losses caused by the strong U.S. dollar. Put another way, while these loss-causing events aren't regular or ongoing, they are in fact real losses that take money from investors' returns.
Starting from already high valuations, the market faces a problem. Earnings are declining. With the market's PE ratio already into the 20s, the E is now shrinking. Thomas Reuters estimates that first quarter S&P 500 earnings will drop by 6.9% versus the same quarter last year. This will be the third consecutive quarter of falling y/o/y earnings. While the economy isn't in recession, corporate earnings already are.
And you can't just blame energy. Seven of the 10 S&P 500 sectors are forecast to see falling earnings in Q1. Even excluding energy, overall S&P earnings would fall 2%. As you can see below, many key sectors including financials and tech are seeing profits slide: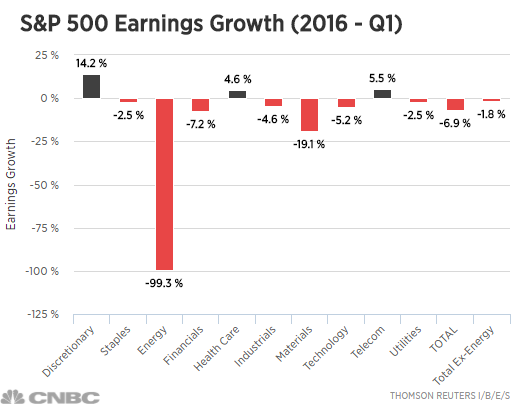 Weakness is starting to sneak even into the remaining sectors with earnings growth. Health care in particular is becoming a weak point. Seventeen health care companies have already issued earnings warnings, a record high: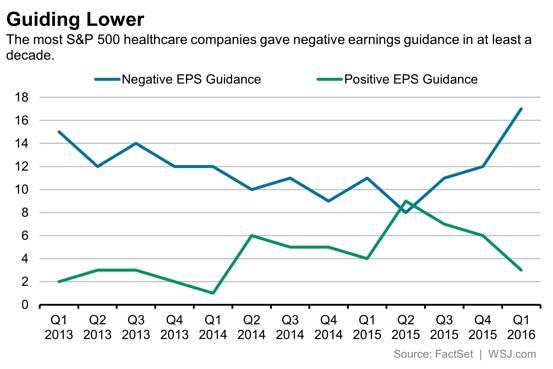 Overall, 94 S&P 500 companies have issued EPS guidance that missed analyst consensus estimates. This is the second highest level of earnings warnings recorded over the past decade, according to FactSet. We're back into 2008 territory as far as earnings momentum goes.
Let's be clear, on a profits basis, the stock market is expensive. And it's getting more expensive, because earnings have entered a significant and durable contraction. Far from being just an energy problem, the slow economy and strong dollar are hurting companies across almost all sectors.
A few parts of the domestic economy - namely housing and autos - have been strong enough to keep the general economy from going into recession so far; however, the broader picture is quite negative.
Realized earnings continue to slip and the next quarter looks similarly weak, analysts retain optimistic year-end and 2017 earnings forecasts. It's not clear what the proposed catalyst for a turnaround would be. The U.S. economy isn't picking up steam. The Fed is not acting in a stimulative manner. China remains troubled. The U.S. dollar remains too strong to make domestic multinational firms happy.
While the graphic covers previous years, nothing has changed as far as analysts' tendency toward excessive optimism. Almost without fail, earnings forecasts are too high, and steadily drop the closer you get to the actual reported results. Wall Street earns more fees for being overly bullish; it's just how things work - you have to keep the Muppets happy: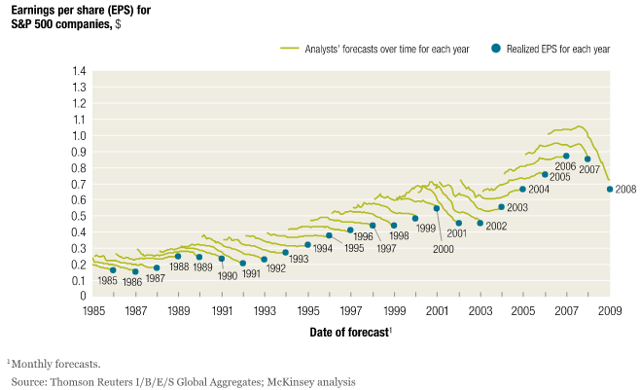 With the exception of 2005 and 2006, the initial earnings forecast was too high every single year of the sample. That's a greater than 90% analyst miss rate. Look at the trends for 1992 and 2002 as indicative of how analysts get overly excited when the economy is supposed to be picking up speed coming out of a slowdown. With the Fed talking about the supposed need for numerous rate hikes, analysts got ahead of themselves, and assumed the economy was about to pick up steam.
It's important to note that analysts haven't changed their stripes since 2008. Here's the evolution of earnings estimates for each quarter of 2016 over the past year: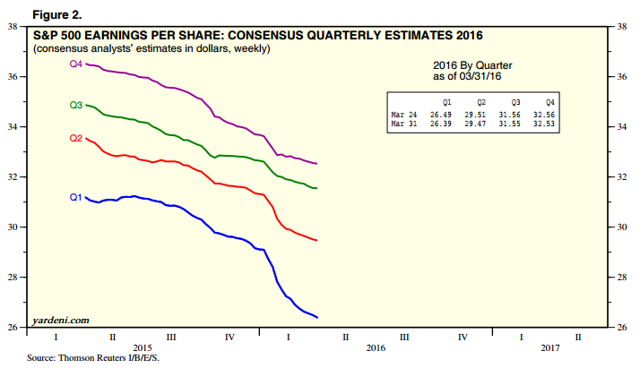 I'd argue that the current rosy earnings forecasts have a good chance of being equally wrong to 1992 and 2002. As you can see, Q1 estimates have collapsed since this quarter actually started. Q2 is really starting to decline, but analysts remain fairly optimistic that Q3 and Q4 will show upside. We're likely to see stocks face significant overhead resistance throughout the year, as analysts are consistently forced to lower earnings estimates, often by large amounts, as they've already done for Q1.
Based on that FactSet data that this is shaping up to be the second-worst quarter in a decade as far as earnings warnings go, it appears that analysts came into 2016 way too biased to the upside. With the stock market up dramatically since the recent winter lows, the market has now priced in a lot of optimism.
Much of the rally has been based on more ephemeral positives. Oil is up, volatility in China has receded, commodities are off their worst levels, and pressures in the credit market have abated somewhat.
But those factors will do little to change the broader fundamentals that underpin the market. While stock prices are near all-time highs, earnings haven't done much to justify the higher prices. Earnings are no higher now than in 2011, and they are now in fact contracting.
It's also worth considering that corporate profits are near record highs as a portion of GDP and labor is at a record low ratio of corporate profits. This has resulted in a flood of money being spent on buybacks and distributed in special dividends, both of which are often financed by debt, rather than having profits spent on investment. While you can boost earnings through financial dealings, it does little for the economy, unlike investment in human capital, R&D, and property, plant, and equipment.
The lack of high-paying new jobs since at least 2007 (if not earlier) is indicative that the American economy has entered a persistent era of lower growth. With little top-line GDP growth, corporate earnings already pressed to the limit, and overall EPS already falling. It appears we could be entering an extended period of fundamental weakness, perhaps even similar to 1970s stagflation.
This supports taking a cautious approach toward the U.S. market outlook. The Carden Capital Smart Hedge Index, with its 65-year track record of S&P 500 risk-adjusted outperformance, currently sits 100% in cash.
One thing is for certain, the current earnings weakness isn't just coming from oil, and it's not a one-off event. S&P 500 earnings are in a recession, and Q1 is shaping up to be quite ugly. Full-year 2016 and 2017 earnings estimates are probably much too high, and falling earnings outlook over the course of the year will serve to rein in potential market upside.
Earnings season kicks off in just one week. Alcoa (NYSE:AA) reports next Monday. If you're looking for a reason to fade the recent rally in the U.S. stock market, earnings are a compelling argument. And if you're considering a hands-off lower-stress strategy, consider the Carden Capital Smart Wealth portfolios. These insulate investors from serious downside while producing competitive returns during strong markets.
Disclosure: I/we have no positions in any stocks mentioned, and no plans to initiate any positions within the next 72 hours.
I wrote this article myself, and it expresses my own opinions. I am not receiving compensation for it. I have no business relationship with any company whose stock is mentioned in this article.
Additional disclosure: As of the publication date of this report, Carden Capital LLC , Carden Futures LLC and their affiliates (together the "Carden Companies"), may have positions in (whether long or short) and or options positions (whether long or short) in any of the securities, futures, or companies covered herein and may stand to realize gains in the event that the price of any security, future or stock changes. Following publication of the report, the Carden Companies may transact in the securities, futures and derivatives of any company or market covered herein. Neither I nor the Carden Companies have any obligation to continue offering reports regarding the securities, futures or companies covered herein. Reports are prepared as of the date(s) indicated and may become unreliable because of subsequent market or economic circumstances. Any investment involves substantial risks, including, but not limited to, pricing volatility, inadequate liquidity, and the potential complete loss of principal. This document does not in any way constitute an offer or solicitation of an offer to buy or sell any investment, security, or commodity discussed herein, or any security in any jurisdiction in which such an offer would be unlawful under the securities laws of such jurisdiction. Back-testing does not represent the results of actual trading using client assets but is achieved by means of the retroactive application of a model that was designed with the benefit of hindsight and should not be considered indicative of the skill of the adviser. The results may not reflect the impact that any material market or economic factors might have had on the adviser's use of the back tested model if the model had been used during the period to actually manage client assets.