Crude oil rallied nicely yesterday and it has kept its momentum going into early trading today. Our Chevron (NYSE:CVX) position is still slightly down but if oil's rally follows through today meaningfully, then there is a good possibility that a daily cycle low will have formed so a new cycle can begin. Chevron unfortunately still has teething problems at Gorgon, which has meant a postponement of activities for one to two months but if I'm correct about the direction of the oil price, Chevron's share price shouldn't be adversely affected too much. In fact, today we are going to place a trade in Hess (NYSE:HES) as I really like the action in this stock over the last 30 days.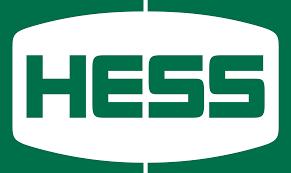 Take a look at the chart below and observe how Hess has rallied strongly over the past 30 days despite oil prices being down over 5%. What is evident as of late is that Hess is outperforming the commodity when oil prices rise and not participating in the declines when the price of crude drops. This is classic bull market behavior where we should see meaningful gains if oil is about to start a new cycle.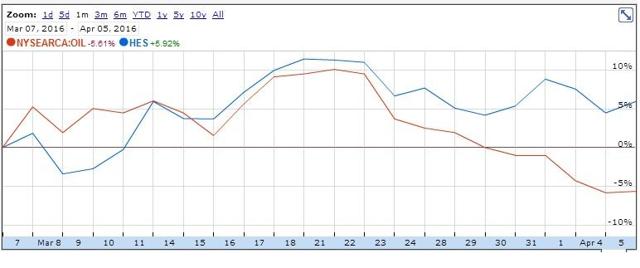 With respect to the oil chart, we will place a stop on our Hess position which corresponds to the 50 daily moving average on crude which currently is 34.57. One could alternatively pick the 50% retracement number (between the February lows and March highs) which is 34.13 as a stop but I doubt we will reach that far. As the crude oil chart shows below, the 5 day RSI indicator reached significant oversold levels which illustrate to me that a brand new cycle may have started. With prudence on the size of our position along with a hard stop, the risk/reward play here is definitely to the upside.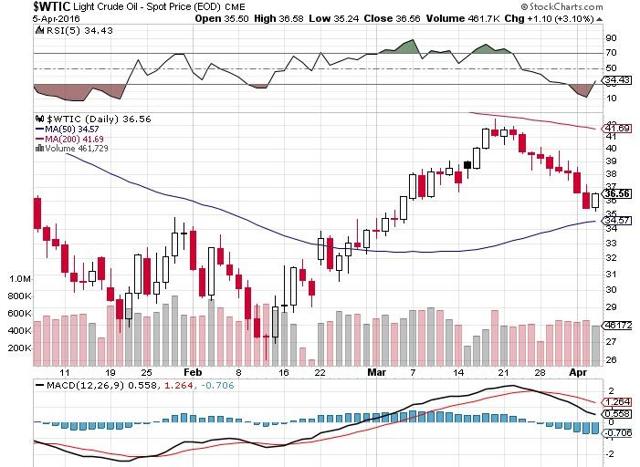 Click to enlarge
So why Hess is the question? Well despite the company reducing its production guidance for 2016 to 330-350 million of barrels oil equivalent per day, we all know it can ramp up production in the Bakken at very short notice. Furthermore Hess has continued to show that it is one of the most productive performers in the Bakken with its drilling costs coming down by over 60% since 2012. In the near term, productive production from the Bakken is key due to its low cost and sheer size compared to any other asset in Hess's portfolio (4 times bigger). The rig count in the Bakken dropped to 8.5 last year (50% drop) but production grew meaningfully due to productivity measures and faster drilling times. Furthermore I believe original guidance of only having 2 operational rigs in the shale for 2016 will be amended if oil prices continue their ascent.
The huge growth we have seen in US shale over the last number of years has meant decline rates have slowed significantly along with productivity improvements. I refuse to believe that oil's fundamentals will keep shale plays out of the picture long term but it is difficult at this stage to forecast crude rising about $50 to $55 a barrel considering the excellent assets US players have at their disposal. In saying this, there is still ample opportunity for a strict upstream oil company like Hess to make substantial share price gains if oil can reach the above mentioned levels.
However in the near term, it's all about the Bakken and the company outlined in its latest presentation that growth will continue in this play throughout 2016 as it did last quarter (when production came higher than Q4-2014 at 368 Mboepd ). Growing low cost production along with rising crude oil prices is exactly the recipe needed for our investment. Honor stops where I have them outlined and at the point where I believe oil may be topping, I will issue a sell recommendation on the stock. Hess is not a stock I want to hold indefinitely but certainly its fundamentals stack up at present.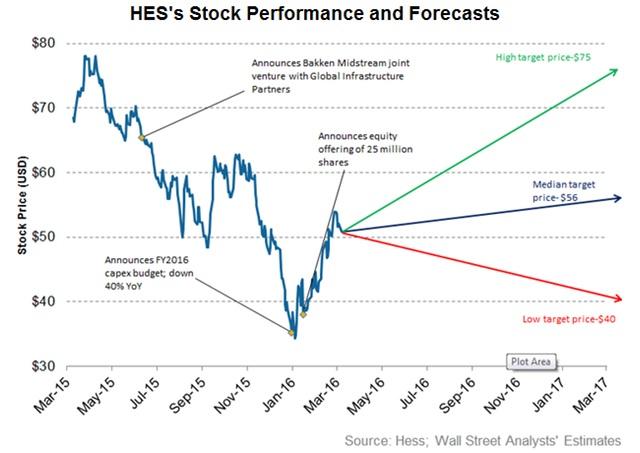 To sum up, I believe crude oil may be starting a brand new daily cycle, which is bullish for upstream companies and may add even more fuel to US equity markets. I'm going to be adding a few good dividend and growth stocks to the elevation portfolio over the next several weeks when I see value. It's imperative that they are not correlated and all don't have similar valuations to ensure that income is brought in every month, which, over time, will increase our share count. Follow along by pressing the "Follow" button above
Disclosure: I am/we are long CVX, HES, IBB, MOS, SSRI, GDX, IBM, AXP, EMR.
I wrote this article myself, and it expresses my own opinions. I am not receiving compensation for it (other than from Seeking Alpha). I have no business relationship with any company whose stock is mentioned in this article.