Personal Income and Spending
The Commerce Department reported that personal income rose 0.2% in February, after a 0.5% increase in January. Personal spending, otherwise known as personal consumption expenditures or consumer spending, increased just 0.1% in February, while the initial report of a 0.5% surge in January was revised down to just a 0.1% increase. This report is a perfect example of why we focus on long-term trends and the year-over-year change in the data rather than on the change from one month to the next.
Last month's erroneous report of a surge in consumer spending for January was heralded as a sign of a strengthening economy, and the financial markets celebrated the news. The financial press interpreted the data at that time to mean that "steady hiring, cheap gasoline, and rising home values are powering American's ability to boost spending, which accounts for almost 70 percent of the economy." This supposed boost in spending was not consistent with the declining long-term trend in the rate of consumer spending growth that we have been focusing on in these reports, so to us the revision came as no surprise. There is a huge difference between a 0.5% increase and a 0.1% increase in spending for just one month, and it was quantified in a reduction of the expected rate of overall economic growth for the first quarter from 1.4% to just 0.6% by the Atlanta Fed's GDP forecasting model.
The personal income numbers, not revised downward for January, are not our preferred measurement of income growth, as average hourly earnings are far better leading indicator of the trend in consumer spending. The reason is that average hourly earnings exclude the highly compensated, who spend a much smaller percentage of their overall income than do workers earning an hourly wage. Average hourly earnings are reported in conjunction with the jobs report, and this figure is reported in real terms approximately two weeks later when the Consumer Price Index report is released.
In a glimpse of what to expect for consumer spending in March, government figures for US auto sales were also released last week. Sales rose 3% for the month to an annualized pace of 16.5 million, but this fell well short of expectations for a 7% increase and an annualized rate of 17 to 17.5 million.
Consistent with these slowing rates of consumer spending growth, consumer sentiment dipped to a five-month low of 91, well off levels of a year ago. Rising gas prices were highlighted as a reason for consumers' worsening view of the economic outlook, yet at $2.06 a gallon the price of gas is as low as it has been since 2009.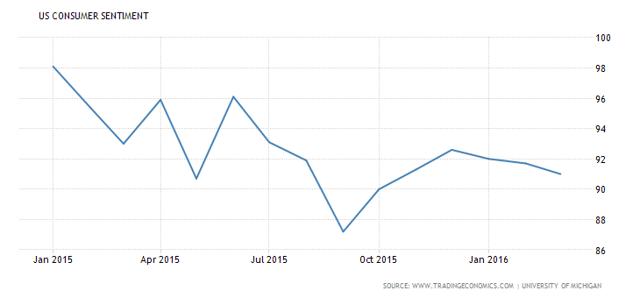 Click to enlarge
The Manufacturing Sector
There was some good news for the manufacturing sector that represents approximately 12% of overall US economic activity. The Institute for Supply Management's Manufacturing Index rose to 51.8 in March from what was 49.5 in February. Readings above 50 indicate that the sector is expanding or growing. This was the first reading above 50 in seven months.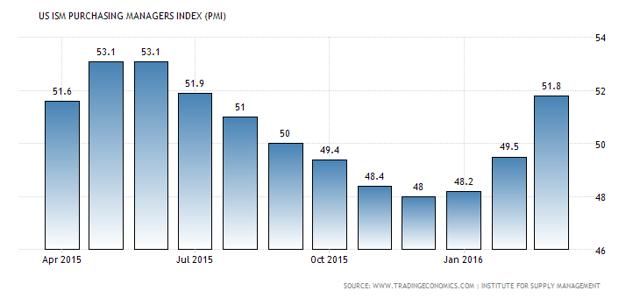 Click to enlarge
While this does indicate some stabilization for manufacturing, it is important to remember that this index is a survey. It does not measure real activity. Many economists indicated that this was a sign that the industry is turning up, and that businesses have been reducing inventory, so we must be coming near the end of the cycle. That doesn't seem possible given that the inventory-to-sales ratio just hit its highest level since the last recession at 1.40. What this latest reading may indicate is that the drag on economic growth by the manufacturing sector is lessening. From that standpoint, the report is a positive.
The Jobs Report For March
According to the Bureau of Labor Statistics, the economy created 215,000 jobs last month, while the unemployment rate rose from 4.9% to 5.0%. This report was a near carbon copy of last month's report, with the largest gains in jobs coming from retail (+48,000), bars and restaurants (+25,000), construction (+37,000) and healthcare (+37,000). There was no change in the length of the workweek, and average hourly earnings rose 0.3% on a monthly basis, leading to no change in the year-over-year increase of 2.3% from last month.
It is stunning how many jobs are created by bars, restaurants and the retailers every month regardless of the gradual decline in the rate of growth in consumer spending. While the growth in construction spending and healthcare spending fully supports the job creation in these categories, consumer spending trends do not, nor does last week's report on monthly job cuts by Challenger, Grey & Christmas, Inc. The outplacement consultancy firm announced there were 48,207 layoff announcements in March.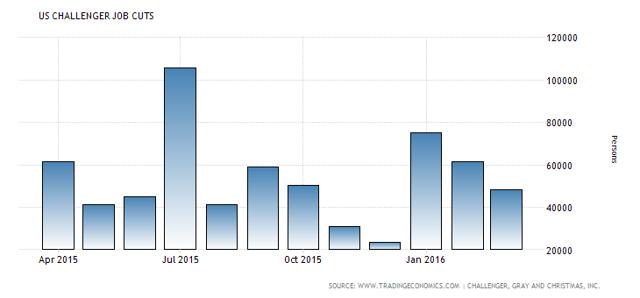 Click to enlarge
This was the fourth consecutive year-over-year increase in layoff announcements. While the energy sector continues to lead in job losses so far this year, the retail sector has tallied the second highest number of job cuts with 31,832, which is up 41% from the first three months of last year. This data makes it difficult to believe that the estimates for job growth in consumer-related sectors are accurate.
The one notable change in the March jobs report was the increase in the labor force participation rate to 63%, which was the highest level in two years after having bottomed at 62.4% in September 2015. This was the reason for the increase in the unemployment rate from 4.9% to 5.0%, and it was viewed by the consensus of economists and market strategists as good news. More workers were supposedly motivated to start looking for work again, lured by the surge in hiring and the increase in wages from previous months.
This makes absolutely no sense in the real world. What have these people been doing for the past several years? Did they get tired of watching reality TV or were they bored with afternoons frolicking at the shopping mall? I seriously doubt that individuals are basing their job search decisions on the monthly payroll report or a miniscule uptick in average hourly earnings. These people simply weren't being counted, and now they are for some reason.
In our view, the participation rate has been grossly underestimated for several years now, which has conveniently brought down the stated unemployment rate to levels associated with the consensus view of what is full employment. What is relevant about this uptick in participation, if accurate, is that it will put downward pressure on wages as the supply of labor increases more than the demand for it.
Conclusion
As limited as the potential for growth is in the US economy right now, a recession in 2016 still seems very unlikely. Growth has been so slow and uneven during this recovery that there is little from which to recede. It seems far more likely that we will remain mired in a very slow growth environment. We don't share the excitement displayed by the consensus about last week's economic vital signs, and we remain unwavering in our forecast at the beginning of the year for real US economic growth of just 1% in 2016 with the possibility of one quarter of contraction. The latest modifications to the Atlanta Fed's GDPNow model concur with our expectations, as growth is now expected to be a mere 0.4% in the first quarter.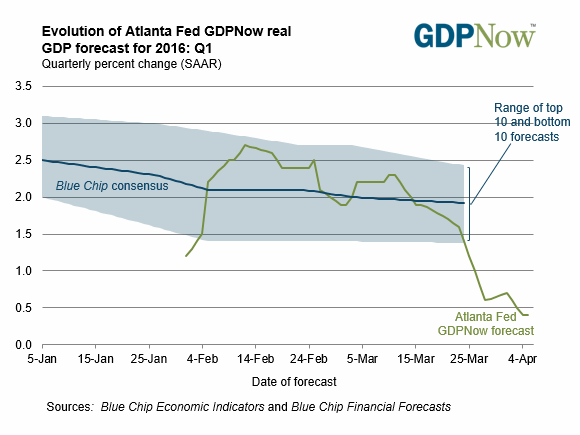 Disclosure: I/we have no positions in any stocks mentioned, and no plans to initiate any positions within the next 72 hours.
I wrote this article myself, and it expresses my own opinions. I am not receiving compensation for it (other than from Seeking Alpha). I have no business relationship with any company whose stock is mentioned in this article.