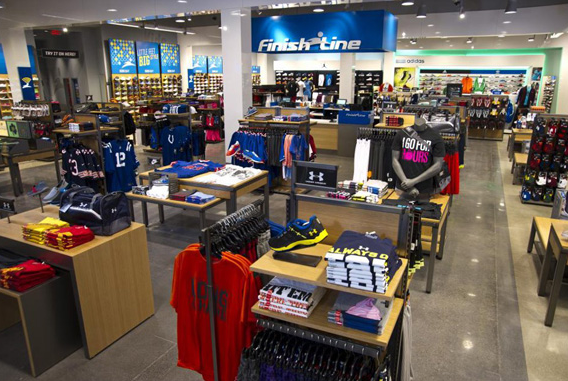 Shoe retailer Finish Line (NASDAQ:FINL) is a name I've been cautious on for a long time. The company's operating history of late has been spotty at best and the only thing saving its results in recent quarters is its substantial buyback program. Back in January I said FINL was a disaster - a word I chose carefully - as its FQ3 had all the makings of a horrible quarter. However, FQ4 results have the bulls excited and FINL is well off of its lows and above where I said to avoid it; is it finally time to buy FINL or was this just a bounce within the longer term downtrend?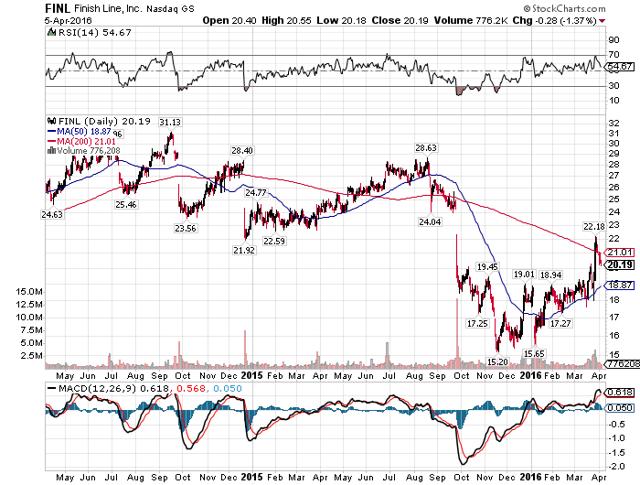 Click to enlarge
One thing FINL did in FQ3 that caused me great concern was that its comp sales tanked. That metric was down 5.8% last quarter but in FQ4, rebounded with a very strong +4.6%. That kind of turnaround in just one quarter is pretty astounding and it means FINL executed very well during the critical Christmas quarter. FINL is going through a period where it is right-sizing its store base as it had become bloated over the years so to see a very strong comp number in the midst of that is impressive. I'll admit I didn't think FINL would get anywhere near that number in FQ4 so credit is due.
One area where FINL continued its struggles from last quarter, however, is in its margins. Gross margins fell 30bps during FQ4 to 33.8% and while that decline in a vacuum is manageable, FINL's SG&A costs weighed as well. Gross margins at FINL have been rough for FINL for a few quarters now as FQ3 saw just 23.2% and while FQ4 was certainly much better than that, it was still down against last year's comparable quarter. It seems FINL may still be in the mindset of trading margin for comp sales via promotions and while that is fine for a while, over time it can impair a company's profitability for the long term.
I mentioned SG&A costs above and the deleveraging there was epic as the company ceded 170bps in FQ4 to 24.1% of revenue. This is the same story we've seen from FINL all year as its sales have had a hard time keeping up with SG&A costs and thus, operating margins have suffered. It is also important to note that the 24.1% number doesn't include store closing or impairment charges so FINL's actual operating margins are much worse than the adjusted number that gets reported.
The combination of lower gross margins and higher SG&A spending squeezed adjusted operating margins 200bps to 9.7%. That is still a nice level of profitability for a retailer but keep in mind FQ4 was very strong for FINL and that its full-year numbers are much worse at just 4.2% on an adjusted basis. In short, FINL's margin problems have persisted and while FQ4 was certainly a bright spot, FINL has a long way to go in repairing its operating margins as they are squeezed from both ends.
Unfortunately for FINL, the company's guidance wasn't quite as strong as FQ4. The company guided for a very nice comp sales number of 3% to 5% but its EPS guidance underwhelmed, missing consensus. The comp sales number is great and certainly shows FINL's turnaround is progressing but remember that FINL is eliminating its weakest stores and thus, its comp sales numbers will rise simply due to that. In addition, this past year was very weak overall so any comparison this year is going to be relatively easy. I'm not trying to rain on FINL's parade but some skepticism is warranted due to FINL's unique position in its lifecycle.
I mentioned FINL's buyback earlier and with good reason; FINL believes in returning capital to shareholders and its primary method is buybacks. The company spent $80 million last year buying back 3.9 million shares and still has 2.3 million shares left on its authorization, good for about 5% of the float at current prices. Given the company's cash position and the magnitude of the buyback last year, I expect we'll see this authorization exhausted relatively quickly, certainly before the end of this year. That should continue to help FINL boost EPS as it transitions its business so it should not be ignored.
After FINL's disappointing guidance for this year, EPS numbers moved down to a consensus of $1.54. That leaves FINL trading for 13.1 times this year's earnings and 11.5 times next year's numbers, both of which imply massive EPS growth. This year's number would be a 27% improvement over last year but remember that FINL spent $48 million on impairment and closing charges last year, something it shouldn't have to repeat in the coming years. So while it looks like FINL's earnings are growing rapidly, keep in mind that last year's comparable (adjusted) numbers won't be a lot different from this year.
I think FINL is at its fair value here as I simply cannot see paying more than 13 times earnings for a company that is still undergoing a massive transformation in its business. It is still in the midst of trying to right-size its store base and continues to struggle with margins and SG&A spending. The coming boost in comp sales is great but the real test will be next fiscal year when it is no longer closing underperforming stores; can FINL's smaller store base keep up the momentum? Time will tell but recent evidence would suggest the forecast bounce in comp sales is likely temporary. For that reason, I think the recent rally in FINL is all we're going to see for the foreseeable future and that holders would do well to consider unloading their positions in favor of stronger, more consistent retailers.
Disclosure: I/we have no positions in any stocks mentioned, and no plans to initiate any positions within the next 72 hours.
I wrote this article myself, and it expresses my own opinions. I am not receiving compensation for it (other than from Seeking Alpha). I have no business relationship with any company whose stock is mentioned in this article.