Introduction
I'm surprised to see only two articles have been published about Fortune Brands (NYSE:FBHS) in the past two years. As I can imagine a lot of people and the readers of this article have at least one product of FBHS in their homes, so I was wondering if this company would also be a good investment and decent addition to my long-term conservative portfolio. And what's a better way to start my investigation and to read the annual report the company has recently filed with the SEC?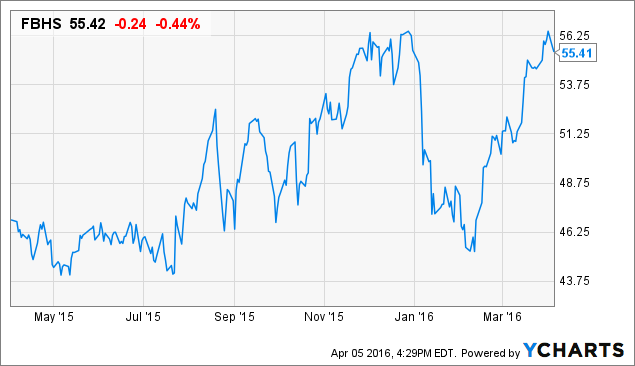 FBHS data by YCharts
2015 was a busy year but Fortune Brands had a smooth ride
Fortune Brands was extremely busy in 2015 as not only did it have to focus on its core operations, but also it acquired Norcraft in a cash transaction worth almost US$650 million. 2015 was another year of strong growth for the company as it was able to increase its revenue by approximately 14% to US$4.58 billion. As the total cost of products sold increased at a slower pace and despite a 10% increase in the SG&A expenses as well as the additional restructuring charges the company had to incur, the operating income increased by 23% to almost US$500 million.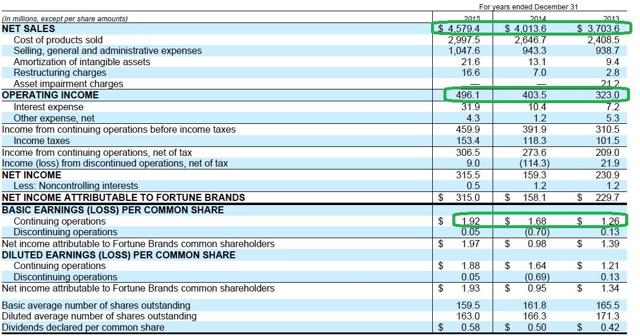 Click to enlarge
Source: SEC filings
This resulted in a substantial increase in the company's operating margin, and you can clearly see an uptrend from 2013 until the end of last year. Whereas the operating margin in 2013 was just 8.72%, this increased to almost 11% in 2015, so shareholders can be quite happy and satisfied with the operating results of Fortune Brands. Of course, the higher operating income has also led to a higher tax bill despite the higher interest expenses associated with the acquisition of Norcraft. That being said and despite this higher tax pressure, the net income has doubled to US$315 million compared to the previous financial year as its financial-year 2014 also contained a $114 million contribution from the discontinued operations. This led to a net profit per share of $1.97, of which five cents were attributable to discontinued operations resulting in an EPS from continuing operations of US$1.92. That's a 14% increase compared to last year's EPS as the higher net income was also boosted by the lower share count.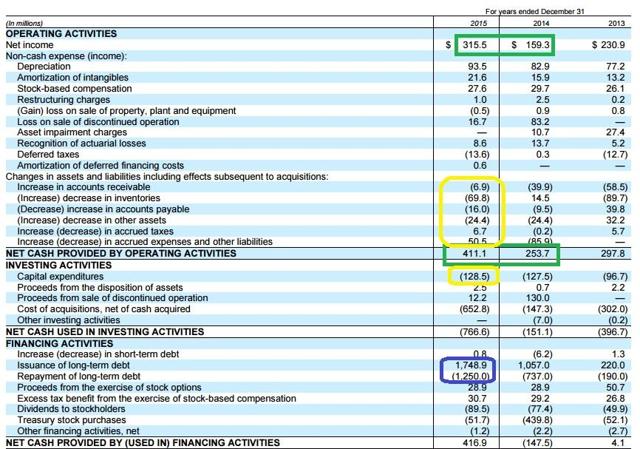 Click to enlarge
Source: SEC filings
Of course, having a very nice net profit increase doesn't mean anything if it isn't being accompanied by a substantial increase in the company's free cash flow as well. Fortune Brands' operating cash flow in 2015 was US$411.1 million, but this also includes a negative impact from changes in the company's working capital. If you would exclude these changes in the working capital position, the adjusted operating cash flow would increase to US$471 million. That's a substantial increase compared to the previous financial year, and despite the much higher operating cash flow, capital expenditures remained at approximately the same level at US$128.5 million. This results in an adjusted free cash flow of US$342 million.
The company used its free cash flow wisely
The main problem I usually see is the fact that companies are overspending on treating their shareholders really well, as the cheap debt environment allows a company to issue fresh debt to buy back stock or to pay special dividends even though they didn't generate a sufficient amount of free cash flow to cover these expenses.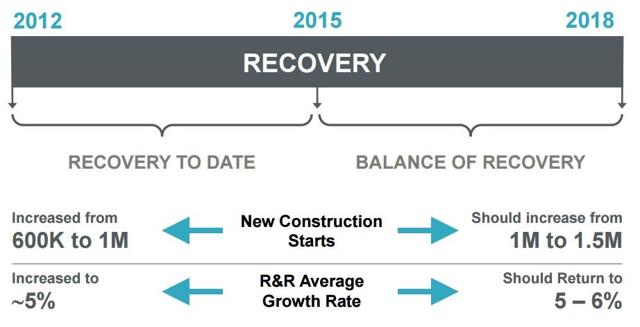 Click to enlarge
Source: Company presentation
And this didn't seem to be the case at Fortune Brands, as the company's total cash outflow to pay for the dividend and for share buybacks was a net amount of just US$110 million or less than one-third of the free cash flow. That's also the reason why the company only had to issue a total net debt amount of US$500 million despite having to spend in excess of US$650 million on the main acquisition in 2015. This strengthens my belief this company will do its best to make sure that it keeps a healthy balance between the cash inflow and a cash outflow, without exaggerating on shareholder rewards.
And this acquisition will really pay off in 2016, as the company is expecting its EPS to increase by approximately 19% to 20% to approximately US$2.45 despite the higher interest expenses associated with a higher net debt position on the balance sheet. The company is expecting its free cash flow to increase to between US$350 million and US$375 million, although I do think this will once again take into consideration the negative impact of working capital changes.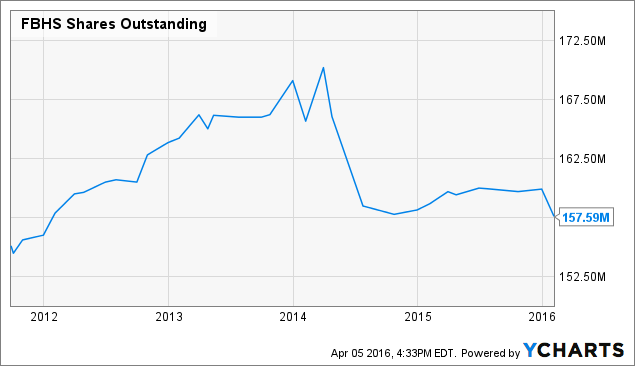 FBHS Shares Outstanding data by YCharts
This substantial amount of free cash flow will also allow the company to reduce its net debt which peaked at just a little bit over US$900 million in 2015. That's not really an issue at all considering the net debt/EBITDA ratio was still less than 1.5, and as the EBITDA is expected to increase and the net debt to decrease this year, the ratio should decrease to approximately 1 to 1.1, putting the company in a safe zone.
Investment thesis
I don't think we will see another substantial acquisition from Fortune Brands this year, and the company has been refocusing its attention towards rewarding its shareholders. In the conference call after the financial statements were released, the company confirmed it had already spent approximately US$100 million on share repurchases in just the first few months of 2016. This will probably have reduced the share count by an additional 1%, providing a further boost to the EPS.
Based on the most recent share count, the company has generated a free cash flow per share of approximately US$2.16, but based on the updated prognosis, this will increase to approximately US$2.4 per share. This means the company is not expensive, but I would prefer to buy it at a lower share price, and writing a put option when the option premiums are a bit higher might be the best way to gain exposure to Fortune Brands.
Disclosure: I/we have no positions in any stocks mentioned, and no plans to initiate any positions within the next 72 hours.
I wrote this article myself, and it expresses my own opinions. I am not receiving compensation for it (other than from Seeking Alpha). I have no business relationship with any company whose stock is mentioned in this article.