Oracle (NASDAQ:ORCL) reported Q3 earnings on March 15. You can read the Seeking Alpha transcript here. It's no secret that Oracle has been focused on transitioning from being reliant on traditional on-premise hardware and software sales, and moving to public Cloud revenue. This topic has been well covered, but I have a solid understanding of this space and want to offer a perspective I think others have missed.
What is the cloud?
If we look at Oracle's Fortune 500 customer base, the large majority own or lease all the equipment that makes up their IT systems and place them in specially designed rooms called data centers. These data centers are owned (or leased) and managed by each individual company at their own expense.
The hardware and software needed to deliver an Oracle application or web page is comprised of seven layers as pictured below.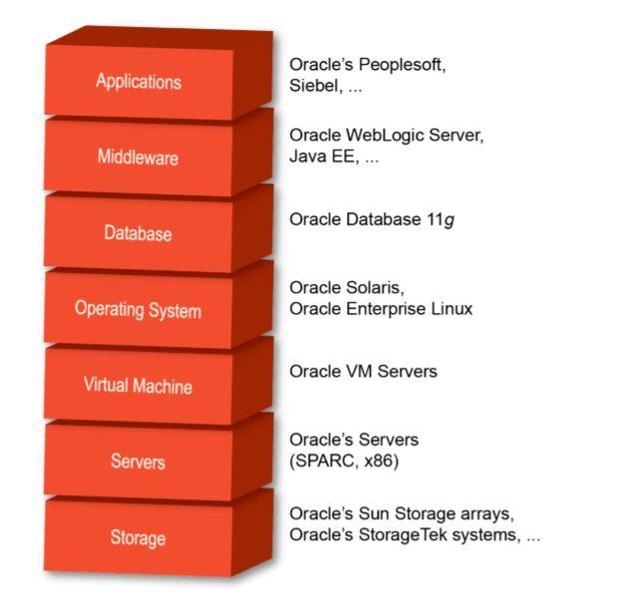 Source: Oracle.com
The picture shows the entire Oracle stack, but a typical organization utilizing the traditional on-premise model will buy each of these layers from more than one supplier. The hardware (servers and storage) will come from companies such as HP (NYSE:HPQ) (NYSE:HPE), Dell, Cisco (NASDAQ:CSCO), and EMC. The leader in the virtual machine layer is VMWare (NYSE:VMW), with Microsoft (NASDAQ:MSFT) being the second largest player. The operating system will typically come from Microsoft or Redhat (NYSE:RHT); the database from Microsoft, IBM (NYSE:IBM) or Oracle, and the middleware/applications from SAP (NYSE:SAP), Oracle, Microsoft and many others.
There are a few different options for cloud; private, public and hybrid Cloud. Private is where the customer retains ownership of the entire stack, very similar to the traditional on-premise model. Public is where the service provider owns and sells the stack as a service, and hybrid is a mix of both. I focus on public Cloud for this article, as it's the focus for companies like Oracle.
Oracle has three different public Cloud offerings: Infrastructure as a Service ((IaaS)), Platform as a Service ((Paas)) and Software as a Service ((SaaS)). Each offering provides a different number of the above pictured layers in the stack. IaaS is typically the bottom four, PaaS adds onto IaaS by including the database. SaaS includes all seven layers or collections of all seven layers that are needed to make up a full system. Salesforce.com (NYSE:CRM) and ServiceNow (NYSE:NOW) are examples of companies that sell their application services using the SaaS model. Amazon Web Services (AWS)(NASDAQ:AMZN) is an example of a very successful provider of IaaS and PaaS.
What the public Cloud means to Oracle
In the traditional model, each layer could be provided by a different vendor. There is considerable competition for dollars in each layer. The nature of these types of systems is that once a software stack selection is made, it can be very expensive to change. The cloud model is advantageous to companies such as Oracle because they can capture all the dollars that go into the entire stack, not just one or two pieces. It can be costly for an organization to migrate an application and its data to the cloud, but more importantly for Oracle, it's becomes difficult to move away. You have a situation where Oracle can capture much more of the customer spend, and then make it much more difficult for their competition to obtain that spend in the future. Having a captive customer base can help maintain margin and incentivize customers to improve synergies by moving more and more to the public Cloud service.
Are customers adopting the cloud?
The numbers are mixed and the challenges are many. While everyone agrees that public Cloud adoption is growing, it's not clear how much of the growth is real or window dressing by the public Cloud providers. There are a number of advantages for smaller customers or new system builds, but we have yet to see how many customers are truly migrating their large workloads to the Cloud.
What to watch out for when reviewing the numbers
As most readers are likely aware, public Cloud revenue is based on a subscription model rather than an upfront large capital purchase followed by annually recurring percentage charges. Oracle and others have discussed these difference in their earnings calls and have explained why this has led to temporary drops in traditional licensing revenue. The big issue comes in understanding what a particular company is booking as public Cloud revenue and what is booked as traditional on-premise revenue.
Companies such as Amazon, IBM, Oracle and Microsoft would like to show investors as much public Cloud revenue as possible. Growing public Cloud revenue shows that the company is making the transition to the new realities of the market and signals to investors that they can participate in the expected growing public Cloud market.
To avoid targeting any one of these companies and how they operate, I'll provide an example of the type of thing you need to watch out for using a fictional story.
Imagine you are the salesperson for a company that sells music on CDs. Your customers demand and love the flexibility CDs provide - that they own them, can lend them and completely control how they are played. They loved owning their own CD player and the comfort and security that provides as music is a critical part of their life. Your boss tells you that you will only now get commission on sales of digital music that's delivered through the internet. You try for a while but have trouble convincing more than a few customers to buy the new option other than CDs. In the meantime, your competitor is making significant inroads selling digital music. You come to find out that instead of selling a CD for $10, your competitor is selling the digital copy for $10 and throwing in a free CD copy of the same music. If you were in this same position, can you think of other ways you can drive more digital music sales with minimal real demand?
You can see that it may look like public Cloud revenue is growing, but the customers may not actually be utilizing it. If they are not utilizing the Cloud, you don't get all the business benefits described above.
Keep an eye on VMware
If companies such as Microsoft and Oracle are truly making huge inroads in enticing companies away from on-premise offerings, it will impact VMware's earnings. VMware is the undisputed number one provider of the virtualization layer and is not offered as part of either the Microsoft or Oracle Cloud offerings. Going forward, if we see the cloud numbers from Oracle and Microsoft growing rapidly, but don't see some kind of flattening or decline with VMware (and we haven't so far), I'd suggest that means something is not quite adding up.
Conclusion
If you are interested in investing in Microsoft or Oracle based on their booming cloud businesses, you might want to weigh the risk that their public Cloud revenue may actually be customers that are entitled to use the cloud, but are not actually taking advantage of it. In this case most of the advantages to Microsoft or Oracle are not being realized.
Disclosure: I/we have no positions in any stocks mentioned, and no plans to initiate any positions within the next 72 hours.
I wrote this article myself, and it expresses my own opinions. I am not receiving compensation for it (other than from Seeking Alpha). I have no business relationship with any company whose stock is mentioned in this article.