What caught my attention about FactSet Research System (NYSE:FDS) is the graph below.

Click to enlarge
In the last 5 years, FactSet grew 43.45% while the NYSE Financial Sector Index grew 44.60%. This got me thinking.
With the current PE ratio of 25.88, which is almost in line with that of Morningstar's (NASDAQ:MORN) 29.11, Thomson Reuter's (NYSE:TRI) 25.05 and McGraw Hill Financial's (NYSE:MHFI) 22.91, why is the Price-to-Book ratio so high for FactSet?
Well, there are two factors that are acting behind that high P/B ratio.
Increasing ROE margin - FactSet's ROE has gone up to 45.35% in 2015 from 33.20% in 2011.

Click to enlarge
In comparison to that, Thomson Reuters' and Morningstar's ROE stand at 9.50% and 20.50% respectively. (Only McGraw Hill Financial's ROE stands at a crazy margin of around 340%, partly due to its huge share buybacks of $974 million in 2015.)
It must be remembered that when investors expect higher ROE over time, the price tends to overshadow the book value.
Consistent Share Buybacks - Last year, FactSet bought back $256 million worth of stocks. And this has been a regular affair for FactSet. If you look at the image below, you will see that although the amount of shares bought back have not been too large, it has been pretty constant.

Click to enlarge
What that does is, it lowers the book value, and thus, the P/B ratio goes up. But that is not necessarily a bad thing though. It keeps the price level constant, and also lets the company be able to provide return to shareholders in a not-so-dynamic market like this.
So, looking at the two criteria above, it can be said that the P/B ratio might be justified.
Now that we know that the company might not be overvalued after all, our next question is, "Should you buy it?"
Well, let's look at 5 important metrics before taking any decision.
Strong Revenue Growth - Crossing the "billion mark" in revenue in 2015, FactSet's Q-o-Q revenue growth has been astounding compared to its competitors.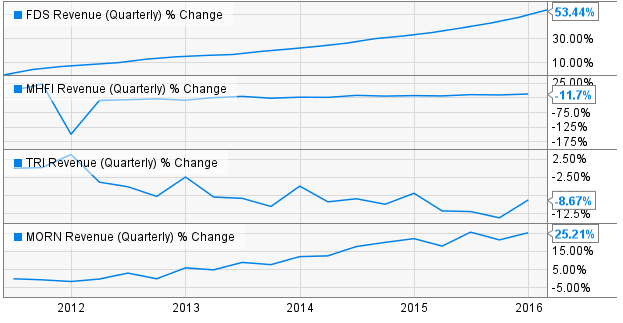 Last year, FactSet's revenue grew at 9.39%, much higher against McGraw Hill Financial's 5.19% and Morningstar's 3.78%. (Thomson Reuter's 2015 sales revenue growth stood at 12.18%).
Will this continue in future? To be honest, the financial market is teetering at present. With Europe still under recovery, China struggling with slowing GDP growth and declining demographic trend, Emerging Market slowdown due to financial stress and low productivity and low labor participation in United States, the financial industry still needs some time to get back to pre-recession activity levels.
However, I am hopeful that financial information industry will still flourish, provided the companies work to change their business model according to what the time needs. New solutions must be developed to meet new problems. For example, at just over 6.75%, Risk & Compliance users and Investment Bankers or Corporate Financiers have been the fastest growing customer groups the past five years, according to a report by Burton-Taylor International Consulting, LLC last year. Pricing, Reference & Valuation products have shown the greatest increase in demand, with an average of 8.88% per year over the same period. Expected at above $25 billion in market size and around $7 billion in revenue, there is a lot of opportunity I believe. That leads us to the question, "What is FactSet doing about it?"
String Of Acquisitions - Since 2010, FactSet has been in a very aggressive mode. In June 2010, FactSet acquires Market Metrics, Inc., the leading market research firm in the United States focused on advisor-sold investments and insurance products. In July 2012, FactSet acquires StreetAccount for better distilled company news and market summaries. In September 2013, FactSet acquires Revere Data to get a better understanding of companies and how they fit into the global economy. In February 2014, FactSet acquires Matrix Solutions to offer even more intelligence to the UK financial services industry. In February 2015, FactSet acquires Code Red, which aids it to offer an RMS for all its clients' workflows. In September 2015, FactSet acquires Portware to offer include multi-asset trade automation.
If you ask me, I see a more all-rounded package of quality products and solutions that covers a wider range of investor needs. It translates into higher annual subscription value, which was recorded $29.8 million last quarter against $25.4 million in the same period a year ago. (Although incremental changes from acquisitions are factored in, they count for a nominal percentage in the numbers.)
Will we see this growth in future? Only time will tell. Phil Snow, CEO of FactSet says:
"Moving forward, our expectation of continued growth is based upon two main drivers that have historically produced consistent results. First, demand for our value-added applications is strong. This includes analytics, CTS, Portware, and RMS, our research management solution suite. We are connecting more dots within our client base with solutions for an increasing number of workflows.

In parallel, we are laser focused on our core workstation business. Even in a challenging or tightening market, we view that we still have a relatively low share of front office users on both the buy side and the sell side, and over time, there is still tremendous opportunity to capture more users and portfolio management, research, banking, wealth and trading."
It must be noted that user count grew 10.6% to 63,500, accounting for 331 net new users, and client count climbed up by 51 to 3,057, as recorded on February 29, 2016.
Strong Fundamentals With Good Cash Inflow - Although FactSet's COGS have been increasing at a higher rate than its revenue, its last recorded operating margin stands at 32.97%, much higher than Thomson Reuters' 14.20% and Morningstar's 24.16%.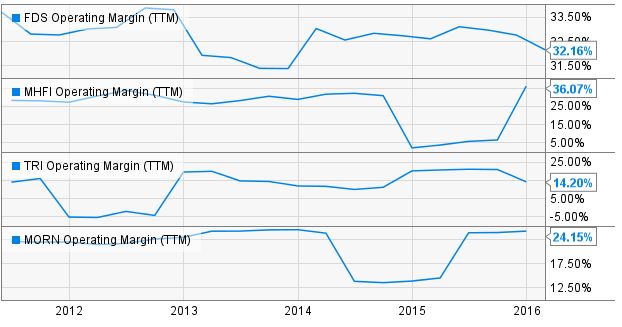 However, I must add that COGS growth rate must be tackled so that it does not creep into the bottom line further.
With long-term debt standing at a mere $35 million, FactSet's total debt to equity ratio is recorded at 6.58, compared to Thomson Reuters' 68.36, Morningstar's 5.47 and McGraw Hill Financial's astounding 1861.34.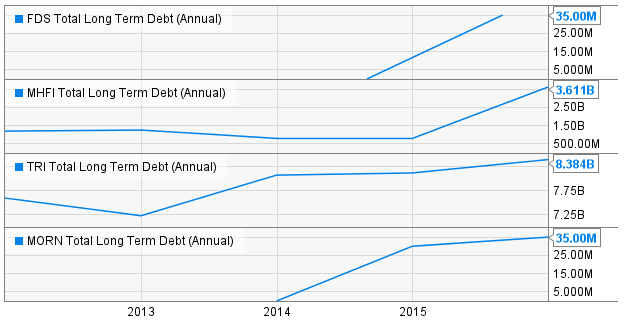 What impresses me is the steady cash inflow from operations, jumping up sharply to $306. 44 in 2015 from $231.97 in 2012.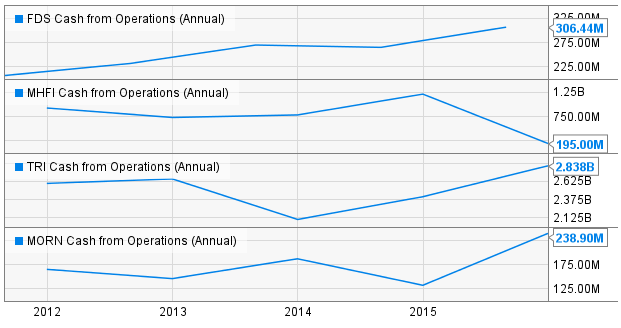 With a high cash flow to capex ratio and a current ratio of over 2, compared to Thomson Reuters' 0.66, Morningstar's 1.35 and McGraw Hill Financial's astounding 1.13, FactSet should not face a liquidity crisis if any good opportunity comes by.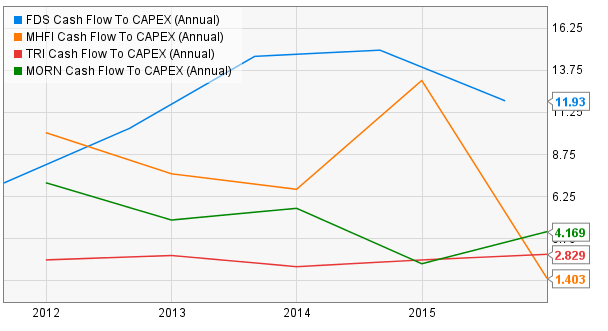 High return on average assets of 34.44% shows that FactSet is managing its assets well in this tough industry conditions. When it comes to market risk, FactSet boasts of a beta of 0.74 - looks pretty safe to me.
Alpha Conclusion
To be honest, FactSet, as a company, looks pretty investment-worthy to me, with the strong financials, regular business acquisitions and generous shareholder returns. But considering the current volatile market conditions, and especially the financial industry, I will suggest not jumping right now, but putting the stock on your watchlist at the moment. Remember, if market factors become favorable, this is a company you should watch for.
Disclosure: I/we have no positions in any stocks mentioned, and no plans to initiate any positions within the next 72 hours.
I wrote this article myself, and it expresses my own opinions. I am not receiving compensation for it (other than from Seeking Alpha). I have no business relationship with any company whose stock is mentioned in this article.
Additional disclosure: This article is entirely based on author's personal opinion. Please consult your financial adviser before taking any investment decision.