IOI's Fair Value Range for General Electric (NYSE:GE)
Our valuation range in January, 2015, overlaid with the option market's price range, looked like this: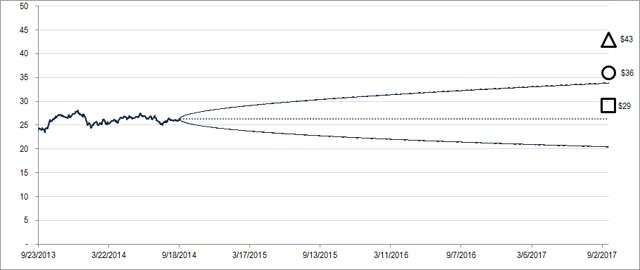 Click to enlargeFigure 1. Source: CBOE, YCharts, IOI Analysis.
The cone-shaped region represents the option market's best idea for the future price of the stock. The geometric shapes to the right of the diagram mark off IOI's estimated valuation range.
After review of GE's most recent annual report, and updating the stock price, our valuation range presently looks like this: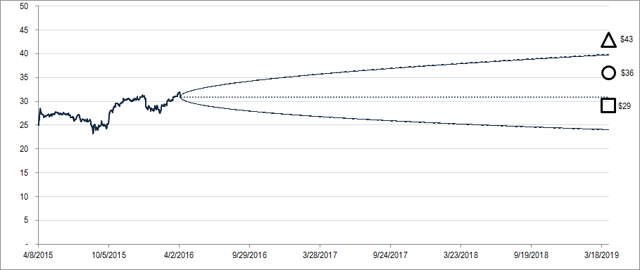 Click to enlargeFigure 2. Source: CBOE, YCharts, IOI Analysis.
Valuation Details
IOI's valuation methodology focuses in on the only three drivers that can affect the cash flows of a firm:
Revenue growth,
Profitability, and
Investment level and efficacy (the latter of which expresses itself in medium-term cash flow growth).
Our analysis below looks at each one of these valuation drivers and our projections for them. A summary of the values we are using as best- and worst-case assumptions for each of the three valuation drivers are as follows:
Near-Term Average Revenue Growth: 6% / 2%
Near-Term Average Profitability (OCP Margin): 16% / 12%
Medium-Term Cash Flow Growth: 7% / 5%
Our reasoning behind each of these drivers follows.
Revenues
As GE announced various major divestments of its finance business during 2015, we built into our model a steep revenue decline coupled with a large share buy-back. At the time, we believed the divestment would take several years to carry out, and we've been surprised at the alacrity with which GE has shed its finance business worldwide.
Reshuffling of GE's business portfolio is still underway. The acquisition of France's Alstom will add in the neighborhood of $13 billion in top-line growth this year, partially offset by the sale of the Appliances business to Haier.
Best-case revenue growth is influenced by the Alstom acquisition. In essence, we are projecting best case revenue growth to be 5% per year - 25% faster than the 4% organic growth rate management believes is a best-case value.
Our standard assumption for worst-case revenue growth is a 2% organic growth rate that management believes to be its worst-case organic growth rate. We do not believe the firm will grow only through organic revenues over the next five years, but we know that revenues are likely to be affected by divestitures, foreign exchange fluctuations, and continuing weakness / uncertainty in Europe and Asia.
Profits
Trying to sort out GE's baseline profitability using IOI's preferred metric of Owners' Cash Profits has been tricky, but thanks to this year's restatement of prior years, adjusted for the divestment of large swathes of GECC, we are getting a clearer picture.
GE has published Statements of Cash Flows separating out the Industrial businesses from GECC, but it was hard to understand what effect a divestment of some parts of GECC would have on the remaining combined entity.
In addition, the past several years have seen material but what looked like one-off increases and decreases in current liability and asset accounts, which also serves to depress IOI's preferred OCP profitability measure. This year, GE's OCP margin was at 13% - better than our worst-case scenario, but the previous two years - adjusted for divested GECC units - was lower. We are sticking with our best- and worst-case profitability estimates of 16% and 12%, respectively, but will be watching this measure closely.
The shift of GE into industrial businesses increases its capital intensity. This capital intensity is an important driver of maintenance capital expenditures, which serves to lower profitability in the IOI framework. We believe that thanks to the businesses it is in and its competitive positions in those businesses, it can still retain higher profitability than other industrial conglomerates, but our 16% best-case OCP margin may be unreasonable.
Medium-Term Cash Flow Growth
The significant divestments of the past decade have made GE's investment efficacy appear weak. However, the firm has been "selling off profits" to "buy cash flows" and has used the cash flows to decrease the sharecount. In essence, management has decided to shrink both the business and the ownership pie. Despite what appears to be low efficacy, a closer look at the areas in which the company is investing makes us think that the firm's potential for medium-term growth is good.
We use a best-case medium-term cash flow growth factor of 7% - slightly faster than our assumptions for growth of the economy at large. Our worst case value is 5% - the same rate as we assume long-term economic growth to be.
Other Considerations
If we look at the present sharecount, the valuation range in figure 2 is actually shifted down by a few dollars per share. And while we usually prefer to use the nominal sharecount in valuations, since the company is in the midst of a very large buy-back program, we are continuing to use our back-of-the-envelope projection for sharecount that we used in our notes late last year. Were we to use the present nominal sharecount, our valuation range would lie almost perfectly on the option market's price projection range.
Like Schrödinger's cat - which was simultaneously living and dead until observers could confirm its true state - our valuation is at once bullish and neutral. GE has done everything its management said it would do regarding the divestment of GECC, so we are giving it the benefit of the doubt that it will also do everything its management said it would do regarding share buybacks.
Conclusion
While Bernstein's analyst Steven Winoker's recent downgrade of GE was based on what we consider to be faulty reasoning, our conclusion is not terribly different from his.
We are much less excited about GE as an investment at $31 / share than we were at $26 / share and have de-levered what was already only a modestly levered investment position of far In-the-Money call options overlain on a holding of the stock.
There is not a great deal of downside valuation risk -- though market risk of course remains. We would be looking to sell puts to insure what we to believe a non-existent valuation downside were the market to get caught in a downdraft and GE's implied volatility to shoot up.
Disclosure: I am/we are long GE.
I wrote this article myself, and it expresses my own opinions. I am not receiving compensation for it. I have no business relationship with any company whose stock is mentioned in this article.