Whole Foods (NASDAQ: WFM) resonates a healthy lifestyle. Their mission is to provide the best products and experiences in their stores. I know for myself when I walk into a Whole Foods it's always clean and everything looks pleasing to the eye. Trends for organic foods to be consumed in households have been increasing in the past years. The younger generation has become more aware of what they are eating. Whole Foods is a company that is in a growing market and could have substantial long term benefits to owning it at today's current market price.
Store Growth
Store Growth is the main driver for the company's revenue and earnings growth. At the end of 2015 Whole Foods had 431 stores. The majority of them are in the U.S. at 412 stores. 2015 total sales were $15.3 billion and average sales per store of $35.5 million. The company believes that approximately 30 new stores will be added this year, which if we take the average of $35 million per store in sales this will add $1.05 billion in sales with a full year run rate. In the first quarter Whole Foods only opened up 3 new stores, but should open quite a few more in the second quarter due to timing issues. I would like to see management become more aggressive in opening up stores for the next few years, since competition is starting to come in this space. Hopefully, management sees this and Whole Foods will start opening up 50 to 60 stores a year, instead of around 30.
For long term investors of 3 plus years management believes the U.S. has the potential of 1,200 stores (See p.2 of 1st Q Press Release). If we take $30 million in per store sales with 1,200 stores that would equal $36 billion in sales. This more than doubles sales and that's only in the United States. I used $30 million in per store sales to be conservative. Market competition has been growing in the organic food space. Currently Wholes Foods only has 9 stores in the U.K. and 10 stores in Canada. The emerging markets could be another growth catalyst as markets outside the U.S. catch the trend of eating organic food. Below is a graph to show you a comparison of revenue growth to stock price.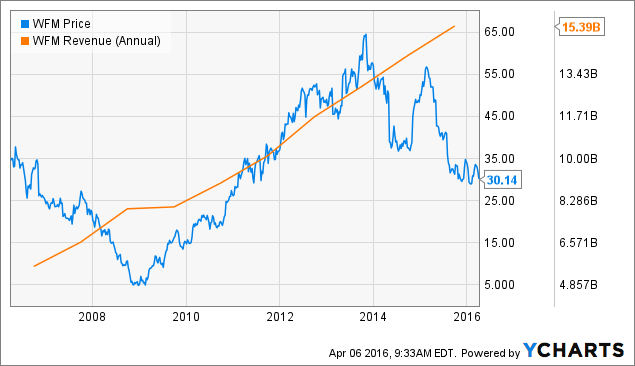 Sourced from YCharts
Valuation and Competition
EBITDA for the first quarter of 2016 came in at $399 million and I have a full year estimate of $1.4 billion. With a current enterprise value of approximately $10 billion the company would be selling at 7x EBITDA. With a 7x EBITDA I believe there is little down side risk and much upside reward if management can execute store growth, while keeping comparative store profits in line with prior years. I know there are concerns from investors about competition, but there are a few things I like about Whole Foods that will help shield against it. In 2015 Whole Foods had $2.1 billion in sales from exclusive brands and $3 billion in sales from prepared foods (See p.19 of their 10K for more). That totals to $5.1 billion or 33% of revenue. This means 33% of sales have a small moat against the competition. This is a very attractive multiple for a high quality stock with a strong brand and the growth catalysts we see above.
Conclusion
With much more store growth to come I think Whole Foods is a good buy at today's prices. For the long term value investors this is a growth stock selling at a discounted price.
Disclosure: I am/we are long WFM.
I wrote this article myself, and it expresses my own opinions. I am not receiving compensation for it (other than from Seeking Alpha). I have no business relationship with any company whose stock is mentioned in this article.