It was around a month ago that I had discussed why Clean Energy Fuels (NASDAQ:CLNE) looks set for a turnaround. I had focused on the fact that natural gas prices are set to improve in the long run due to higher demand, exports, and lower production, apart from the fact that Clean Energy's volumes delivered will also increase on the back of its latest deals.
However, in the one month since the article, Clean Energy shares have declined close to 14%. But, in my opinion, investors should be using this decline to build long positions in the stock since it is one of the best-placed companies to make the most of the growing demand for natural gas-powered vehicles. Let's see why.
An impressive network of refueling locations to tap end-market growth
Clean Energy has the largest worldwide network of natural gas-powered trucks, covering both private and public locations. The energy provider had delivered nearly 78.3 million gallons during the fourth quarter of 2015, which was an increase of 8.1% from 72.4 million gallons during the same period last year. Thus, even during a period when crude oil prices were low, Clean Energy Fuels managed to increase its volumes. This is commendable considering the fact that low crude oil prices hurt the conversion of diesel-powered fleets into natural gas owing to the conversion costs involved.
However, due to its strong fueling infrastructure network and new deals that it has signed with existing customers, Clean Energy has been able to increase volumes. The following chart shows the impressive expanse of Clean Energy's fueling infrastructure.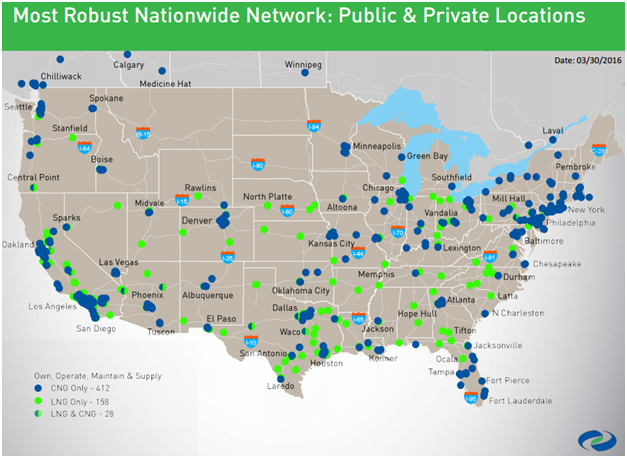 Source: Clean Energy Fuels
Now, as a result of this strong network, Clean Energy Fuels will be able to tap the growth in the number of natural gas vehicles in the country as the Clean Energy Plan comes into play. The Clean Energy Plan, as advocated by the U.S. government, intends to achieve a drastic reduction in greenhouse gas emissions. This is a key reason why the usage of natural gas-powered vehicles will increase since the fuel is able to reduce emissions by a huge margin.
For instance, Clean Energy Fuels' Redeem fuel product is 90% lower on carbon emissions due to its organic waste origins, which is why its demand will grow since 1.1 billion tons of carbon emissions are expected to go off the table in the U.S. in the next 10 years. In fact, as shown in the chart below, the share of trucks plying on natural gas in the refuse market has increased over the past few years, though the growth hit a roadblock in 2015 due to low oil prices: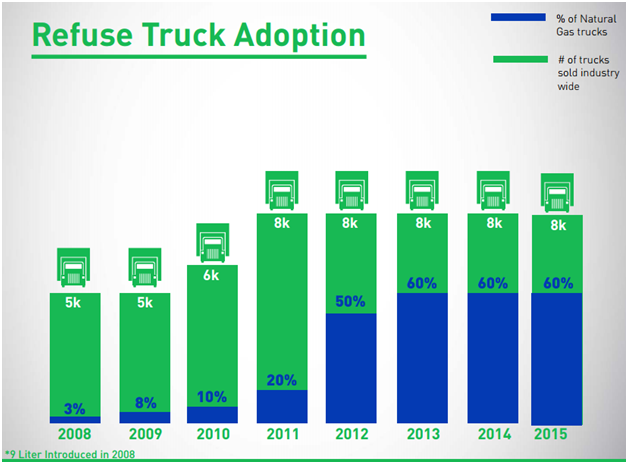 Source: Clean Energy Fuels
Impressive end-market prospects
The adoption of natural gas-powered vehicles in the U.S. will continue to increase in the long run as apart from being environment-friendly, they are cost effective as well. Assuming that buying a natural gas-powered refuse truck costs $30,000 more than a conventional truck, and it consumes 9,000 gallons of fuel annually, then it can lead to savings of $13,000 to $18,500 a year, indicating that the investment in natural gas vehicles can be recovered in two years. As calculated by AOGR:
"Natural gas in the field at $2.00 an Mcf equates to only $0.25 per GGE (there are eight gallons equivalent in each Mcf of natural gas) for a pump price of $1.75. If the field price was to reach $4.00 an Mcf, the natural gas component would still only be $0.50/GGE for a pump price of $2.00. At $6.00 an Mcf, the pump price would be only $2.25."
As such, it is not surprising to see that the trend of adopting natural gas vehicles is going to gain strength in the long run. In fact, according to Navigant Research, sales of natural gas vehicles on an annual basis are expected to go up to 3.9 million units in the next decade as compared to 2.4 million units sold last year. Since Clean Energy Fuels has a robust fueling network across the U.S., it will be able to make the most of the improvement in NGV sales.
Conclusion
Thus, the opportunity for Clean Energy Fuels to grow its business is quite strong. Due to the favorable economics of natural gas powered vehicles and the environmental benefits, the company will gain momentum in the long run and its volumes delivered will increase. Moreover, since Clean Energy Fuels has a robust network of pumps across the U.S., it is in a strong position to make the most of the end market opportunity. So, in my opinion, investors should buy the dip in Clean Energy shares as it is well-poised for long-term growth.
Disclosure: I/we have no positions in any stocks mentioned, and no plans to initiate any positions within the next 72 hours.
I wrote this article myself, and it expresses my own opinions. I am not receiving compensation for it (other than from Seeking Alpha). I have no business relationship with any company whose stock is mentioned in this article.