March was a busy month for DivGro, my portfolio of dividend growth stocks I started blogging about in January 2013.
Following the market's downturn in January and February, I doubled down on no fewer than 6 of my existing holdings, equating to about $15,000 of fresh capital deployed.
I'm busy consolidating several portfolios so I can manage my dividend paying stocks using the investment strategies developed for DivGro. I'm not actually moving stocks between accounts. Rather, I'm recording transaction history and updating dividend income and projected dividend income totals.
My DivGro holdings are distributed across 5 different accounts. I have a hidden column in my portfolio spreadsheet identifying the account that contains each holding.
March Highlights
As an end-of-quarter month, March was another record-setting month. I recorded dividend income totaling $2,633. Of this amount, $1,150 is from dividends received in March and $1,483 is from past dividends recorded as part of the consolidation process. No fewer than 33 of my stocks paid dividends this month!
Projected monthly dividend income increased to $847. Assuming no changes in dividend payments, this means DivGro will produce $847 per month in perpetuity! Of course, the idea with dividend growth investing is that dividends will grow over time and (at least) keep pace with inflation. DivGro's average yield on cost (YoC) if 4.47%, significantly above the current U.S. inflation rate of 1.02%.
Here is DivGro's projected monthly dividend income (red line) plotted against monthly dividends received: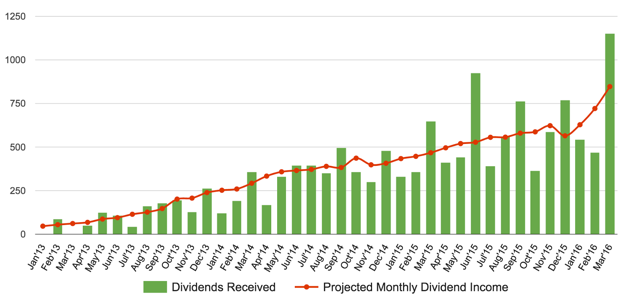 Click to enlarge
There is an uptick in the red line because I'm adding projected monthly dividend income as part of the consolidation process.
Comparing dividend income by month is another way to see progress: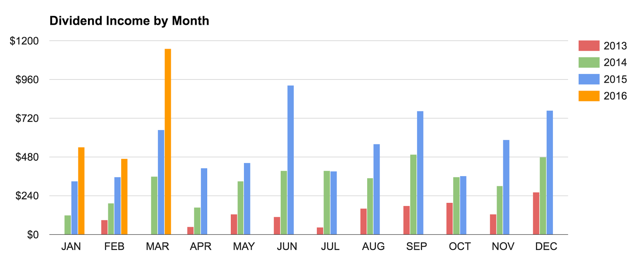 Click to enlarge
Dividend income of March 2016 was 77% higher than the amount I received in March 2015.
Transactions
In March I bought shares of 6 different stocks, adding to existing holdings rather than opening new positions:
Also, I consolidated the following holdings, recording past transactions and increasing DivGro's projected dividend income accordingly:
NIE and EXG are closed-end funds (CEFs) rather than stocks. I hold these funds in my Scottrade account and use the broker's so-called flexible reinvestment program (FRIP) to accumulate dividends and to reinvest the income periodically. I choose to accumulate dividends for 3 months and then buy additional shares of one of my CEF holdings.
Dividends
I received dividend payments from no fewer than 33 of my DivGro holdings:
Dividends totaled $1,150, which is a new monthly record for DivGro.
In March, 4 of my holdings announced dividend increases:
BHP Billiton pcl (NYSE:BBL) cut its dividend by 75%. Usually, I sell my shares of a company following a dividend cut, such as when ConocoPhillips (NYSE:COP) cut its dividend by 66%. However, BBL still yields nearly 3% following its dividend cut, so I'm going to hang onto my shares for a while longer.
DivGro's projected annual dividend income increased by 17.5%, from $8,648 to $10,163.
Markets
Feb 29, 2016

| | | |
| --- | --- | --- |
| DOW: 16,516.50 | S&P 500: 1,932.23 | 10-YR BOND: 1.74% |

Mar 31, 2016

| | | |
| --- | --- | --- |
| DOW: 17,685.09 | S&P 500: 2,059.74 | 10-YR BOND: 1.79% |
In March, the Dow gained 7.08% and the S&P 500 gained 6.60%. In comparison, DivGro increased 6.46%.
Looking Ahead
I'm continuing the process of consolidating dividend paying stocks I hold in a couple of IRA accounts with those in DivGro. I still have a good portion of cash on hand, so I'll be looking for opportunities to add to my holdings.
Thanks for reading! This article is an extract of a more detailed report available here. Please also see my Performance page for a summary of DivGro's performance since January 2013.
Disclosure: I am/we are long ABBV,AVA,BBL,CMI,COP,CVX,D,DLR,ES,EXG,F,GD,GILD,HP,IBM,INTC,JNJ,MAIN,MCD,MDP,MIC,MMM,MSFT,NIE,NPM,O,PFE,QCOM,RS,STAG,STWD,TGT,TROW,TRV,UNP, WBA.
I wrote this article myself, and it expresses my own opinions. I am not receiving compensation for it. I have no business relationship with any company whose stock is mentioned in this article.