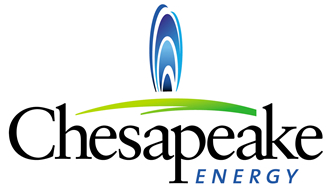 With oil prices below $40/barrel, Chesapeake Energy Corporation (NYSE:CHK) continues to fight for its survival. While Mr. Market judges Chesapeake Energy's chances to restructure its balance sheet to be better than Linn Energy LLC's (LINE), a tough road lies ahead for all companies in the clobbered energy sector. Crude oil prices have recovered in 2016, that's true, but not to an extent that ensures the survival of highly-levered oil and natural gas companies, including Chesapeake Energy. WTI crude oil for May 2016 delivery sells for ~$37/barrel on the NYMEX at the time of writing, making it difficult for energy companies to negotiate for concessions from lenders.
Linn Energy is in even more of a desperate situation than Chesapeake Energy, and trying to prevent going out of business. Both companies doubled down on the domestic shale oil and natural gas bonanza at the wrong time, and shareholders/unitholders are left holding the bag.
Chesapeake Energy, for instance, crashed ~75 percent in the last year, but losses would have been even higher if it wasn't for the recovery in crude prices and an epic short squeeze that saw Chesapeake Energy's shares triple in value from February lows. Chesapeake Energy traded up to $5.76 on March 7, but the recovery has clearly begun to run out of steam.
Chesapeake Energy's Short Interest Has Dropped
Part of the reason why Chesapeake Energy had such a good run in March was, as mentioned, a gigantic short squeeze that had investors fall over themselves in order to cover their short bets. The latest available short interest data shows that investors have scrambled to unwind their short positions in March: Chesapeake Energy's short interest fell ~19 percent from a high of ~246 million shares in the middle of December 2015 to ~200 million shares in the middle of March. That's still a significant number of shares being shorted, but also substantially less than at the end of last year.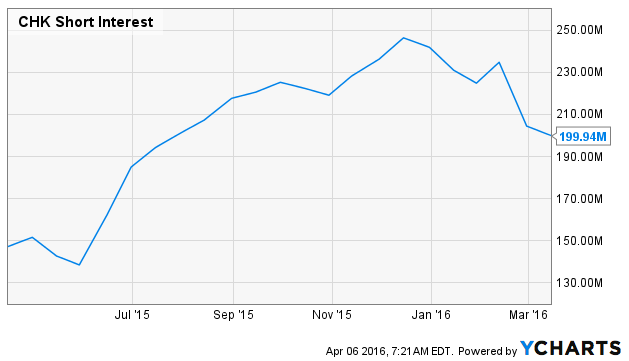 A Linn Energy Bankruptcy Is A Major Risk Factor For Chesapeake Energy's Shares
The recovery of Chesapeake Energy's shares has started to show cracks since crude prices have fallen back below $40/barrel, and some investors have taken profits last month. The future path of Chesapeake Energy largely hinges on a more sustained rebound in crude oil prices, and the company's ability to gain the goodwill of banks and debtholders.
A major risk factor, besides lower commodity prices, is a near-term bankruptcy of Linn Energy, which Mr. Market expects at this point. Linn Energy's units sell for ~$0.35, so investors are pricing in a high probability of a Chapter 11 filing in the coming months. Linn Energy already maxed out its credit facility and borrowed $919 million earlier this year in anticipation of a borrowing base reduction. In case Linn Energy becomes the first large victim in the shale oil and gas sector and goes out of business, Chesapeake Energy will be the next company in line to circle the drain.
Your Takeaway
Chesapeake Energy's short interest continued to fall in March after reaching a high in December last year because investors covered their short bets amid a recovery in crude prices. Chesapeake Energy's survival largely hinges on a continued rebound in commodity prices and its ability to repair its balance sheet. Asset sales and a debt restructuring/swap are two ways to do that. However, a Linn Energy bankruptcy filing would send ripple effects throughout the still highly levered energy sector, and put Chesapeake Energy under renewed selling pressure.
Disclosure: I/we have no positions in any stocks mentioned, and no plans to initiate any positions within the next 72 hours.
I wrote this article myself, and it expresses my own opinions. I am not receiving compensation for it (other than from Seeking Alpha). I have no business relationship with any company whose stock is mentioned in this article.
Editor's Note: This article covers one or more stocks trading at less than $1 per share and/or with less than a $100 million market cap. Please be aware of the risks associated with these stocks.