One of the best performing stocks recently has been cigarette giant Philip Morris (NYSE:PM). As you can see in the chart below, shares have rallied to new highs over $100. While part of the rally is due to a stronger overall market, a weaker dollar is certainly giving investors more confidence in the name. As we approach the company's Q1 earnings report, management should detail some financial progress, meaning some key decisions need to be made.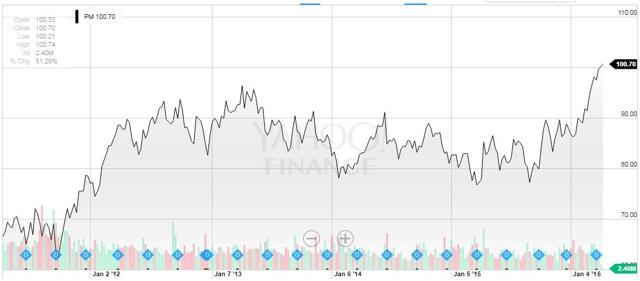 Click to enlarge
(Source: Yahoo! Finance)
In my most recent article on the name, I detailed what management stated on the conference call about this year's currency situation:
The $0.60 of unfavorable currency impact at prevailing exchange rates included in our 2016 guidance, is driven primarily by the Argentine peso, Indonesia rupiah, Japanese yen and Russian ruble. These four currencies account for around 60% of the total impact. We have currently hedged approximately 72% of our 2016 forecast sales to Japan which at prevailing exchange rates translates to an effective rate of 118 yen to the U.S. dollar versus 110 yen in 2015.
The good news for Philip Morris is that a weaker dollar will help results, the opposite of what we've seen in recent years. The only bad news here is that the Dollar/Yen is now below 110, so the company's hedge will hurt a little. The Yen has strengthened considerably since its near 122 per Dollar high seen in late January, just before the Q4 conference call.
The Argentine Peso will still provide a bit of pressure when looking at last year's results, given it was at less than 9 per Dollar this time in 2015. Fortunately, the Peso has come a bit off its high of 15.95 per Dollar seen during Q1. The Rupiah and Ruble have shown a similar pattern, off their highest points but still weaker against the dollar than they were a year ago for the most part.
A weaker dollar means Philip Morris should report higher revenues and earnings than some would have expected a few months ago. The company had done a great job of raising prices in previous years to partially offset the dollar's strength, and now the weaker dollar will provide a tailwind to results. If this pattern holds for the rest of 2016, it will likely mean the company will have some extra cash left over after paying its dividend. Last year, free cash flow per the 10-K filing was about $6.9 billion, and the company paid $6.25 billion in dividends. That doesn't leave a lot of cash left over for other uses, which is why the buyback has been suspended for now.
If Philip Morris does have a little extra cash in its pocket this year, it is likely the company won't just let it sit on the balance sheet. There are four items that the company could consider, part of my key questions list for this year: extra dividends, resume the buyback, mergers and acquisitions, or debt repayments.
At this point, I don't expect too much change in the dividend policy. Unless the company's results come in massively better than expected, I don't think we'll see a tremendous raise. The company doesn't want to be in a situation where if the dollar gets stronger again and cash flows decline, it will have to cut the dividend. Small, steady raises are the best course of action at this point.
As you saw in the chart above, Philip Morris' shares have rocketed higher so far this year. As a result, I don't think the company should buy back stock at these levels. If management was hesitant to buy shares when they were in the $70s and $80s, do you really want them jumping in and buying over $100?
As a result, I would be more in favor of the other two options, either some acquisitions or repaying debt. As I discussed in the article above, perhaps diversifying the business a little away from cigarettes, like Altria (NYSE:MO) has done with its SABMiller (OTCPK:SBMRY) and wine segments, Philip Morris could look somewhere else in the consumer goods space. While a potential acquisition probably won't be any larger than $1 or $2 billion at this point, it could get the company a foot in the door somewhere else. That business can grow over time.
Repaying debt pretty much speaks for itself, as some investors I've talked to in recent years would like to see the company trim its borrowings a bit. The company has some debt coming due this May, so it could potentially clear that money off the books. With interest rates still low overall, I'd also hope the company could refinance some of its higher rate debt, which you can see here. Lowering the debt profile will help keep the company's credit rating high, something management has tried to protect recently. Getting down total debt could also reduce the risk premium attached to future debt issuances, helping to save on interest costs.
In the end, Philip Morris' shares have rocketed higher in recent weeks, primarily due to a weaker US Dollar. Results should improve as a result, which will likely leave the company with a little extra cash flow this year. With shares this high, I'd suggest that management look at debt refinancing or acquisitions over the buyback or a larger dividend increase, just in case the Dollar reverses its trend. Should the Dollar stay weaker for an extended period of time, we can then revisit the situation.
Disclosure: I/we have no positions in any stocks mentioned, and no plans to initiate any positions within the next 72 hours.
I wrote this article myself, and it expresses my own opinions. I am not receiving compensation for it (other than from Seeking Alpha). I have no business relationship with any company whose stock is mentioned in this article.
Additional disclosure: Investors are always reminded that before making any investment, you should do your own proper due diligence on any name directly or indirectly mentioned in this article. Investors should also consider seeking advice from a broker or financial adviser before making any investment decisions. Any material in this article should be considered general information, and not relied on as a formal investment recommendation.