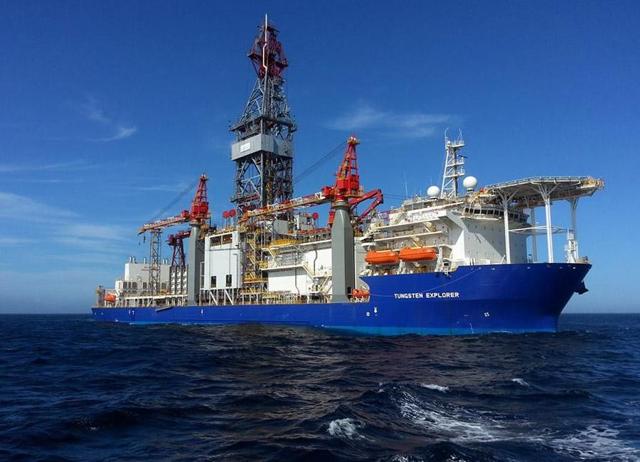 Click to enlarge
Image: The Tungsten Explorer from offshoreEnergyToday.
Vantage Drilling (OTCPK:VTGDF)
Introduction:
I am certain I am not the only one here, who has been frustrated with this entire melodramatic saga, that started with the early termination of the Platinum Explorer by Petrobras who refused to compensate the company for nearly $1 billion in contract backlog loss. The Platinum Explorer was implicated in a bribery case called the car wash corruption scandal. Petrobras' decision was a death sentence for Vantage.
On December 3, 2015:
Offshore Group Investment Limited, a Cayman Islands exempted company ("OGIL"), a wholly-owned subsidiary of Vantage Drilling Company (the "Company"), and certain subsidiaries of OGIL (together with OGIL, the "Vantage Debtors") filed voluntary petitions ("Bankruptcy
Petitions") in the United States Bankruptcy Court for the District of Delaware (the "Bankruptcy Court") seeking relief under the provisions of chapter 11 of title 11 of the United States Code (the "Bankruptcy Code") to pursue a pre-packaged chapter 11 plan of reorganization (the "Plan").
What is important for VTGDF shareholders is the following:
The Company will have sold to OGIL its equity interests in Vantage International Management Company Pte. Ltd. ("VIMCO Singapore") and Vantage Energy Services, Inc. ("VESI", and collectively with VIMCO Singapore, the "Vantage Parent Assets") in exchange for a promissory
note, which sale was effected pursuant to the terms of a Share Purchase Agreement dated as of December 2, 2015, by and among the Company, OGIL, VIMCO Singapore and VESI...
On January 15, 2016 The Court confirmed the Plan of reorganization which became effective on February 10, 2016.
Vantage filed a Joint Prepackaged Chapter 11 Plan of Reorganization on December 3, 2015 and emerged from those proceedings on February 10, 2016. In connection with the reorganization, Vantage recognized charges totaling approximately $39.4 million consisting primarily of the write-off of deferred financing costs and unamortized original issued debt discounts, and professional fees.

Vantage, a Cayman Islands exempted company, is an offshore drilling contractor, with an owned fleet of three ultra-deepwater drillships, the Platinum Explorer, the Titanium Explorer and the Tungsten Explorer and four Baker Marine Pacific Class 375 ultra-premium jackup drilling rigs.
This reorganization was partial in essence, whereas Vantage Drilling Co. is still in liquidation in the Cayman Islands. KPMG, in the Cayman Islands, is the auditing firm handling the liquidation.
VTGDF owns a promissory note that has been estimated to be worth $61.477 million, due December 2016:
Section 1.02 Purchase Price. In consideration for the purchase and sale of the Purchased Shares and the contribution of the Seller VESI Receivable to the capital of VESI, Buyer shall pay to Seller $61,477,000 (the "Purchase Price"), which shall be paid in the form of that certain Secured Promissory Note issued by Buyer to Seller, dated as of the date hereof, in the amount of the Purchase Price and attached hereto as Exhibit A (the "Note"), which Note, along with the obligations of Buyer thereunder, is secured pursuant to the terms of that certain Security Agreement, dated as of the date hereof, entered into by Buyer and Seller and attached hereto as Exhibit B (the "Security Agreement")
Final note on the relationship between Vantage Drilling International and VTGDF:
Vantage Drilling International (formerly known as Offshore Group Investment Limited, OGIL) is a private company who owns the "Vantage Fleet", and VTGDF is only a shell company currently in liquidation, which owns a promissory note worth $61.477 million, that should be repaid before December 2016.
Note: In the last conference call, Vantage Drilling International said it has issued 655K new shares representing 13.1% of the outstanding shares of the new company to Vantage drilling Co. -- 5 million -- in exchange of the promissory note. I was not able to confirm it, because I could not access the last 10K filing.
In my opinion, VTGDF is not worth much, after deducting all liabilities, I do not see what can be left to shareholders?
The question remains about the Platinum Explorer and the arbitration against Petrobras? It is hard to imagine Petrobras - which is a National Oil Company NOC - to be forced to pay an early termination fee. However, we cannot totally eliminate a possible favorable decision against Petrobras. However, any proceeds will go to Vantage Drilling International.
Fleet status of Vantage Drilling International.
Vantage drilling International 4/1/2016
2016
2017
2018
2019
D rate

2016

$ m

2017

$m

2018

$m

2019

$m

Platinum Explorer
0
0
0
0
0
0
0
0
0
Titanium Explorer
0
0
0
0
0
0
0
0
0
Tungsten Explorer
9
12
12
0
305?
82
110
110
0
9
12
12
0
82
110
110
0
Emerald Driller
0
0
0
0
0
0
0
0
0
Sapphire Driller
1
0
0
0
75
2
0
0
0
Aquamarine Driller
9
5
0
0
80
22
12
0
0
Topaz driller
2
0
0
0
99
6
0
0
0
12
5
0
0
30
12
0
0
112
122
110
0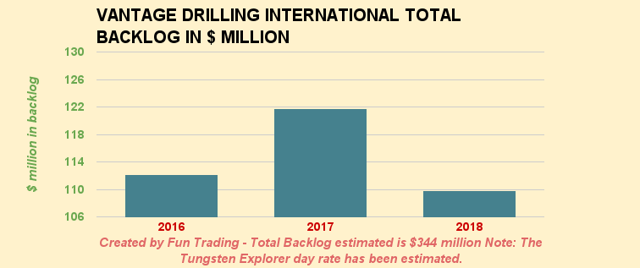 Click to enlarge
A quick look at the Vantage Drilling International balance sheet on 12/31/2015 shows that the promissory note was classified as a liability "note payable to parent", but will be exchanged with 655k shares or 13.1% of the total outstanding of Vantage Drilling International.
The future outlook is quite negative for Vantage Drilling International with a very limited contract backlog in 2016-2018. The company could be an excellent candidate for a takeover at a distress price, due to the quality of the fleet.
VTGDF chart: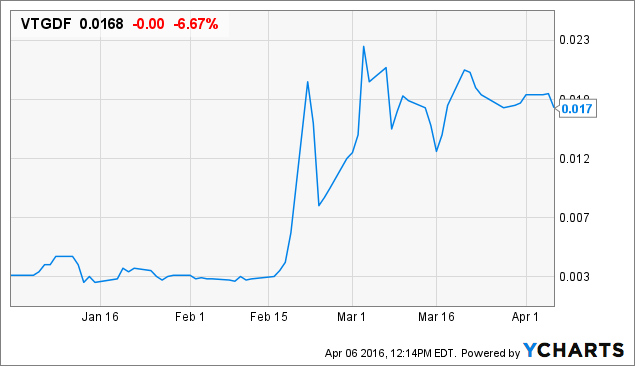 Conclusion:
On February 19, 2016, Vantage Drilling International announced (my article) the following:
Vantage Drilling International signed an agreement for a two-year extension of the Tungsten Explorer contract; the ultra-deepwater drillship will now work until October 2018, the company said Feb. 19.
Quickly after the news, VTGDF jumped from 0.003 to 0.02+, and it was evident that the rally was directly correlated to the news of the Tungsten Explorer contract extension.
I do not recommend to invest in VTGDF or even trade the stock at all. The stock will have a very remote value when all is said and done, in my opinion.
Disclosure: I/we have no positions in any stocks mentioned, and no plans to initiate any positions within the next 72 hours.
I wrote this article myself, and it expresses my own opinions. I am not receiving compensation for it (other than from Seeking Alpha). I have no business relationship with any company whose stock is mentioned in this article.
Editor's Note: This article covers one or more stocks trading at less than $1 per share and/or with less than a $100 million market cap. Please be aware of the risks associated with these stocks.