By Charles Kaplan
After screening several hundred companies, I finally came across one undervalued company that is not a household name trading under the radar. The market has also pretty much ignored the company's growing presence in the robotics field. The company I am referring to is North Reading, Massachusetts-based Teradyne Inc. (NYSE:TER) ($21.64, 4/04/2016), an early pioneer in the design of automated test equipment for the semiconductor field. The company had a colorful beginning, according to Wikipedia. Teradyne was founded by Alex d'Arbeloff and Nick DeWolf, who were classmates at the Massachusetts Institute of Technology (MIT) in the late 1940s. The men founded Teradyne in 1960, and set up shop in rented space above Joe and Nemo's hotdog stand in downtown Boston - at least they never went hungry. In 1961, Teradyne developed its first product, a diode tester, that was sold to Raytheon (NYSE:RTN).
Currently, Teradyne has emerged as a leading producer of automatic test equipment (ATE) for systems on chip (SOC), mobile wireless equipment and complex electrical systems. Total sales over the past five years have exhibited an erratic pattern, with peaks and troughs reflecting the cyclical nature of the semiconductor space. Looking back at this period, sales climbed 13% to $1.63 billion in 2015, up from $1.42 billion in 2011, with down years in sales reported in 2013 and 2011. GAAP earnings have also exhibited a similar pattern, reflecting the volatile nature of the semiconductor industry. Nonetheless, in 2015, the company reported a 200 basis point increase in its gross margin to 56%, up from the prior years 54%, reflecting a favorable product mix. The company's diluted earnings per share on a GAAP basis peaked in 2011 at $1.63, declining to a low of $0.37 per diluted share (reflecting a goodwill impairment charge of $99 million taken in Q4) in calendar year 2014. GAAP earnings in 2015 climbed to $0.97 per diluted share, up from $0.37 per share in the prior year. Using more liberal Non-GAAP metrics, Teradyne earned $1.27 per diluted share in 2015, up approximately 2% from $1.25 per diluted share realized in the prior year. No doubt, Non-GAAP results are like reading the numbers wearing rose colored glasses. Accounting purists have mixed feelings about Non-GAAP results as they exclude non-cash and non-recurring extraordinary events from the P&L statement. However, almost all of the companies in the tech space rely on Non-GAAP measures.
According to the company's recently filed 10-K, Teradyne is a global supplier of automation test equipment used to test a host of products, including chips, wireless products and data storage devices. Its test equipment measures such parameters as resistance, current, voltages and impedance looking for electrical shorts, circuit flaws and design errors that would indicate chip failure. Non-destructive testing of circuits and chips is an essential part of the quality control process. Its testing systems are used by a wide range of industries, including consumer electronics, wireless, automotive, industrial, computing and defense to name a few. The company's customers are a who's who of semiconductor manufacturers including such leaders as Analog Devices (NYSE:ADI), Micron Technology (NASDAQ:MU), Texas Instruments (NYSE:TXN), Xilinx (NASDAQ:XLNX) and Intel (NASDAQ:INTC).
The company's test revenues are broken down into four segments: semiconductor test, system test, wireless test and industrial automation. With each segment generating 73%, 12%, 11% and 3%, respectively, to total revenues. One factor that makes Teradyne attractive is its emerging position in robotics. Unfortunately, most analyst following this company have failed to recognize its potential. I blame this on the shortsightedness of analysts who only focus on the short term and think its robotic sales are too insignificant to matter. To bring you up to speed with this acquisition, Teradyne acquired Universal Robots for $285 million in an all-cash deal. Future growth for this acquisition has not been factored into its stock price. Presently, it represents the company's smallest segment - industrial automation, with revenues of $42 million in 2015. However, management believes it offers the greatest potential for future growth based in part on the growing demand for its line of collaborative robots. Its robots work alongside production workers on the assembly line. They are seen as a tool for improving worker productivity by eliminating repetitive tasks while lowering operating costs. For investors seeking to participate in the robotics field, Teradyne might be an attractive holding to consider.
What leading indicator should investors follow that has been a good prognosticator of future performance?
One of the most important indicators of health in the chip space is the book-to-bill ratio, a metric that measures bookings to actual sales. It is an indicator of future revenue growth and is closely followed by analysts and investors alike. Presently, this indicator has doubled for semiconductor test equipment, increasing to 2 from 1, in Q4, a positive sign for robust test sales growth in 2016. An increasing ratio indicates a rising level of booked orders. Conversely, a decline in the ratio indicates lower booked orders and a weaker business outlook. As orders on the books increase, companies can produce product at higher output rates resulting in lower fixed costs per unit of production.
How healthy is Teradyne's balance sheet?
Financially, Teradyne appears to be in great shape with $264 million in cash and $477 million in marketable securities on its balance sheet. Current assets are over three times greater than current liabilities, assuring ample liquidity in times of economic stress. The company has a de minimus amount of debt, with a large part of its cash reserves sitting in foreign accounts totaling some $588 million.
How is 2016 shaping up?
Q4 of 2015 saw some positive trends that should carry over into 2016. Net orders in the quarter were the highest in over 15 years, rising 57% to $522 million, up from $332 million in the like quarter of the prior year. This increase bodes well for 2016. However, GAAP earnings for Q4 remained relatively flat to slightly down, coming in at $0.13 per diluted share vs. $0.14 per diluted share for Q4 of 2014. Revenues for the quarter were also flat to slightly down at $318 million compared to $323 million for the prior year's like quarter. Nonetheless, 2016 looks like a strong year based on management's guidance:
The test market for systems on a chip (SOC) is forecast to be $2.1-$2.5 billion, a significant increase over previous years.
Continued gains for test equipment used in storage, semiconductor and SSD applications.
Universal Robots forecast to grow 50% in the collaborative robot industry.
Advancing chip designs and densities will require new generations of test equipment.
Share repurchases to continue into 2016.
Q1 Non-GAAP estimates range between $0.23 to $0.29 per diluted share, according to management's guidance, with GAAP revenues coming in at between $410-$440 million.
Estimated earnings in 2017 are projected to reach $1.75 per diluted Non-GAAP basis, up from an estimated $1.50 per diluted share projected for 2016.
How much is Teradyne's stock worth?
On a valuation basis using a discounted cash flow model, Teradyne's stock is currently selling at a 14% discount from its fair value of $24.52 a share. This DCF value is based on the following metrics: Non-GAAP earnings of $1.25 per share with a 10% growth rate projected for 10 years discounted at 12% per annum. This calculation is not an exact science but a rough estimate of fair market value. Universal Robots remains a wild card that has not been factored into Teradyne's stock price. If it can maintain its current growth rate of 50% per annum, its sales could top $100 million by 2018-2019, adding a premium to its Teradyne's P/E ratio.
How does Teradyne stack up against its nearest competitor?
Teradyne compares favorably to its nearest competitor - Xcerra (NASDAQ:XCRA). It PEG ratio, EV/EBITDA ratio all place it ahead of Xcerra by a wide margin. Fundamentally, it out ranks Xcerra on all metrics - from profit margin to return on assets. From these metrics, it appears Teradyne is undervalued in relation to the competition.
Comparative Statistics Yahoo & Capital IQ
TER
XCRA
Market Cap.
$4.32(b)
$313.6(m)
Forward P/E
12.72
15.42
PEG
1.27
38
Profit Margin
12.59%
4.30%
Operating Margin
15.22%
2.95%
ROA
6.13%
1.76%
ROE
10.21%
3.62%
EV/EBITDA
9.22
11.32
What are the risks?
Just a word of caution, the semiconductor space has always been considered a highly cyclical industry with wide peaks and troughs in both demand and earnings. Despite what appears to be shaping up as relatively strong period for the industry, it is subject to pronounced changes that could impact its outlook overnight. The company is not immune to business and financial risk and should be considered a speculative investment unsuitable to risk adverse investors. Furthermore, I consider this a long-term investment and investors should hold a diversified portfolio of stocks across a wide range of industries not concentrated in any one sector.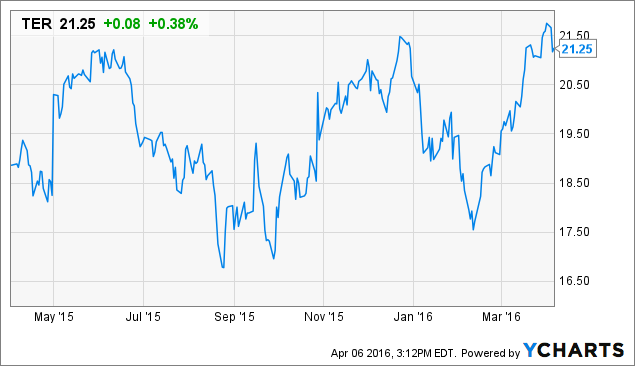 TER data by YCharts
Disclosure: I/we have no positions in any stocks mentioned, and no plans to initiate any positions within the next 72 hours.
I wrote this article myself, and it expresses my own opinions. I am not receiving compensation for it (other than from Seeking Alpha). I have no business relationship with any company whose stock is mentioned in this article.