Plug Power (NASDAQ:PLUG) bulls are actively monitoring the latest news related to the extension of the investment tax credit (ITC). Although the jury is still not out on the passage of the ITC, I am excited to report that Home Depot's (NYSE:HD) second GenKey deployment in Savannah, GA is moving forward.
If you are interested in following the ITC as well as Plug's CEO Andy Marsh's commentary on the topic, you can follow Andy on Twitter @AndyMarsh15. This morning, Andy maintained his viewpoint that the passage of the ITC would occur in Q2. I recently outlined a detailed article why the ITC for fuel cells as well as geothermal, biofuel and small wind were not extended in December 2015 alongside solar and wind.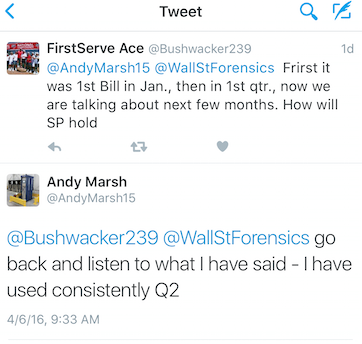 Source: Twitter
Home Depot's hydrogen infrastructure and fuel cell deployment at the company's distribution center is progressing nicely. The building permit that was submitted in early January 2016 has officially been approved and all work is expected to be completed by August 30, 2016. The concrete slab has been delivered and was inspected on March 9th, which puts the GenKey project on schedule to be completed by late Q2 or early Q3 at the latest.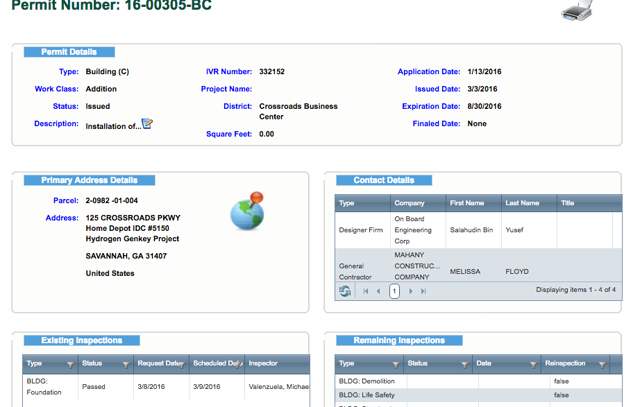 Click to enlarge
Home Depot has shown a commitment to renewable energy through the deployment of solar, wind and fuel cells to generate electricity and, most recently in 2015, deployed 200 hydrogen-powered fuel cell forklifts to replace lead-acid batteries.
Home Depot's stakeholders have concerns that are bucketed into three areas: product impact, store footprint and supply chain. The area where Plug Power can help Home Depot is within the supply chain area to reduce emissions as well as permanently removing millions of kWh of electricity usage through the delivery of hydrogen-powered forklifts in lieu of lead-acid batteries.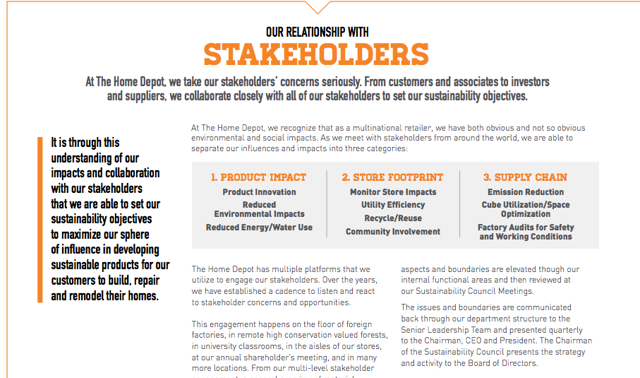 Click to enlarge
Source: Home Depot's Sustainability Brochure
The deployment of just 200 hydrogen-powered fuel forklifts will save Home Depot over 2 million kWh by not having to charge lead-acid forklift batteries. Additionally, the deployment of 200 hydrogen-powered forklifts avoided 800 metric tons of CO2 emissions annually.
Based on the data provided by Home Depot every 100 fuel cell powered forklifts can save Home Depot 1 million kWh of electricity usage and avoid 400 metric tons of CO2 emissions annually.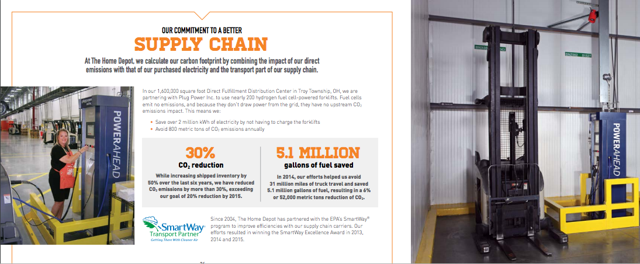 Click to enlarge
Source: Home Depot's Sustainability Brochure
Home Depot is focused on meeting the company's 2020 goals and Plug Power is harvesting anchor customers and building roadmaps for the next several years.
We're working with them in doing long-term planning, some of them are people like the Home Depot as well as Nike. They really put together roadmaps, just not for 2016 - for 2016, 2017, 2018, as we have with Walmart and a few other customers. Andy Marsh Plug CEO Q4 CC Transcript
The upcoming deployment of a second GenKey location for Home Depot in Savannah, GA is very important for both Plug Power and Home Depot. The deployment of a second site will allow Home Depot to continue satisfying stakeholders' key concerns related to power consumption and emission reduction within the supply chain.
The successful deployment of a second GenKey site with Home Depot is a sign of strength in the relationship and will open the door for further Plug Power GenKey deployments in 2016 and beyond. Home Depot has over 70 facilities shipping and receiving products in North America, which means there is plenty of opportunity for both Home Depot and Plug Power to achieve each company's respective long-term objectives for key stakeholders.
Disclosure: I am/we are long PLUG.
I wrote this article myself, and it expresses my own opinions. I am not receiving compensation for it (other than from Seeking Alpha). I have no business relationship with any company whose stock is mentioned in this article.