Welcome to the April 7th edition of Seeking Alpha's Eye on Tech newsletter.
Eye on Tech Coverage
Facebook Bets Live Video Will Be The Next Big Thing
Facebook (NASDAQ:FB) has rolled out a big update for its Live streaming platform, and is reportedly paying media firms to use Live.

Remarks from Mark Zuckerberg indicate he has made live streaming a company priority, and expects usage to soar.

Twitter's Periscope live streaming platform still has a large early lead. However, Facebook's aggressive efforts and the size of its base will help it gain ground.
Jeff Bezos' Letter Shines A Light On How Amazon Sees Itself
Though his defense of Amazon's (NASDAQ:AMZN) corporate culture got more attention, Jeff Bezos' shareholder letter remarks about what he considers Amazon's "big offerings" to be could be more important.

Bezos' remarks indicate Amazon doesn't fundamentally see itself as an online retailer, but as a service platform underpinned by a giant infrastructure.

Meanwhile, Bezos' comments about Amazon Prime point to a willingness to let non-Prime sales suffer to drive Prime subscription growth.
Noteworthy Tech News
IBM gets a server chip design win with major Intel client Google - Rackspace (NYSE:RAX) and Google (NASDAQ:GOOG) (NASDAQ:GOOGL) plan to develop a server design that leverages IBM's (NYSE:IBM) next-gen Power9 CPU, and which will be contributed to Facebook's Open Compute Project ("OCP"). OCP creates open-source designs for low-power data center hardware, and is supported by many tech and Internet firms.
The Power9 is due in 2H 2017. It's expected to have 24 cores, use an advanced 14nm manufacturing process, and support on-chip accelerator modules. IBM promises "extreme" big data/analytics optimization. The currently-available Power8 is a monster in its own right - it supports up to 12 cores and 96 threads. Rackspace and IBM have already contributed a Power8-based server design codenamed Barreleye to OCP.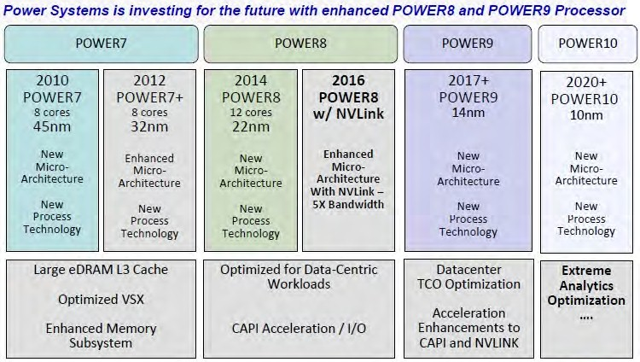 Click to enlarge
Source: IBM
Provided Google deploys servers based on the Power9 design it's working on with Rackspace - Google indicates it will, and that its software toolchain now supports Power - this is a big reference win for IBM, whose own sales of servers running on Power CPUs have been pressured by share losses to systems running Intel (NASDAQ:INTC) Xeon CPUs. Google is believed to be an Intel-only shop today (like most Internet giants), but has previously said it backs IBM's OpenPower initiative, through which IBM has been willing to let third-party server makers use Power CPUs and even license the Power architecture to other chipmakers. Other supporters include GPU giant Nvidia and server connectivity hardware provider Mellanox.
For Intel, Google's vote of confidence for Power9 represents an additional challenge - there have already been signs Google is open to using ARM-based server CPUs - particularly given its cachet in the tech world. At the same time, the search giant is one of the world's biggest Intel server CPU buyers, and could remain so even if it turns to Power and ARM-based servers for some of its needs.
As for Rackspace, it isn't clear how much the company will benefit from this, as they likely won't be the ones supplying Power9 servers based on the joint design to Google. Rackspace, like Google, will presumably deploy the Power9-based server in its own data centers.
The 16GB iPhone SE sells for $586 in India - That's 36% more than its U.S. sales price after factoring normal sales tax. The WSJ also notes Indian smartphone buyers (though often cost-sensitive) tend to prefer larger screens, as their smartphones are often their sole computing device. Apple (NASDAQ:AAPL) is looking to sell used iPhones in India as part of its efforts to gain share; local smartphone OEMs are trying to prevent Apple from getting government approval to do so.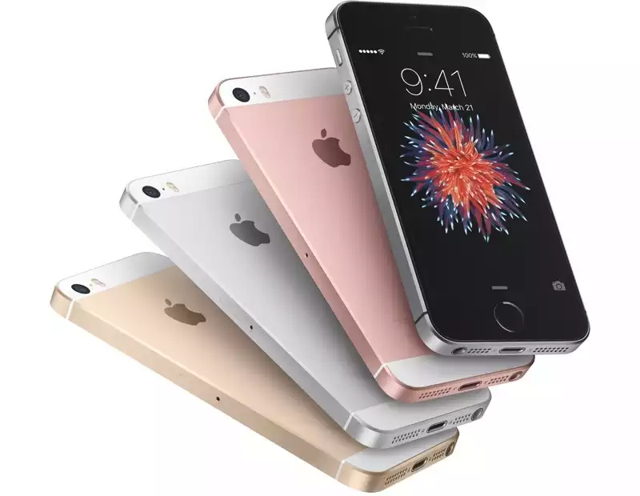 Click to enlarge
On the other hand, the SE is seeing (in spite of recent data from Localytics pointing to soft initial-weekend sales) shipping delays and stock-outs in the U.S. AppleInsider reports the soonest an SE ordered from Apple's site can arrive is April 12, with many models unavailable before April 20. It adds "a check of a number of major markets in the U.S. and found in-store pickup was unavailable for virtually every model, though there was some sporadic availability of certain carrier, capacity and color combinations."
Re/code: Documents shared with Yahoo bankers point to dire financial situation - The estimates Yahoo (NASDAQ:YHOO) has reportedly provided to bankers for its 2016 sales, EBITDA, and traffic acquisition costs appear to match its formal 2016 guidance (issued on Feb. 2). However, Re/code's report still contains some interesting details. Among them: $120M in search-related fees paid by Yahoo Japan (OTCPK:YAHOY) will disappear next year, and Marissa Mayer is reportedly trying to sell would-be buyers on Index, a planned Siri/Google Now/Cortana/Alexa rival.
Alibaba joins buyout group for chat/dating app Momo - The company is also rumored to be interested in upping its large stake in Chinese microblogging leader Weibo (NASDAQ:WB). Alibaba's (NYSE:BABA) M&A hunger is apparently as strong as ever. The company recently obtained fresh funds through a low-interest $3B loan. Meanwhile, its acquisitions of online video firm Youku Toudu and Hong Kong's South China Morning Post closed this week. The latter's paywall has been taken down.
Bloomberg: Dell and EMC looking to sell EMC's Documentum unit - Documentum is a leading player in the enterprise content management software ("ECM") space. The sale is said to be part of Dell and EMC's (EMC) efforts to divest over $6B in assets to make the former's purchase of the latter easier. Dell recently struck a deal to sell its IT services unit to NTT Data for $3.05B, and is reportedly also looking to sell its Quest (systems management software) and SonicWALL (security hardware/software) units for a combined $4B.
A Documentum sale could have implications for Open Text (NASDAQ:OTEX), a top independent ECM player. Other rivals include IBM and Lexmark's (NYSE:LXK) Perceptive Software unit. The asset sale efforts suggest Dell and EMC's focus is on creating a larger and more efficient IT hardware giant that can better contend with the threat posed by public cloud infrastructure adoption (or so they hope).
Microsoft Launches Cloud App Security software - Cloud App Security is based on software obtained through last year's purchase (reportedly for ~$250M) of Israeli startup Adallom. It lets enterprises find, set policies for, and protect against threats related to cloud apps being used by employees.
Microsoft (NASDAQ:MSFT) is looking to profit from the massive growth seen in corporate cloud app usage - it estimates the average employee uses 17 cloud apps at work - including in apps companies didn't officially authorize (hello, Google Apps). Palo Alto Networks (NYSE:PANW) also competes in this space. As do Citrix (NASDAQ:CTXS) and VMware (NYSE:VMW).
Nokia launches job cuts as part of post-merger cost synergy efforts - Nokia (NYSE:NOK) is looking to obtain 900M euros/year worth of cost synergies related to the Alcatel-Lucent deal by 2018 (the target might be conservative). A large chunk of the cuts are hitting Finland and Germany, with France seeing smaller cuts due to promises made to the French government. There are some parallels here with EMC/Dell: Two hardware giants joining forces with the goals of offering a broader product line and becoming more efficient as they target slow-growing end-markets. Fortunately for Nokia/Alcatel, Amazon isn't able to sell access to base stations and core routers as a cloud service.
Samsung starts mass-producing "10nm-class" DRAM - Samsung (OTC:SSNLF), the DRAM market's largest player, claims 8Gb 10nm-class DRAM chips deliver more than a 30% increase in wafer productivity relative to comparable, prior-gen, 20nm DRAM chips, as well as a higher peak data transfer rate and lower power consumption. Rival Micron (NASDAQ:MU) is in the middle of ramping its 20nm DRAM production.
Verizon buys a 24.5% stake in AwesomenessTV at a $650M valuation - For those wondering, AwesomenessTV provides online video content aimed at Millennials. DreamWorks maintains a 51% stake in the firm. Verizon (NYSE:VZ), which has been steadily increasing its online ad and video exposure as it deals with soft mobile and wireline service sales growth, plans to create a "premium" service for AwesomenessTV's content that will be available through its Go90 mobile video service.
Newegg will provide customer support via Facebook Messenger - Facebook Messenger's evolution into a business communication and transaction platform continues. Offline payment support and a bot store are reportedly on the way.
Noteworthy Tech Commentary And Reports
ChannelAdvisor's March numbers: Solid for Google, OK for Amazon, weak for eBay - E-commerce services firm ChannelAdvisor (NYSE:ECOM) reports its clients' same-store sales via Google Shopping ads rose 41.8% Y/Y in March, an improvement from February's 35.4%. Some of this growth came at the expense of search ad same-store sales, which fell 10.2% after dropping 13.2% in February.
eBay (NASDAQ:EBAY) continues losing share: Its same-store sales fell 0.2%, after rising 9.5% in February. Amazon saw 14.9% growth vs. 16.6% in February.
Survey: Many U.S. website owners support legal action against ad-blockers - 48% of those surveyed said they're "somewhat likely" to take ad-blocking firms to court, and 36% said they're "definitely/very likely." The percent that would actually go through with this threat might be lower, but the survey does point to a potential new twist in the ad-blocking battle. A growing number of publishers already demand users disable ad-blocking for their sites in order to access their content.
Ad tech firms such as Criteo (NASDAQ:CRTO), Rocket Fuel (NASDAQ:FUEL), and the Rubicon Project (NYSE:RUBI) have much at stake in this battle, as does Google.
SA contributor Mark Hibben: Nvidia Drops The Pascal Bomb On AMD - Provides a technical run-down of the first GPU based on Nvidia's (NASDAQ:NVDA) next-gen Pascal architecture (the GP100, which will go into Tesla P100 server accelerator cards). The author's takeaway: "Pascal appears to be so good, so superior, that it's virtually a thermonuclear first strike on AMD."
Disclosure: I/we have no positions in any stocks mentioned, and no plans to initiate any positions within the next 72 hours.
I wrote this article myself, and it expresses my own opinions. I am not receiving compensation for it. I have no business relationship with any company whose stock is mentioned in this article.
Editor's Note: This article discusses one or more securities that do not trade on a major U.S. exchange. Please be aware of the risks associated with these stocks.