It's easy to look at the coal production business and say that most companies involved in that area should exit their coal operations, since coal is shunned by the large, developed countries, and cheap natural gas is becoming a more popular form of energy. We could expect that these negative dynamics would cause demand and coal prices to remain under pressure and make anything related to coal a bad long-term investment.
The problem with this immediate dismissal is that assets are ultimately worth the present value of future cash flows, and since there is still some demand for coal, somebody will need to supply it. Also, there are different types of coal. There is thermal coal, which is used to generate heat and power. And then there is metallurgical coal, which is mainly used in steel production.
While countries may frown on using the pollution-causing thermal coal to generate power, unless a material replaces steel, the long-term demand for metallurgical coal will remain due to steel production. Also, the thermal type may continue to be used in developing countries.
So, we've established that coal's use isn't expected to go away completely. The question then becomes, does the company generate positive cash flows from its coal operations? If not, when will it?
In this article, we analyze Vale S.A.'s (VALE) coal operations. Some would probably like to see the company completely exit coal and focus on its much larger iron ore operation.
If coal doesn't become profitable for Vale sometime soon, it may be best to exit the coal business. That is precisely the motivation for looking at Vale's coal operations: to see when/if it will become profitable.
Vale's Coal Operations
Vale produces metallurgical and thermal coal through its subsidiaries, Vale Mozambique and Vale Australia. Per the 2015 annual report, the majority of coal production takes place at the Moatize mine in Mozambique, and metallurgical coal accounted for over 75% of total coal production in 2015.
Simply put, the company's coal operations have been losing money.
Operating Loss from Coal in 2015 = $3.77 billion
Operating Loss from Coal in 2014 = $1.16 billion
In 2015, Vale recorded a large impairment charge of $2.403 billion and $635 million on its coal assets in Mozambique and Australia, respectively. This contributed to the huge jump in operating loss shown above.
Due to the impairment charge, it's beneficial to look at adjusted EBITDA, which removes the effect of the $3.04 billion impairment charge.
Adjusted EBITDA from Coal in 2015 = -$508 million
Adjusted EBITDA from Coal in 2014 = -$669 million
There was a slight improvement in adjusted EBITDA y/y, but it remained negative.
At current coal prices and cost of production, it appears that Vale's coal operations will continue losing money. So either realized selling prices must increase, or cost must decrease in order for the company's coal business to become profitable.
Note: An investment agreement with Mitsui, entered in December 2014 but still subject to conditions precedent, is expected to close in 2016. Mitsui would acquire 15% of Vale's stake in Vale Mozambique and half Vale's equity stake in companies holding the railroad and port concessions in the Nacala Corridor.
Vale Expects Coal Costs to Decline
At Vale's NY December 2015 presentation, the company had this to say about costs:
"The coal business will benefit from Moatize's ramp-up, which will reduce costs, leading to a substantial improvement in coal margins."
It expects coal costs to gradually decline due to the ramp-up at Moatize. As of 4Q15, the Moatize mine was 99% complete.
Coal costs may also decline due to the fact that the Nacala Corridor, which is a logistics project to connect the mine to the Port of Nacala, is operational.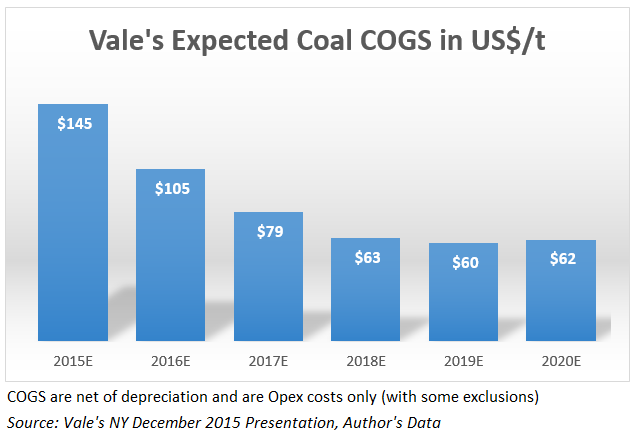 By viewing the chart above, we can see that Vale projects coal COGS will go from about $145 in 2015 to $60 in 2019.
But according to Vale's NY December 2015 presentation, the ramp-up will be adjusted to preserve value under current market conditions. This leads me to believe that production will be curtailed over the short term to account for depressed coal prices, and that Vale is hoping that prices increase over 2016 and 2017.
Coal Prices
In its most recent annual report, the company stated that coal reserves could be economically produced if prices were equal to three-year average historical prices.

Click to enlarge
The price point where coal is economical is around $95-115 per metric ton, excluding thermal coal from Moatize.
When viewing footnote 15 in the annual report, the fair value less cost to sell (FVLCS) price assumptions used for impairment testing was $85-140 for coal, which is somewhat near the economical prices shown above.
According to Vale's 4Q15 quarterly results, the average sale price in 2015 for metallurgical coal and thermal coal was $85.55/ton and $52.42/ton, respectively. The average sale price was even lower when considering just the fourth quarter.
Looking at metallurgical coal in Moatize, the 2016 average sale price would likely need to be about $115 to be economical, which is an increase of 34.4% when compared to 2015.
$115 / $85.55 - 1 = 0.344 or 34.4%
Expectation of When Vale's Coal Operations Become Profitable
With coal demand likely to be subdued in 2016, I don't expect average selling prices for coal to increase to a level needed for Vale's coal operations to be profitable in 2016. However, this expectation could change if supply curtailments cause demand to outpace supply. Even now, some are predicting that coal prices may gain by a few dollars in the second quarter.
Considering coal costs based on Vale's estimates, I believe the company's coal operations will not be profitable until 2017-2018, when coal COGS are expected to drop to between $79 and $63 per ton. Around said time frame, profitability from coal could possibly be achieved with average sale prices near the $85.55/ton that was recorded for metallurgical coal in 2015.
This thesis may change if coal prices increase significantly or operational efficiency from the Moatize mine is realized more rapidly than I currently expect.
Disclosure: I/we have no positions in any stocks mentioned, and no plans to initiate any positions within the next 72 hours.
I wrote this article myself, and it expresses my own opinions. I am not receiving compensation for it. I have no business relationship with any company whose stock is mentioned in this article.
Additional disclosure: Information in this article represents the opinion of the author. Opinions expressed herein are not an investment recommendation and are not meant to be relied upon in investment decisions. The author is not acting in an investment, tax, legal or any other advisory capacity. Any analysis presented herein is illustrative in nature, limited in scope, based on an incomplete set of information, and has limitations to its accuracy. The information upon which this material is based was obtained from sources believed to be reliable, but has not been independently verified. Therefore, the author cannot guarantee its accuracy. Any opinions or estimates constitute the author's best judgment as of the date of publication, and are subject to change without notice. The author explicitly disclaims any liability that may arise from the use of this material.