After taking some time away from writing to pursue other things, I now have some time to sit down and go through an annual review of the stocks I own. This is to ensure that these companies still fall in line with my personal investing guidelines and make sure they are not becoming too over valued or if they are undervalued and represent a buying opportunity.
The first stock I will review is T. Rowe Price (NASDAQ:TROW). I last wrote about the company in June 2015 where I laid out my reasons for doubling my position a few months after I made my first purchase. In summary, I decided to purchase the company because of its long history of growing its dividend through many different economic settings, its impressive balance sheet that contains no debt, and its recent history of strong earnings growth since 2008.
Unfortunately, after my two purchases last year, the stock continued to fall during the volatile 2015 and continued falling into the beginning of 2016. Since hitting a bottom in mid January it has recovered but overall I am still down on the stock.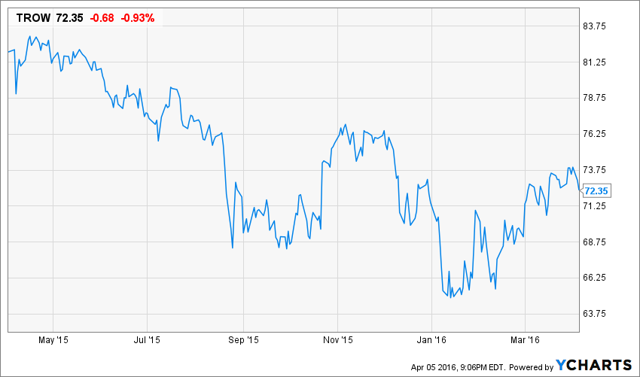 Click to enlarge
2015 Financial Review
So let's take a look at some of the company's results for 2015:
| | | | | | |
| --- | --- | --- | --- | --- | --- |
| EPS 2015 | y/y % Increase | ROE | Dividend 2015 | y/y Dividend Increase | Payout Ratio |
| $4.63 | 1.8% | 24% | $2.08 | 18% | 45% |
As you can see, the earnings increase is a bit alarming, especially since the company admits that the earnings increase was mostly primarily due to their reduced share count. The company also noted in its annual report that operating expenses were higher this year due to investments they were making in talent, technology and new business opportunities. This is obviously important because the company must position itself for success in the future and talent and technology are large parts of what it takes to continue growing. However, the small increase in earnings coupled with the large dividend increase pushed the payout ratio to 45%, which is up from 38% in the prior year. It should be noted that this payout ratio calculation does not include the $2 special dividend that was paid out in April. Adding that in pushes the Payout Ratio up to 88% for the year! Adding in the 13.1 million in shares the company purchased throughout the year pushes the amount returned to shareholders to just over $2 billion, outpacing earnings for the year.
Given that I am primarily a long-term, dividend growth investor this would normally make me very happy but the slumping share price combined with slowing earnings growth has me a bit concerned. Looking at the chart below, historically the share count will rise along with the price and earnings but then will also decline with price and earnings.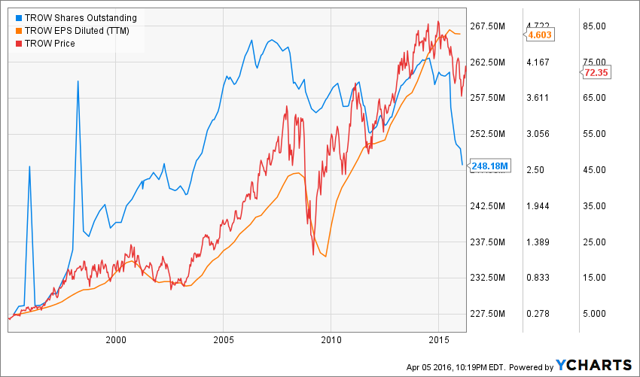 Click to enlarge
This could mean a couple things, the company buys back shares only when it feels they are undervalued which is a good thing, or that they are struggling to grow earnings so the best way they can do so is by buying back their own stock. Is this the best way to be spending their cash? Are they attempting to artificially inflate their share price now because earnings/revenue growth are going to become a problem in the near future? These questions began to creep into my head as 2015 came to a close and have continued so far during 2016.
2016
Moving into this year, the share price is off to a better start, having climbed from the lows of $63 in January, a gain of over 14% as of recent closing prices. That is pretty impressive, but is T. Rowe just moving with the market or is it a sign of the company getting ready to make a big move during the rest of the year?
From an earnings and dividend point of view, the company doesn't seem positioned to have a very outstanding year. Back in February, they announced a rather disappointing 3.8% dividend increase. Now I say disappointing because this way far below their previous 5-year average of near 21% dividend increases. However, looking at the year's earnings estimates it doesn't look as surprising. Currently, according to Yahoo Finance analysts are expecting the company $4.42 for the year. This would be a decline of nearly 5% and would be the first time since 2008 that earnings have declined. This, coupled with the modest dividend increase paints a fairly boring picture for T. Rowe Price in 2016. During the past couple years the share price has been either stagnant or in decline yet earnings have been growing.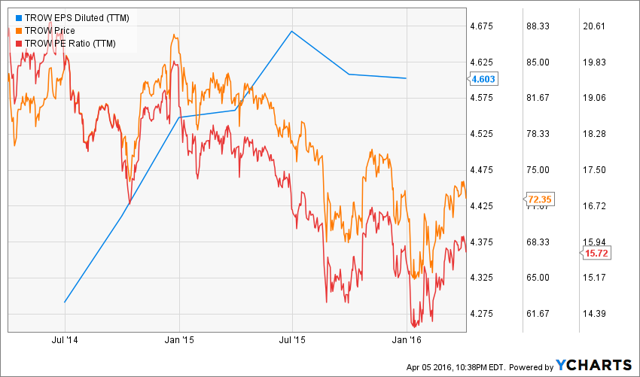 Click to enlarge
So, now that earnings are expected to come down the P/E will rise, making the company less attractive on a value basis unless the share price declines even more.
Conclusion
There are a lot of great things about T. Rowe Price. Besides the fantastic 30 years of dividend increases the company has a debt free balance sheet and is widely regarded as one of the best asset management companies in the world. Additionally, reading through the annual report opened my eyes to some of the great things they are doing in their local community, such as supporting businesses and hiring employees in some less fortunate parts of the Baltimore area. Obviously, this company is not going anywhere anytime soon and has a lot of good things going for it.
That being said, the company does have its challenges. The volatile markets in 2015 made it difficult to grow AUM as some investors were spooked into staying on the sidelines. Also, the rise in passively managed index funds that have lower fees have likely cut into some of the fees T. Rowe Price has collected in the past.
Although T. Rowe Price has its fair share of challenges, I would need to see a lot more things go wrong before I lose faith in this Dividend Champion. I feel comfortable in keeping my shares; the company has been through much worse in the past. However, I will be watching the company closely during 2016 looking for further indications of any struggles and downturns.
What do you think of T. Rowe Price? Will they outperform or underperform in 2016?
Disclosure: I am/we are long TROW.
I wrote this article myself, and it expresses my own opinions. I am not receiving compensation for it (other than from Seeking Alpha). I have no business relationship with any company whose stock is mentioned in this article.
Additional disclosure: I am not a financial planner or a professional trader. I am not advising you to sell or to buy a stock. Prior to buying or selling a stock mentioned in my article, please do your own diligence and talk to your financial advisor or security professional.