Introduction:
On April 4, 2016, Alaska Air Group, Inc. (NYSE:ALK) purchased Virgin America for $2.6 billion. This acquisition allows for Alaska Airline to become the largest airline carrier along the West Coast. However, some question whether or not this merger was worth the cost, and if there could be any legal ramifications relating to the airline merger. This article will discuss the real benefit of the acquisition, as well as the possibility of legal actions taken against Alaska Airline in regard to becoming too large in the market.
Costs/Benefits of Virgin America Acquisition:
Alaska Airlines acquired Virgin America for nearly $2.6 billion. This translates to Virgin Airline's stock increasing from $37 last year to $57 per share. This 54% increase in value may seem absurd at first glance. However, Alaska Airlines believes it will gain long term benefits from this transaction. They hope that Virgin America's terminal spaces in the San Francisco International Airport, Los Angeles International Airport, and its landing rights in Love Field, Texas, LaGuardia, New York, and Reagan National, Washington DC will provide for invaluable future benefits. As seen by Figure 1 and Figure 2, the separate airlines have various access points along the west and east coast. However, by consolidating these, the newly combined Alaska Airline would have more terminal space, and thus more opportunities to grab customers. It also helps that Virgin Airlines has a loyal consumer base. This is in part due to their great customer services, including on demand entertainment, Wi-Fi, and highly rated human resources. These assets, in addition to Alaska Airline's own assets, will easily allow for the company to grow its market share. Before the merger, Alaska Airlines was the seventh largest airline domestically. However, after the acquisition it became the fifth largest. This jumped it ahead of JetBlue (NASDAQ:JBLU), which held the title of fifth largest airline before the merger. With Virgin America's assets, Alaska Airlines has gained not only an economic advantage, but also a customer advantage; one that could end up doing some harm to JetBlue. Aside from its popularity already among the west coasts, by having more terminal access towards the east, it can more easily market its name to more potential customers. Alaska Airlines hopes to use its access to more east coast terminals and transcontinental travel to promote itself. With this growth in market space, Alaska Airline believes it can afford to pay the high costs now for higher market share.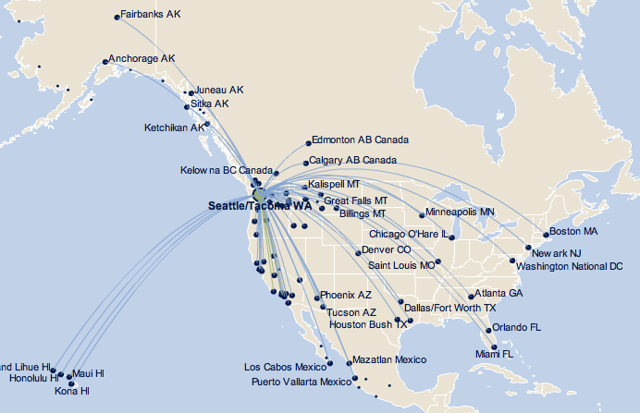 Click to enlarge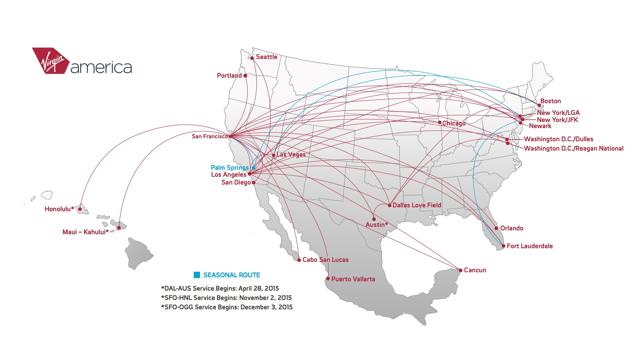 Click to enlarge
Potential Antitrust Issues:
Over the past twelve years, many airlines have merged together. What previously was twelve major airlines converted into four dominate airlines, which are Southwest (NYSE:LUV), Delta (NYSE:DAL), American Airlines (NASDAQ:AAL), and United Airlines (NYSE:UAL) which combined control two-thirds of the industry. With the recent mergers and acquisitions, legal issues related to individual airlines becoming too large has become prominent. Many are wondering if the same could occur with Alaska's purchase of Virgin Airlines. To predict whether it will face any legal consequences, an examination of a recent merger will be reviewed. American Airlines and US Airways merged in 2013. After which, American Airlines became the largest company in the airline's industry. Because of their size and the risk of over pricing their plane tickets, the US Justice Department took them to court. An agreement was made that allowed the companies to merge so long as the prices were kept at historic levels for three years' time, as well as forfeiting some landing slots in seven major airports.
How does this compare with Alaska Airlines? With the companies merging, their share of domestic transportation becomes 6.1%, which is significantly lower than American Airlines'. As for the landing slots, there could be a court order to reduce the amount of landing slots Alaska Airlines is allowed, but if Alaska Airlines is worried, they could trade lot spaces to other airliners, which is a common practice. That said, the main issue behind enforcing antitrust laws is to prevent the company from jacking up prices. Alaska would most likely not do this for at least two reasons. First, they do not have the market power to enforce an increase in prices. Although the acquisition will make them the fifth largest airline, they still have competition from JetBlue, which has about 1% less market share, and the remaining top four airlines as well. Second, Alaska Airlines, and especially Virgin America, focused on customer service and a good airline experience. Neither of these companies would risk sacrificing that prior to the merger, and as such they will not risk customer satisfaction after the merger. Overall, it is doubtful that Alaska Airlines would face an antitrust lawsuit as a result of this merger.
Conclusion:
Once the papers are signed, Alaska Airlines will not only surpass JetBlue in the industry, but have a secure position as the fifth largest airline in the industry. Virgin America's terminal access and customers are invaluable assets to Alaska Airlines, in which they feel the seemingly overvalued purchased of Virgin America 's stock will pay off. Finally, any concerns of an antitrust lawsuit against the merger is unlikely, and only bought to question due to the lawsuits against prior mergers within the airline industry. Overall, Alaska Airlines will do fine, and could see significant growth if they successfully market themselves in the east alongside the other big four airlines.
Disclosure: I/we have no positions in any stocks mentioned, and no plans to initiate any positions within the next 72 hours.
I wrote this article myself, and it expresses my own opinions. I am not receiving compensation for it (other than from Seeking Alpha). I have no business relationship with any company whose stock is mentioned in this article.