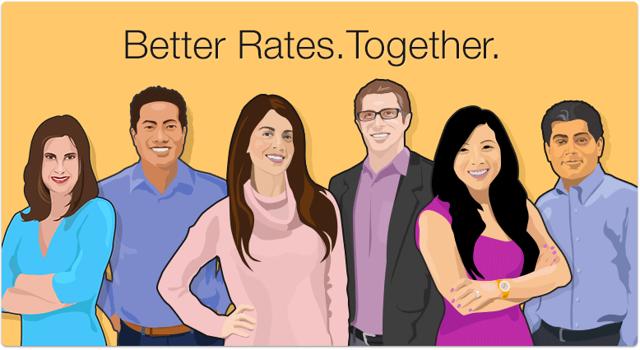 We would call LendingClub (NYSE:LC) one of the most unloved stocks around, but we feel things could change in the future. Although the stock has had a pretty terrible time in the last twelve months, we see now as good time to get in on the action. Peer-to-peer lending is a great system, quickly and automatically matching borrowers with lenders willing to provide the funds at a desired interest rate.
It has had to cope with a bit of negative press in recent times, especially with the drama that unfolded in China recently. The Ezubo scandal which China's government called a $7.6 billion Ponzi scheme was the most notable example. Apparently around 95% of investment projects listed on Ezubo were fake. This will have no doubt tainted the industry, but it has fought back.
This week the big three players in the industry announced the launch of the Marketplace Lending Association. This U.S. non-profit membership organization has been created to promote responsible business practices and sound public policy to benefit borrowers and investors.
As you might have guessed, this is designed to create a more transparent and efficient financial system. It comes with a Marketplace Lending Operating Standards, aimed at creating a "code of business conduct addressing transparency for investors, responsible lending, governance and controls, and risk management." We think this is a great move. It should hopefully keep cowboys from the industry and allow it to maintain a clean and respectable image.
Lending Club's CEO Renaud Laplanche had this to say on the matter and we wholeheartedly agree with his view:
"Marketplace lending platforms have a unique opportunity to make credit more affordable for consumers and more available to small business owners, while offering attractive investment opportunities to retail and institutional investors. This opportunity will only materialize if our technology and business model advantage is coupled with sound business practices that enable responsible lending products, consumer friendly and transparent terms, and relentless focus on compliance, security and risk management. This Association will help the industry adopt and propagate high standards and inform and collaborate with policymakers."
With that out of the way the company can now concentrate on its growth and helping the industry reach the $122 billion loan originations figure that Morgan Stanley (NYSE:MS) has forecast the marketplace lending industry to produce by 2020.
We see this as a real possibility as more and more borrowers take advantage of the better rates they can get through LendingClub. The most popular reason for loans at the moment is to pay off debt. 68.5 percent of borrowers report using their loans to refinance existing loans or pay off their credit cards. There sure is a lot of consumer debt in the United States at the moment that could be refinanced.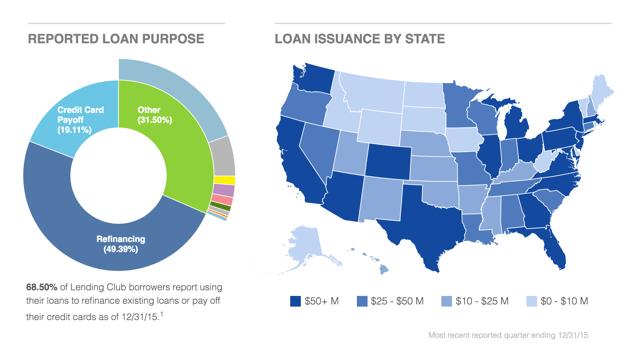 Sourced from a company presentation
And why would they not with the average interest rate on credit cards in the United States is 15.07 percent. In most cases the average consumer would be far better off borrowing the money through LendingClub to pay off their credit card. As you can see below, these are the average rates for the different credit scores.

Sourced from a company presentation
Should you invest in LendingClub or be a lender?
This is a great question which we have pondered over many times. At the current share price we see far greater gains being a shareholder than being a lender. But there are definitely gains to be had from lending. The fact that many people do raise this question is a great thing in our view. LendingClub needs lenders. If it cannot attract enough then its growth will suffer.

Sourced from a company presentation
Which is not something we want to see happen. The company's loan issuance growth is incredible. Quarter over quarter growth has continued to remain strong for several years now. There are not many companies or industries out there that can boast this.
Where next for LendingClub?
We expect the share price to climb higher in the next twelve months. Peer-to-peer lending is not something that everybody is aware of. As more and more consumers learn about it, we expect to see loan issuances continue their rapid growth. We have a $11.00 price target on the stock at the moment, which translates as a return in the region of 33 percent from the last trade price of $8.24.
These are exciting times for LendingClub and the industry as a whole. The move to set up the Marketplace Lending Association is a great one which should help give the industry some much-needed credibility. We bought in yesterday on the news and are delighted to be on board.
Best of luck with your investments, we'll keep you updated with how things go.
Disclosure: I am/we are long LC.
I wrote this article myself, and it expresses my own opinions. I am not receiving compensation for it (other than from Seeking Alpha). I have no business relationship with any company whose stock is mentioned in this article.