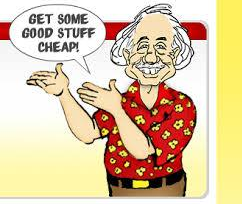 Bargain chain Ollie's (NASDAQ:OLLI) has been on fire in the past few months. The stock bottomed at $15 last fall and hasn't looked back, hitting $24 recently. Back in December, with shares trading under $17, I said Ollie's was a definite buy due to its store growth and margin expansion. That story has played out very well so far but up $9 in such short order, is there still room to run? Q4 results came out last night and give us some clues as to Ollie's fundamental momentum.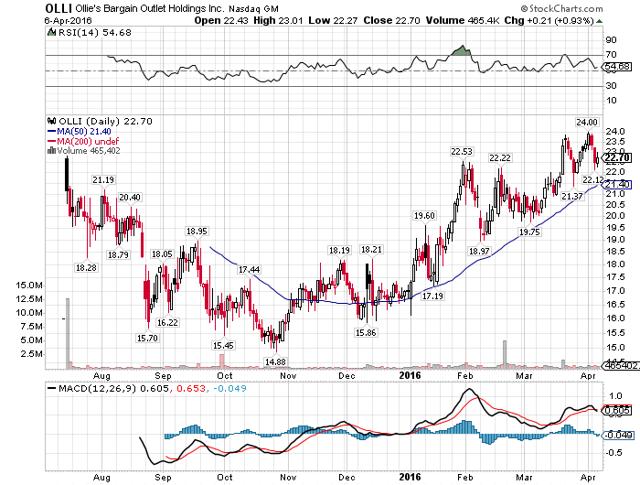 Click to enlarge
Total sales flew higher in Q4 by 21% as the company continues to aggressively expand its footprint. This is a big chunk of the story with Ollie's; the company is still in its relative infancy to be sure. That will lead to substantial revenue gains for the foreseeable future as Ollie's continues to expand its footprint. But apart from just opening new stores, Ollie's is tremendously productive with the ones it already has, routinely producing very strong comp sales numbers. In Q4 that metric hit +5% as Ollie's momentum continues forward unabated. I'm very impressed with Ollie's ability to boost comp sales and grow its footprint so rapidly and this is central to the long term story.
In addition to torrid sales growth, I've called out OLLI's margin expansion in the past as the combination of sales and margin growth can produce explosive profit gains. We saw that once again in Q4 as the company's gross margins moved up 110bps to 40.6% on strength in shipping and distribution costs as well as higher merchandise margin. This story isn't new for Ollie's as it has been executing on margin expansion for some time but the fact that it is continuing unabated is very important for the bull case as well.
The other half of operating margin - SG&A expense - also improved during Q4 as it was 25.7% of net sales in Q4 compared to 26.3% last year. While that number is higher than I'd like - mature retailers routinely hit the low 20s - it is continuously coming down. And the absolute increases in SG&A are smaller than revenue growth which is why the cost as a percentage of revenue continues to fall. Over time, we'll see Ollie's leverage more and more of its fixed costs and get that number more towards the lower 20s as its recent increases have been due to store personnel for new shops. Those costs are unavoidable as the company's store base grows but I'm encouraged by the fact that back office personnel aren't contributing to expense growth.
All of this contributed to Q4's operating income hitting 13.7%, a 170bps increase over last year's comparable quarter. That kind of growth - 170bps on a base of 12% - is tremendous and is the second big reason why I love OLLI's long term growth story. While these kinds of gains cannot reasonably be expected every year, Ollie's has a long way to go before its operating margins are capped and that means that in concert with its footprint and comp sales growth, Ollie's looks very well positioned for a long growth runway in the coming years.
Ollie's offered up sales guidance for this fiscal year that essentially met consensus, certainly a bit underwhelming considering how strong last year was. With sales growth slated to hit the mid-teens again but only ~2% comp sales growth, I think there may be some room for upside surprise. OLLI's current comp sales momentum is much stronger than 2% but at the same time, Ollie's has stacked SSS gains on top of prior SSS gains so the comparables become harder over time. Is Ollie's falling victim to its own past successes? Perhaps, but I'm still optimistic that the guidance provided is a baseline and not the ultimate goal for Ollie's this year.
The good news is that Ollie's provided strong EPS guidance of ~83 cents against consensus of just 76 cents, indicating that the margin gains I've been harping about are slated to continue. As I said, I don't think margin expansion for Ollie's is a one or two year story; this is going to continue for a long time to come and it seems analysts aren't fully appreciating that part of the story just yet. The fact that Ollie's provided such strong EPS guidance on consensus sales growth is impressive and means the long term story at Ollie's is certainly intact.
With the stock trading up as I write this, shares are now priced at roughly 28 times this year's earnings guidance. That's a princely sum by any measure and getting to the point where Ollie's is fairly valued. When I called Ollie's a buy at $17 it was pretty obvious shares were cheap but with the stock knocking on the door to $24 again, shares are much more expensive than they were. Consensus for next year is 91 cents right now and I believe the ultimate number will end up being $1 or more but even so, we're talking about 23 or 24 times next year's earnings as well. Those numbers are steep but it is possible Ollie's is a buy despite this for certain investors .
I normally don't buy stocks with such massive multiples but Ollie's is special. Its combination of footprint, SSS and margin growth is nearly unprecedented and the fact that the market is finally recognizing its progress is validating to my bull thesis. At the same time, shares are expensive at this point and I'm afraid we may have run too far, too fast and hit a point where gains need to be digested. For that reason, despite the fact that I still love the long term story, I'm on the sidelines with Ollie's. Shares have reached the point where I think the are fairly valued (or maybe a little more) and thus, the expected gains over the next few months would be little to none. I want to own Ollie's again but not right now; I'll wait for a better valuation.
Disclosure: I am/we are long OLLI.
I wrote this article myself, and it expresses my own opinions. I am not receiving compensation for it (other than from Seeking Alpha). I have no business relationship with any company whose stock is mentioned in this article.
Additional disclosure: I'll be looking to sell my long position in the very near future.