IBM's (NYSE:IBM) Power Architecture server chips are starting to attract the interest of some very important hyperscale datacenter users. Google (NASDAQ:GOOG) has announced that it is developing a server based on the next generation Power9 processor as part of its involvement with Facebook's (NASDAQ:FB) Open Compute Project. If the big datacenters turn away from Intel (NASDAQ:INTC), can the rest of the world be far behind?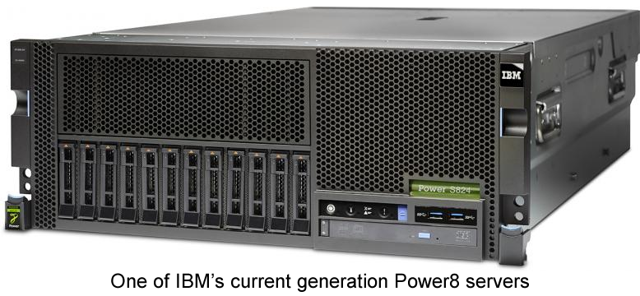 Click to enlarge
Source: STAC
Data Center Economics
One of the interesting sideshows of Nvidia's (NASDAQ:NVDA) GPU Technology Conference (GTC), which I just wrote about is that the OpenPower Foundation is holding its OpenPower Summit 2016 within GTC. Yesterday there was a flurry of hardware announcements out of the Summit, with Google's announcement being the most interesting.
I first wrote about the OpenPower Foundation last November in The Greatest Threat To Intel In Data Centers Comes From IBM, Not ARM. The OpenPower Foundation was set up by IBM to foster interest in Power Architecture processors, the successors to the old PowerPC that Apple (NASDAQ:AAPL) abandoned. Although IBM last year divested its Intel based server business, it kept its Power server business.
The main objectives for the Foundation appear to have been to get the Linux community to fully support Power servers, and to get server manufacturers to design and build Power server hardware. In addition, there was an initiative to get a Chinese manufacturer to begin building Power processors under license.
But getting into the hyperscale datacenters may have been the most important near term objective. Google and Facebook don't merely control their own software stacks, but they also design and build their own servers. Winning over Google or Facebook would provide a very large scale customer for Power processors.
Although Google has been a member of OpenPower Foundation since 2014, it only recently (like, last month) joined the Open Compute Project. The collaboration with its rival Facebook conveys to me that Google and Facebook are really serious about finding an alternative to Intel Architecture (x86) in the data center. Why would they want to?
It's just economics. Intel's near monopoly in the data center means that it can charge a premium price for its chips. Attempts by ARM based servers to break into this market have proved futile so far, although Qualcomm's (NASDAQ:QCOM) server initiative may prove more successful. In the mean time, IBM still has a significant market share (9.6% in dollar value, according to IDC) on which to build a following for Power Architecture.
The server hardware business is growing overall, thanks to the growth of cloud computing. According to IDC, total sales in 2015 Q3 were $13.4 billion. Of course, Google's interest may not translate immediately into big hardware sales. The decision to build a prototype is not a commitment for an entire data center, but it's a start.
Nvidia in the Mix
Not surprisingly, Nvidia's new Pascal based Tesla P100 GPU accelerator was in the thick of the hardware announcements out of OpenPower Summit. IBM, Nvidia, and Wistron are collaborating on a server based on the current generation Power8 CPU, and the Tesla P100 accelerator, as detailed by Anandtech. Other server vendors are planning Power based systems including Supermicro and Tyan.
The ability to offer things like the Tesla P100 will help make Power servers more competitive and attractive to data centers, but fundamentally, until Power9 arrives, Power8 servers remain in many ways uncompetitive. The fundamental problem with Power8 is that it's fabricated on an older 22 nm non-FinFET process. This makes Power8 less energy efficient than competing Xeons fabricated on Intel's more advanced FinFET processes.
This should change when Power9 arrives, since it's expected to be fabricated on the Samsung/Global Foundries 14 nm FinFET process. Unfortunately, there hasn't been much data published yet on Power9. Perhaps the most significant fact about Power9 is that, together with Nvidia's next generation Volta GPU, it serves as the basis of a pair of major supercomputer wins. One is called Summit for Oak Ridge National Laboratory, and the other is Sierra at Lawrence Livermore National Laboratory. Summit and Sierra are due to go online in 2017.
Perhaps the best article I've found on Power9 is in The Next Platform from last year. The charts below are from the article.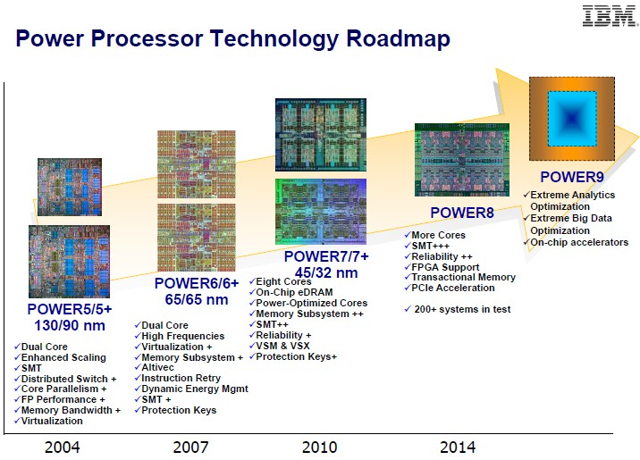 Click to enlarge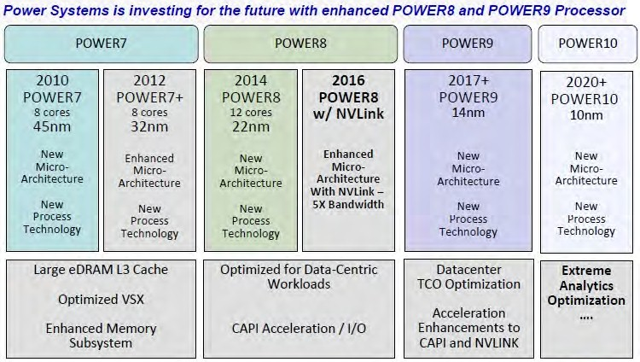 Click to enlarge
The article concludes that Power9 won't be available until late 2017. Nvidia GPUs are confirmed to play important accelerator roles in both 2016 Power8 and 2017 Power9 systems.
Investor Takeaway
How much of a dent will Power servers put in Intel's server sales? Probably not much in 2016. Despite being combined with the very powerful Nvidia Tesla P100, the Power8 architecture just can't keep up with Intel's latest. Power9 remains something of an unknown quantity, but the fact that Google wants to pursue it is promising.
Now that IBM has divested the Intel based server business, prospects for its Z Systems and Power Systems lines look good. According to its fiscal 2015 earnings report, IBM's server hardware business grew by 8% y/y, excluding the divested business.
IBM's strategy for the OpenPower Foundation appears to be working. It has garnered software and hardware support that IBM wouldn't have been able to attract with a closed IBM-only system. A closed model just wasn't going to work with the big hyperscale users who had become accustomed to defining their own hardware and software configurations. Working collaboratively with the big data centers has helped to sell Power architecture where it wouldn't have stood a chance otherwise. 2017 could be the year of the Power9 server.
Disclosure: I am/we are long NVDA, AAPL.
I wrote this article myself, and it expresses my own opinions. I am not receiving compensation for it (other than from Seeking Alpha). I have no business relationship with any company whose stock is mentioned in this article.