There has always been considerable discussion about whether gold follows silver or vice versa. For example in his recent article in CNBC, Daryl Guppy asserts that "Charts show silver now follows gold, so traders can predict moves." To back up his hypothesis, he uses some technical analysis. But as we have seen in forums and social networks, people ask why there should be a causality effect between gold and silver and has this kind of relationship been scientifically tested. So we tried to test it through some econometrics methods. We tried to avoid technical phrases as much as possible, and give adequate explanations for people who are not familiar with econometrics.
Well, as long as we know, the first scientific article about gold-silver relationship was published by Chan and Mountain in 1988. In their article, they concluded that "It is evident from our results that there exists a feedback causal relationship between the price of gold and the price of silver."
But that was about 28 years ago and a lot has changed over the years. Ciner, in his article in 2001, asserts that "Statistical findings indicate that the frequently cited long-term stable relationship between the prices of gold and silver has disappeared. This finding should be of relevance to participants in gold and silver markets. It is indicated that these two markets should be approached as separate markets and changes in the gold to silver ratio should not be used to predict prices in the future. Also implied is that these two markets should not be regarded as substitutes to hedge against similar types of risks. This view is consistent with the understanding that these two commodities have different economic uses and they are affected by different economic fundamentals."
So we attempted to look into the gold-silver relation to see if now there is a causality between them. A useful approach to examine the causality between price data series is Granger Causality Test. We used the gold and silver futures prices on COMEX. We tested different lags and frequencies between gold and silver but we couldn't find any causal relationship between them. The table below shows the one day lagged causality effect test (Prob. greater 0.05 indicates that the null hypothesis is not rejected at the 5% significance level, so causality effect is not meaningful)

So like most of the articles in this area, we performed a correlation analysis. The table below shows that there is a meaningful strong positive correlation between the price of gold and silver (t-statistic greater than 2 means that it's meaningful!).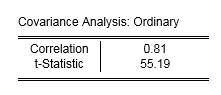 We also tested for a long-run relationship. We tested the cointegration (which is mostly used to examine long-run relationships among economic variables) between gold and silver (after performing a Unit root Test). The table below shows that there is a meaningful long-run relationship between gold price and silver price (Prob. is less than 0.05 so we can reject the null hypothesis).

To sum up, we think that if there is a causality between the price of gold and silver it must be very short lived, otherwise everyone could exploit that by watching gold price and then trading on silver (easy money!). Our findings show that the relationship between gold and silver prices is more like a co-movement than a causal effect. So technical analyst's belief that one of them follows the other one might be a subjective thing and since these two commodities are highly correlated and move together maybe a suitable strategy would be pair trading. Pair trading is a trading strategy that involves taking two opposite positions on two highly correlated instruments such as stocks or commodities at the same time.
This article can be useful for readers who are not familiar with econometrics and want to know the fundamental relationship between gold price and silver price.
Disclosure: I/we have no positions in any stocks mentioned, and no plans to initiate any positions within the next 72 hours.
I wrote this article myself, and it expresses my own opinions. I am not receiving compensation for it. I have no business relationship with any company whose stock is mentioned in this article.