New Technology
Back on July 28, 2015 Micron Technology (NASDAQ:MU) and Intel (NASDAQ:INTC) held a hurriedly scheduled press conference to announce 3D XPoint memory with amazing slides like this one: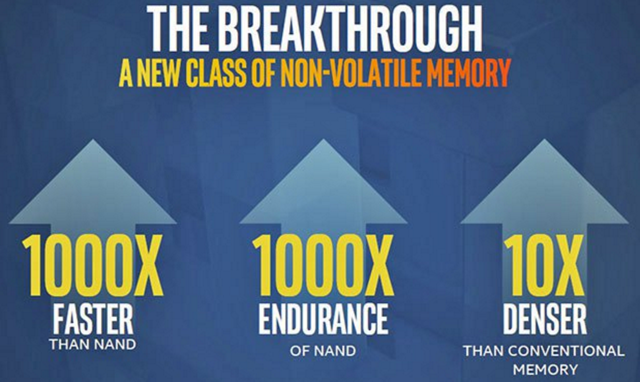 Click to enlarge
Why this was such a rush given that parts still haven't been seen in the wild is still a mystery. At the time, many of us observed that Micron's CEO Mark Durcan looked extremely uncomfortable on stage with the voluble cheery head of 3D XPoint from Intel (INTC), Rob Crooke: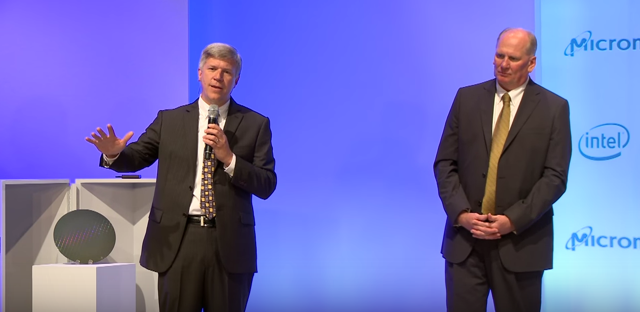 Click to enlarge
That's Durcan on the right. He is not wearing handcuffs even though it looks like it. This picture is presque vu of this memorable recent hostage scene, where it looks like Mr. Christie is wondering what he is doing on stage with the other fellow: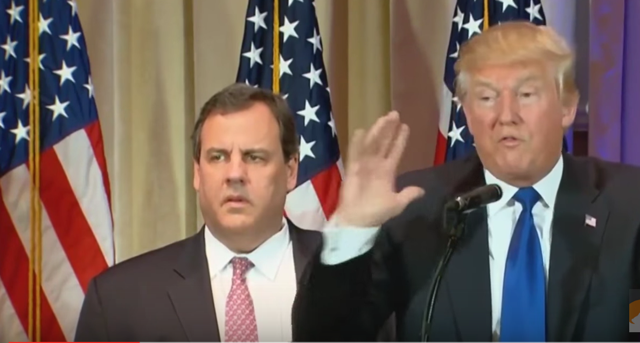 Click to enlarge
Why the onstage hostages? Why the rush?
Analysts and articles mentioned that 3D XPoint would sample in 2015 and ship in 2016. So far, we are still waiting on both events.
And while it's unclear why this rushed announcement was made, it is now apparent that a lot of operating system and application software changes had to be made to take advantage of this speedy new memory. My thesis on the rushed announcement is that Micron and Intel needed to signal developers that they needed to begin work to accommodate this brand new type of chip. Here is an excellent video, published March 3, 2016 in which Intel's Rick Coulson discusses some of the technical challenges (and opportunities) of using 3D XPoint as a "Storage Class Memory" and in super speedy solid state drives.
I think this video also gives some insight into why Micron's Mr. Durcan looked so uncomfortable during the July 2015 unveiling. Without software, these chips would remain a curiosity. Micron doesn't have the market position to dictate driver development and has been behind in controller hardware and controller software for all of its non-volatile memory offerings. In the video, Intel's Coulson admits that some of their interfaces will be Intel proprietary. There's a lot of laughter in the video around the prospect, presumably delayed from Intel's efforts, of ARM and other processor hardware makers catching up with Intel's drivers and firmware.
And is the hibernation over?
In the past week, there have been two announcements that make me think the long wait from vaporware announcements to hardware loose in the wild may finally be over.
First is Micron's invitation to its April 12 Webcast:
join Micron for a LIVE webcast on April 12, 2016 at 10 a.m. CST. During this webcast Micron executives, customers and partners will discuss the exciting suite of Micron SSDs and Micron Accelerated Solutions and how they will help transform the data center from the current legacy IT infrastructure to a more agile environment.
Maybe it's just a slow day at Micron, but they are really rolling out the brass for this announcement:
Webcast to include presentations by:

Mark Durcan: President & CEO discussing Micron's vision & commitment in storage
Darren Thomas: VP & GM, Storage Business Unit sharing how the data center infrastructure is undergoing a massive transformation
Steve Moyer: VP, Storage Software Engineering discussing storage innovations happening at the Micron Storage Solutions Center in Austin, TX
Eric Endebrock: VP, Storage Marketing revealing new products and solutions
Jon Carter: VP, Storage Emerging Memory providing a 3D XPoint update
Mark Glasgow: VP, Enterprise Sales sharing how real-world customers are solving data challenges using flash
I suspect that most of the April 12 presentation will be devoted to 3D NAND, which will be most welcome. But the listing of Jon Carter (above) and the promise of an update on 3D XPoint will be particularly welcome. Both are long overdue.
The second significant announcement of the week is Intel's latest reshuffling of its deck in terms of financial reporting, covered here in a SA news announcement. A key point here is breaking out "NSG," a newly sliced and diced segment for the "Non-Volatile Memory Solutions Group." Why break it out if it isn't going to be a significant deal?
So what does it all mean?
Micron has recently reiterated this bold prediction:
For NAND, we're ramping Gen 1 3D NAND in Singapore and expect to have more than 50% of our NAND bit fab bit output on 3D by the fall of 2016.
And in last summer's analyst conference, Micron's Mark Durcan blurted out this poorly phrased but remarkable prediction:
In the 2018 time frame [3D XPoint] could easily be of the same order of magnitude as our DRAM businesses in that timeframe. So maybe not the same size maybe half the size in 2018
While these are two game-changing predictions, the absence of visible, tangible hardware has caused analysts and investors to yawn in disbelief. Perhaps the April 12 meeting will begin to change that perception?
And what does Russ Fischer say?
Like many of you, I was fortunate to stumble upon Russ Fischer's early Micron articles here on Seeking Alpha. His guidance on Micron and Intel led me to a seven-figure portfolio profit. Had I exited Micron when he did, this might have remained a mid seven-figure number.
I count Russ as a friend and a knowledgeable source who "carried a bag" (his parlance for selling semiconductors) for 30+ years. I was stricken when he was stricken with two strokes. His unfortunate story on that front can be seen on Caring Bridge. Drop him a message there.
I can happily report that Russ is coming back STRONG. He's been reading research and emails a number of us have sent him on his favorite semiconductor companies. He's continued with wry comments on some sell side analysts. As recently as a phone call today, he advised, "I'd get into some Intel LEAP options for 2018. I think memory can push the stock up to $100 per share by then." Vintage Russ Fischer, and this could be an even better return than his memorable "buy and hold" 110x time return on Micron LEAP options, should his bullish stock price prediction be realized.
While I'm not yet fully signing up to another of Russ's buoyant stock price predictions, I think Intel may be the safer way to play this Micron April 12 announcement. Micron has just flagged that the next quarter will be another loss. Samsung (OTC:SSNLF) has just beat them to the 1x node in DRAM. And they are in the worrisome arena of building inventory as prices continue to plummet.
So perhaps gamblers can buy some near term slightly out of the money Micron options. And, of course, the Russ Fischer faithful will buy some Intel 2018 LEAP options. I think I will be both a gambler and a Russ Fischer acolyte in addition to my small stock positions in both names.
Conclusion
It's been too long since we've heard anything new and tangible from Intel and Micron on non-volatile memory. This will be a welcome update. The even more welcome news is that Russ is still at it and I suspect will be providing his guidance, wry humor, and vitriol on these pages soon.
Disclosure: I am/we are long MU, INTC.
I wrote this article myself, and it expresses my own opinions. I am not receiving compensation for it (other than from Seeking Alpha). I have no business relationship with any company whose stock is mentioned in this article.
Editor's Note: This article discusses one or more securities that do not trade on a major U.S. exchange. Please be aware of the risks associated with these stocks.