Reason One: Affordable Price
Callaway Golf Company (NYSE: ELY) has always been one of the most prestigious golf brands in the game. They have fantastic brand recognition and they are known for good quality products. Looking at the recent pattern of Callaway's stock, it shows a real promising trend. The graph below, provided by Yahoo! Finance, shows that trend over the past five years. Since the low of $5.00 per share in November of 2011, it has increased by 82%. With the price now at $9.09 per share, this is a promising inexpensive investment to make.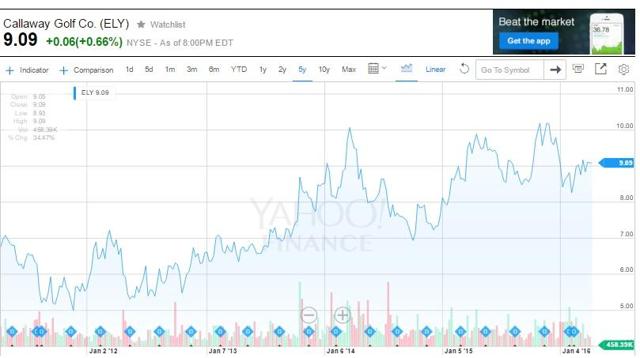 Click to enlarge
Reason Two: The Masters Are Teeing Off The PGA Season
With The Masters teeing off this week, it marks the anticipation of the summer days spent on the golf course. This means players may need new shoes, golf balls, maybe even a new set of clubs for the upcoming summer. One thing is for sure, you can expect to see plenty of Callaway advertisements in the upcoming months. With the warmer weather right around the corner, there will definitely be more people out on the golf course, which means they will be looking for some way to get to the next step in their game. With the introduction of their new Chrome Soft design, a golfer might think that this is the edge for them.
Reason Three: Young Players Are Causing A Rise In Popularity For The Sport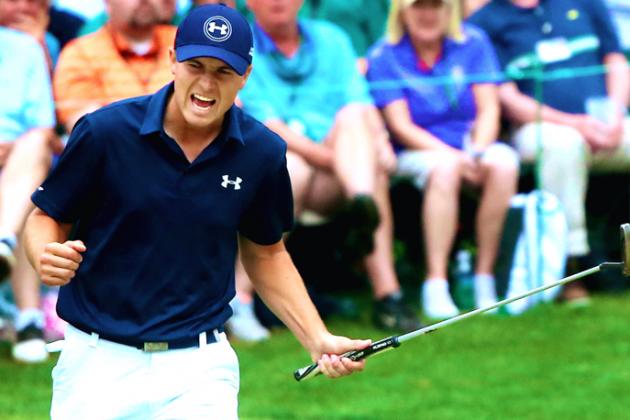 With the emergence of young players such as Jordan Spieth (22), Rory McIllroy (26), Rickie Fowler (27), and Jason Day (28), the average age of professional golfers is going down. This has brought about a tremendous growth in popularity for the sport as a whole. According to the PGA tours website, Jordan Spieth's record-tying performance in last year's Masters tournament brought on an increase in viewership of 26 percent when compared to the prior year.
The number of people viewing increased by 3 million. This influx of viewership provides a great opportunity for a broader exposure to Callaway's products. When looking at the graph below provided by the National Golf Foundation, it shows that in 2015, the number of rounds/golfer has increased over the past 10 years. This is very promising for the future of the sport and the future of Callaway.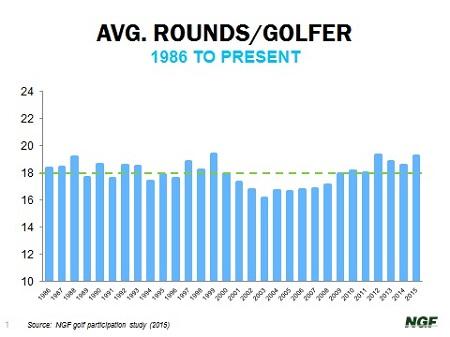 Reason Four: Profit History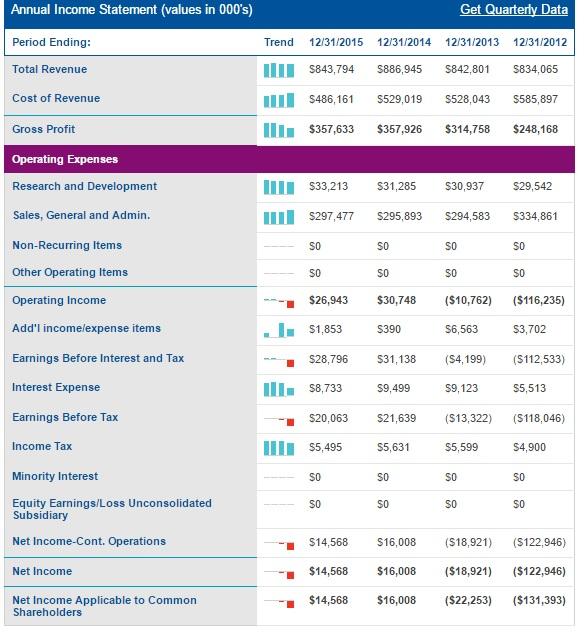 Callaway has continued to show consistency in their recent financial history as well. While looking at the Income Statement provided by Nasdaq, you can see that their revenue did decrease by 4.9%. However, Callaway managed to cut costs by 8.1%, which provided a consistent gross profit. If you look at the trend of the costs, you can see that Callaway is committed to improving their numbers. With costs of revenue at 17% lower than it was in 2012, this is very promising because it provided a 44% increase in profits since 2012.
In the second set of numbers provided by Nasdaq, you can see that the earnings per share has also maintained a level of consistency after the growth Callaway experienced from 2013 to 2014. When comparing it to the previous three years, this shows another appealing aspect to Callaway's stock trend. With the current stock price being what it is, this would be a great time to invest in Callaway.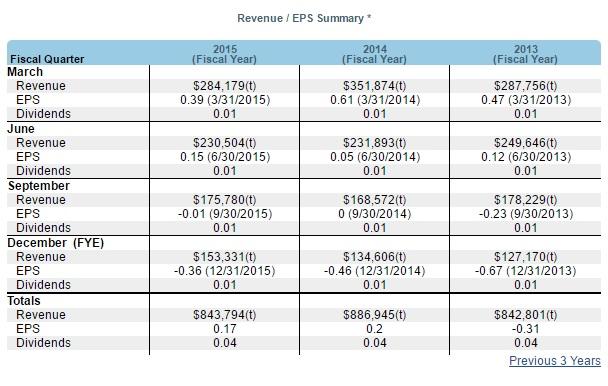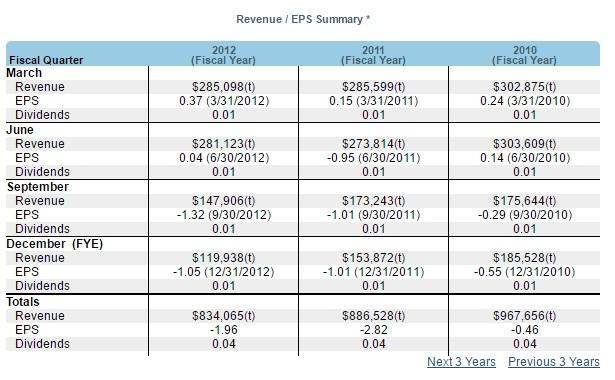 Disclosure: I/we have no positions in any stocks mentioned, and no plans to initiate any positions within the next 72 hours.
I wrote this article myself, and it expresses my own opinions. I am not receiving compensation for it. I have no business relationship with any company whose stock is mentioned in this article.