Natural gas fueling provider Clean Energy Fuels (NASDAQ:CLNE) has had a tough time on the stock market this year. The stock has dropped almost 20% in 2016, and despite posting better-than-expected results last month, the stock is languishing close to 52-week lows. But, given the long-term prospects of natural gas as a fuel in transportation, we should not ignore the fact that Clean Energy Fuels can make a comeback in the long run.
What's more important to note is that Clean Energy is aggressively focused on improving its fundamentals and this will play a key role in bolstering its financial performance in the long run. As such, in this article, we will take a closer look at how Clean Energy Fuels is making the right moves to improve its business and why a strong end-market opportunity will lead to upside.
Reducing debt while maintaining the cash
A look at Clean Energy Fuels' balance sheet clearly indicates that the company is highly levered. It has total debt of $574 million with a debt-equity ratio of 1.54. What's more, Clean Energy's cash position in comparison to the debt is relatively weaker at $166 million, while its operating cash flow generated in the past year is in the negative.
However, the company is taking positive steps to improve its balance sheet. For instance, in the ongoing quarter, Clean Energy has bought back approximately $32.5 million of its 2018 convertible notes so far. In addition, the company has managed to reduce its convertible debt by $92.5 million so far this year, has prepaid $61.8 million in cash to reduce the $145 million outstanding principal amount of convertible notes that fall due in August this year, along with accrued interest.
As a result of these moves, Clean Energy will be able to reduce its interest burden and also lower the leverage. Looking ahead, Clean Energy seems to be on track to repay the convertible debt with a combination of cash and stock.
More importantly, despite these reductions in the convertible debt, Clean Energy expects its cash position to remain the same at the end of 2016 as it was at the end of 2015. The strength in the company's liquidity will be driven by its efforts to generate positive EBITDA by reducing costs, gaining credit lines on the basis of its working capital, and the proceeds from its stock sale program.
In fact, the company recently secured a $50 million line of credit, which has a relatively lower interest rate than the convertible debt. Thus, as a result of such measures, Clean Energy Fuels will be able to drive down its costs going forward, which will allow it to improve its bottom line performance and cash flow. In fact, in the past year, Clean Energy has managed to record impressive growth in the cash flow performance, as shown in the chart below, and it should continue getting better: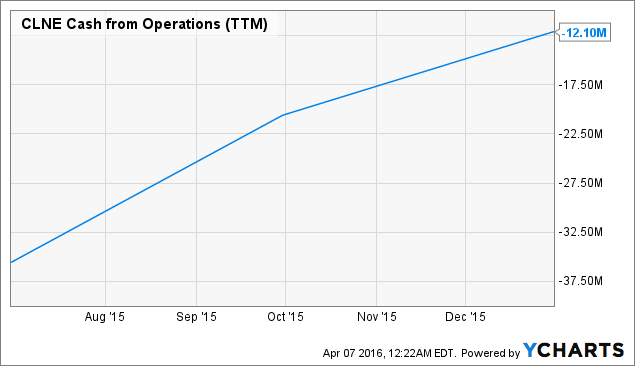 CLNE Cash from Operations (TTM) data by YCharts
Higher volumes in the cards
Even though oil prices are low and the adoption of natural gas vehicles and conversion kits has taken a hit due to upfront conversion costs of around $20,000, Clean Energy Fuels has managed to increase gallons delivered. For instance, the natural gas refueling company delivered 78.3 million gallons to its customers in the fourth quarter of 2015. This represents an increase of 8% year over year. In fact, for the full year, the company delivered 308.5 million gallons, a 16% increase over 2014.
This increase in volumes was a result of an increase in the deployment of natural gas-powered vehicles by Clean Energy's customers, a trend that will continue in the long run. In fact, going forward, it is estimated that more heavy-duty trucks and buses will shift to the natural gas platform.
According to Clean Energy Fuels, around 55% of the new refuse trucks and a fourth of the transit buses in the U.S. are running on natural gas. In the future, more and more natural gas trucks and buses will come online. According to the EIA, heavy-duty LNG trucks will grow to 40% in classes 7 and 8 by 2050, thereby reducing the share of diesel-based trucks to 60% in 2050 from 98% last year. The following chart shows the shift in fuel preference of trucks going forward: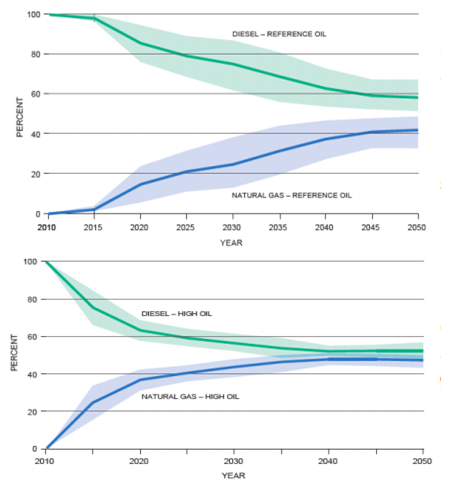 Source: EIA
Moreover, even the light and medium duty truck market will shift toward compressed natural gas in the long run. According to BCG Perspective, CNG vehicle growth in the U.S. will clock a yearly rate of 17%, ultimately growing to 500,000 by 2020 as against just 170,000 in 2013. Since most of the increase in CNG demand will come from the medium and heavy segments, which need more fuel to run, Clean Energy Fuels will see an improvement in gallons delivered.
Conclusion
Clean Energy Fuels has not done well in the stock market in 2016 so far, but it cannot be ignored that the company is taking smart steps to improve its balance sheet. Moreover, in the long run, as the demand for natural gas as a fuel increases, Clean Energy will be able to further improve its financial performance. So, investors should consider initiating a long position in Clean Energy Fuels at its 52-week lows since it is capable of delivering strong gains in the future.
Disclosure: I/we have no positions in any stocks mentioned, and no plans to initiate any positions within the next 72 hours.
I wrote this article myself, and it expresses my own opinions. I am not receiving compensation for it (other than from Seeking Alpha). I have no business relationship with any company whose stock is mentioned in this article.