A Closer Look
March came in like a lion-and continued to roar. Both U.S. and overseas equities surged, with many major indexes advancing 6% or more. The MSCI Emerging Markets Index, in fact, posted a gain of over 13%. What made the rally even more notable is that it came in the face of a major terrorist attack in Brussels. While the human cost of terrorism can never be overstated nor it is ever acceptable, it's possible that financial markets have come to accept a certain amount of global instability. Meanwhile, U.S. bonds advanced moderately, continuing their steady gains so far this year.
Markets cheered by Fed caution: At the Federal Open Market Committee meeting on March 16th, the U.S. Federal Reserve kept interest rates steady. In doing so, it cited concerns about "global economic and financial developments," leading many investors to believe that near-term rate hikes would be fewer than anticipated. This line of thinking gained credence at the end of the month, when Fed chief Janet Yellen spoke before the Economic Club of New York. There, she indicated that, while the U.S. economy seemed "remarkably resilient," the Fed would "proceed cautiously in adjusting policy." Equity markets advanced further on the news.
Good news in oil and economic reports: The price of oil continued to strengthen throughout most of March, after hitting multi-year lows just a few weeks earlier. This development heartened investors, especially in assets and regions with close ties to energy. Elsewhere, the U.S. economy continued to show signs of moderate growth. Job creation came in at 215,000 for the month, slightly above expectations, and the unemployment rate notched higher to a still impressive 5%. Also, gross domestic product (GDP) for the fourth quarter was revised upward to 1.4%, largely on higher-than-anticipated gains in consumer spending.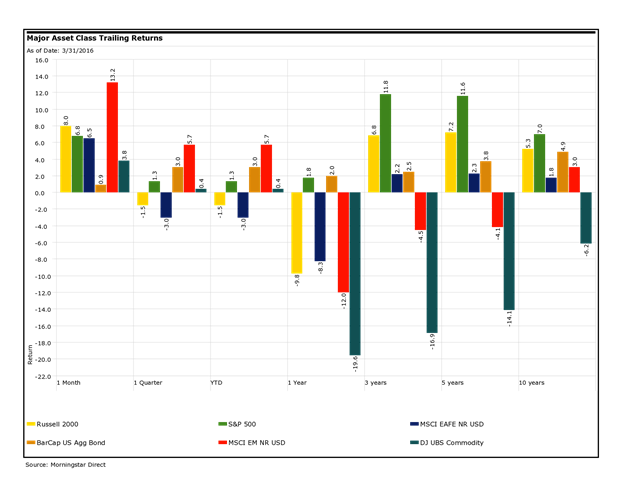 Domestic Equities
The uptrend in U.S. stocks that started in February continued into March-and then some. Many indexes even ended in positive year-to-date territory for the first time in 2016.
The large-cap-oriented S&P 500 rallied 6.78% in March, lifting the index to a year-to-date gain of 1.35%. And U.S. small caps performed even better. The small-cap oriented Russell 2000 surged 7.98% during the month, trimming its once sizable year-to-date loss to just 1.52%.
As one might expect from the headline numbers, there was broad upward movement across all sectors in March (based on the S&P 500 sector indexes). The rebound in energy prices led the energy sector to the month's strongest performance, followed by IT and utilities. For the year, defensive industries are still the best performers, with telecom and utilities leading the pack. Even the weakest monthly performers-healthcare and consumer staples stocks-were up in March, while healthcare and financials are the only sectors down for the year so far.
Both growth and value stocks surged in March, with value slightly outperforming. (This is based on the Russell 3000 Growth and Value Indexes.) Year to date, both styles are now in positive territory.
International Equities
The good news in March wasn't limited to U.S. stocks. International equities also surged, as China rallied and investors scooped up assets that may have been considered oversold. Emerging markets advanced the most.
The MSCI EAFE Index, a widely followed measure of developed market performance, leapt 6.51% in March. Most of the index's component regions were higher, though stocks in the Pacific (outside Japan) were strongest, likely supported by strength in neighboring China. On a year-to-date basis, the index is still down 3.01%.
The real stars of the month, however, were emerging economies, with the MSCI Emerging Markets Index bolting 13.23% higher. This was the strongest performance, by far, of any major index we track. Latin America led the category higher, primarily on strength in Brazil, where political developments fanned hopes of market reforms. The rebound in the price of oil also boosted the region. On a year-to-date basis, the index is now up 5.71%.
Fixed Income
Bonds continued to advance in March on reduced expectations for Fed-controlled rate increases. The Barclays U.S. Aggregate Index jumped 0.92% for the month-and is now up 3.03% year to date.
In the U.S. Treasury arena, the yield on the benchmark 10-year note ticked up four basis points to 1.78%. (A basis point is one one-hundredth of a percent.) The yield curve steepened slightly, with interest rates falling at the short end while rising or holding steady for intermediate- to long-term securities.
Among fixed income sectors, high-yield corporate bonds (also known as junk bonds), investment-grade corporates, and TIPS were the strongest performers for the month, while intermediate- and long-term Treasuries were the weakest. Some of the strength in high-yield securities can be attributed to the rebound in oil prices, as energy companies make up a significant share of the sector. On a year-to-date basis, long-term Treasuries, intermediate Treasuries, and TIPS have been the best performers, while T-bills and short-term Treasuries have been the weakest.
The Bottom Line
With markets firing on all cylinders, March was clearly a great month for investors, a vast improvement from the considerable volatility and anxiety of just a few weeks earlier. Many think the tide may have turned-dramatically. But will it continue?
Consider the turnaround in the price of oil: It's now up almost 50% from its weakest point in January. But just as worry about the sector may have been overdone at the lows, investors shouldn't assume that the advance will continue unabated. It may or may not. We just don't know.
The important thing to remember is that markets are always changing, and having a diversified, risk-appropriate portfolio may help investors navigate the highs and lows, even when shifts come quickly. It also helps to rebalance one's portfolio periodically to remain on track, while also potentially locking in gains and/or redirecting funds to assets that may be undervalued.
While none of us can predict the future, we can prepare for it.
Disclosure: I/we have no positions in any stocks mentioned, and no plans to initiate any positions within the next 72 hours.
I wrote this article myself, and it expresses my own opinions. I am not receiving compensation for it. I have no business relationship with any company whose stock is mentioned in this article.