There is little more satisfying than seeing investments put on big returns, and Steven Madden, Ltd. (NASDAQ:SHOO) has done just that for us this year. But as many readers will be aware, when a stock reaches our target price we tend to close our position unless we can find something compelling to keep us invested. We feel the share price of Steven Madden puts it at about fair value now with limited upside and thus we class it as a hold.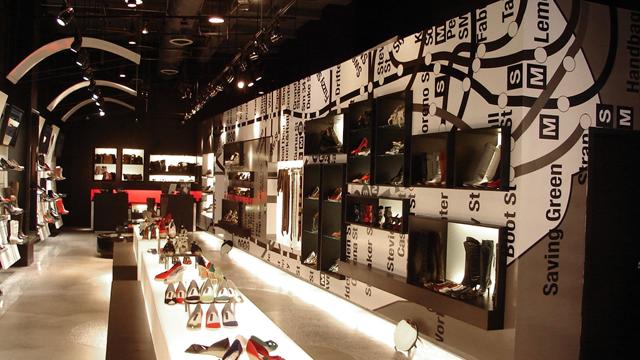 Click to enlarge
In early February when we recommended Steven Madden it was very much down in the dumps after selling pressure pushed it down to below $31.00. This was a screaming buy to us and thankfully these screams paid off. As you can see on the chart shown below, the share price has now climbed 18% since then and held firm at this level.
But at this level we see limited upside now for the share price, which for us is our cue to look at reinvesting the funds elsewhere. Just to clarify, we are not by any means calling Steve Madden as being overvalued or a shorting opportunity, we just feel we can now get better returns reinvesting elsewhere.
We were impressed with the company's full year results. But we didn't see enough in them to expect substantial gains from hereon. For fiscal 2015 Steve Madden reported revenue of $1.405 billion, a rise of 5.3% year-over-year. Net income and earnings per share rose to $112.9 million and $1.85, compared to $111.9 million and $1.76, respectively in 2014. This was a great performance which we were very impressed with.
Management offered fiscal 2016 guidance of revenue growth in the range of 2-4% and earnings per share coming in between $1.93 and $2.03. The guidance for revenue growth of 2-4% was a little underwhelming in our opinion. For the company to achieve the high-end of its earnings guidance (which the market consensus is expecting) it is going to have to improve its margins vastly. In such a competitive retail environment this is easier said than done. Especially as at present the company has a 20% off promotion running, and inventory turnover has been on a steep decline as you can see below.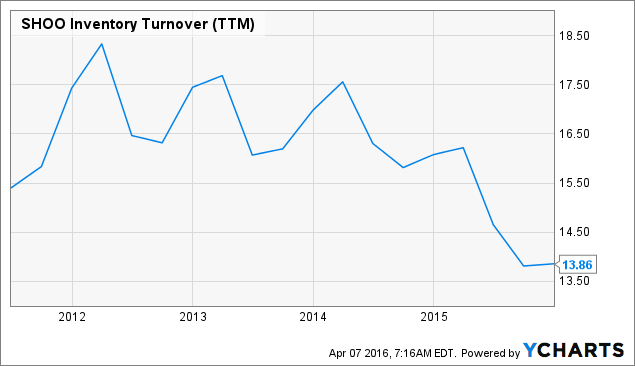 If the company wants to shift this excess inventory it will most probably have to do so at discount. This is never good for margins. So for the company to expand its margins in the year ahead, it may need a miracle.
There are positives which could yet cause surprises. We have been very pleased with the progress the company has been making in the athleisure market. We believe it was a positive step taking advantage of the growing trend. We continue to see an opening for designer athleisure sneakers that would complement its Superga brand. The price points that Steve Madden has been working in make it very competitive with the likes of Converse by Nike (NYSE:NKE), or Vans by VF Corporation (NYSE:VFC).
We also like that management is focused and working hard on getting its product assortment right. Its speed-to-market is of a high standard and so it is able to react to trends very quickly. Perhaps not as quickly as fast-fashion kingpins H&M and Zara, but it is far quicker than traditional apparel retailers. This could be a key advantage of some competitors and help the company boost revenue to a level greater than it guided to.
So there is a possibility the company could perform above expectations in fiscal 2016. We are exiting now but will be keeping a close eye on the company's first quarter results in two to three weeks. The market is expecting Steve Madden to produce 33 cents of earnings per share on revenue of $325 million. This will be the smallest of rises from the same period last year where the company delivered 32 cents of earnings per share on $324 million of revenue.
The current one-year consensus price target is $38.70, representing a 6% return on the current share price. This potential return just isn't enough for us to risk our gains. We have concerns over its growing inventory and slowing sales, and thus we believe there are investments elsewhere which should yield far higher returns for a similar level of risk.
Disclosure: I/we have no positions in any stocks mentioned, and no plans to initiate any positions within the next 72 hours.
I wrote this article myself, and it expresses my own opinions. I am not receiving compensation for it (other than from Seeking Alpha). I have no business relationship with any company whose stock is mentioned in this article.