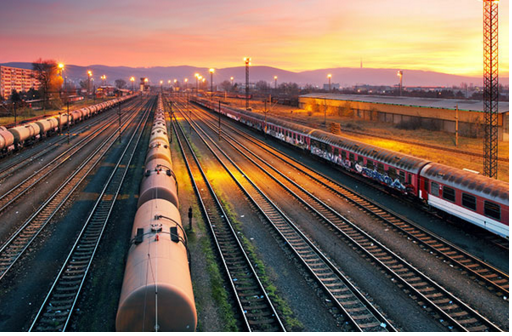 Please note that, unless otherwise noted, since BSM Technologies is listed on the TSX Exchange and reports in Canadian dollars, all amounts in this article (unless otherwise noted) will be in Canadian dollars. The Canadian dollar currently trades at 1.3157 to 1 USD.
BSM Technologies (OTC:BSMZF) is an $87m market capitalized company specializing in GPS asset tracking and telematics. Its primary markets include rail, government, trucking, and construction.
However, BSM in its current form is a relatively new entity. On July 30, 2015, BSM Technologies and Webtech Wireless announced a "merger of equals", with BSM shareholders holding 51% of the final company and Webtech shareholders the remaining 49%. The total value of the company was $85m at the time, not far from its market capitalization today.
Prior to this merger, both companies were small players in the industry with developed niche verticals. BSM had specialized in the rail sector while Webtech had made strong in-roads in the government and trucking spaces. Both companies were attempting to expand into the construction industry which was an advantage of the merger. A bigger advantage was the minimal industry overlap, allowing for some clear merger synergies to be possible. From a strategic side, the industry has begun consolidating so it was critical for both companies to gain some scale.
The fleet management industry has been growing for a number of reasons. First, knowing the physical location and status of a company's assets is a fundamental requirement; fleet management makes it more efficient. For many capital intensive industries, these are the key revenue generators for companies. Knowing their location, optimizing their use and forecasting their down time is critical to maximizing the return on their investments.
Second, the growth of data that can now be captured, analyzed, and interpreted within the Internet of Things (NYSEMKT:IOT) trend has been significant. Having the tools to track how a company's fleet of assets is working can now help to frame future decisions and performance decisions that were not possible pre-IoT.
BSM's Sentinel FM platform is able to bring these features together while permitting customization, depending on the client. Its revenue is derived as Software as a Service (SAAS) which gives companies the ability to pay as they go and outsource the maintenance. This provides BSM with a steady recurring revenue base. This base is also stickier than it would appear. Migrating to a new platform becomes more and more daunting for installed customers as time goes on and they become more comfortable with their existing platform.
At the time of the merger, it was estimated that, on a trailing twelve-month basis, the combined BSM would have revenues of $58m, EBITDA of $4.75m. Of these revenues, $37m of it would be recurring, or roughly 63% of their total. There was also some near-term cost savings on top, estimated at $1.5m initially, but potentially increasing to between $2.5m and $3.5m per year. This merger created a company in the top 20 of the fleet management and telematics industry.
The number one company in the industry is Trimble Navigation (NASDAQ:TRMB) whose Mobile division most closely approximates BSM's business.

Click to enlarge
Source: Trimble Navigation 2015 10-K
Trimble is the leading player in BSM's business, so it is worthwhile to see how BSM is progressing as a combined entity, both in comparison to the initial guidance it gave the market as well as to the leader in its industry.
Valuation
In the table below from its Q1 2016 MD&A, the comparatives year to year are not worthwhile as it is really comparing to the original pre-merger BSM company.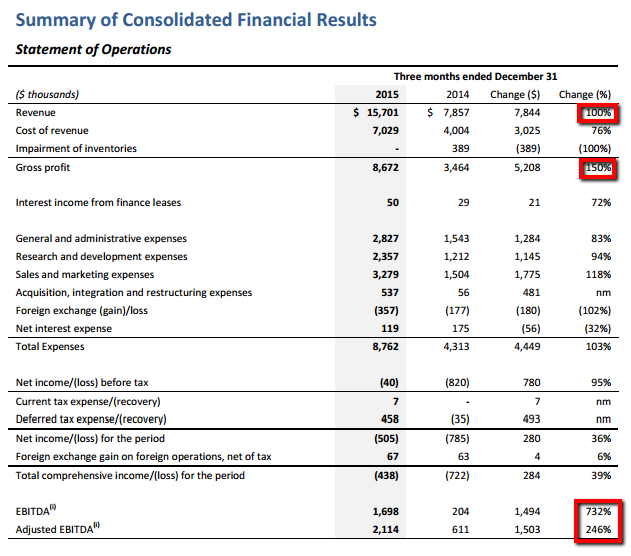 The comparatives are obviously strong but most notably EBITDA and its margins increased at a higher rate than its revenues, giving an early indication that they are making headway in the integration process.
With a very high recurring revenue base, there is not a lot of quarterly cyclicality in their performance. This lets us extrapolate out the first quarter performance with less risk than would normally occur. BSM's revenue is pacing higher than the original TTM of $58m, to over $62m; management noted a couple of customer wins and an additional 1,000 users on top of its installed base of 150,000. This is a good start to the process; it would appear there was minimal, if any, customer losses while being able to make gains already, even during the transition.
Recurring revenue continued to be high, at about 63% of total revenue, on par with pre-merger guidance. Their recurring revenue produces very high margins (71%). Other than customer support costs, there is very little ongoing costs needed to drive these revenues, aside from update roll-out cost allocation, making these very valuable customers for BSM. By comparison, Trimble's recurring revenue comes out at only 26%, though this is for the company as a whole. BSM's recurring revenue base is very encouraging for its ongoing sustainability, as it gives it some support during tougher sales periods.
In terms of profitability, BSM has made good progress there as well. The original combined company had an estimated EBITDA margin of 8%. With the estimated annual savings built in, it was projected to increase to a range of 14% to 15%. Currently, they sit at 13.4% with management indicating they had already found $700K in savings in the first quarter alone, with some further savings still to be realized. They are well on their way to meeting their integration goals.
However, they have a ways to go to meet Trimble's performance. Trimble's Mobile segment has an operating income margin of 16%; non-acquisition depreciation makes up another 2% of its cost base, so let's call its EBITDA margin 18% for the Mobile segment. This significantly outpaces BSM's current rate of 13.4% and even its projected upside rate. This isn't totally surprising as scale alone helps to spread out SG&A and R&D costs with larger organizations. However, it illustrates the risk to BSM if it remains a smaller player in the industry.
Bearing in mind the risk of small sample sizes, we can pro-rate out its Q1 to $8.4m in EBITDA. After taking out the net cash of $20.7m on its books, BSM is trading at an EV/EBITDA multiple of 7.9x; this compares very favorably to Trimble's trailing multiple of 18x. If we look at Trimble's consensus forward estimates, this multiple only drops to 16x, making BSM a considerable value at this point. On the other hand, Trimble is the market leader and boasts a superior profit margin to BSM.
Excluding the time period during the acquisition, BSM has traded between 9 and 14x EV/EBITDA over its recent history. If we take the midpoint of 11.5x (still discounted compared to Trimble), we end up with a projected share price of $1.33 per share, up 37% from today's price.
Like all small caps, though, the question becomes what will cause a re-rating in BSM's share price?
Another Successful Quarter or Two. BSM's high level of recurring revenue give it a very good downside buffer to meet its goals. The Company doesn't disclose backlog, but it has had a steady level of revenues in the recent past while also pushing into the construction revenue vertical. It is not hard to see some momentum building as the story becomes more defined.
Buyback. The company has a 10% normal course-issuer bid (NCIB) outstanding which would take out about 8.8m shares or about $8.5m at its current price level. The Company has more than enough capital to fund this, especially at this valuation. This provides a put to the share price at these levels as long as it remains in place.
M&A. Fleet management is a very fragmented industry, with a lot of newer startups entering the field, especially in the data area. A significant number of entrants have been concentrated in niche segments. Some companies are also focusing on change management, or the altering of asset user behavior. UPS is a great example of this as they incorporated data analysis to change the way its drivers drove their routes by minimizing left turns to save time and fuel.
BSM is currently more focused on the asset management side. They do develop custom systems to meet their enterprise client needs, which would include a change management component. However, like this merger, one of these types of companies could fit well with their current offerings as it would accelerate their data mining component and make them an even bigger player in the industry.
There has been a rising number of consolidating transactions occurring through throughout the industry as well. Scale is a key factor (we saw that in Trimble's results) in generating higher levels of profitability, especially if you can bring complementary client lists and technologies to the table.
In Trimble's investor presentation, there is some chance that BSM would be a decent fit, especially with their established businesses in rail and field services: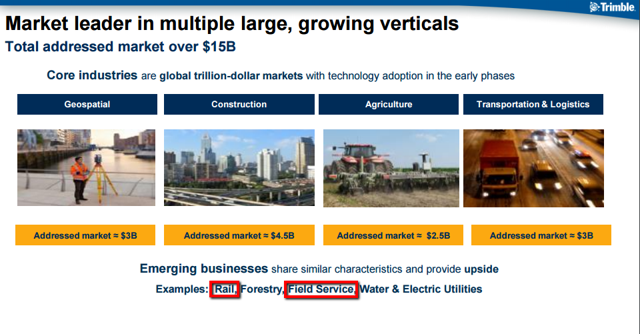 Click to enlarge
Source: Trimble Investor Presentation
Investing Alongside Winners. One of the leading small cap investment firms, PenderFund Small Cap Opportunities, has over 2.5% of the company in its fund. They have a very strong track record with small caps and inherited this position with its original stake in Webtech Wireless. This merger has not dulled their bullish view on BSM: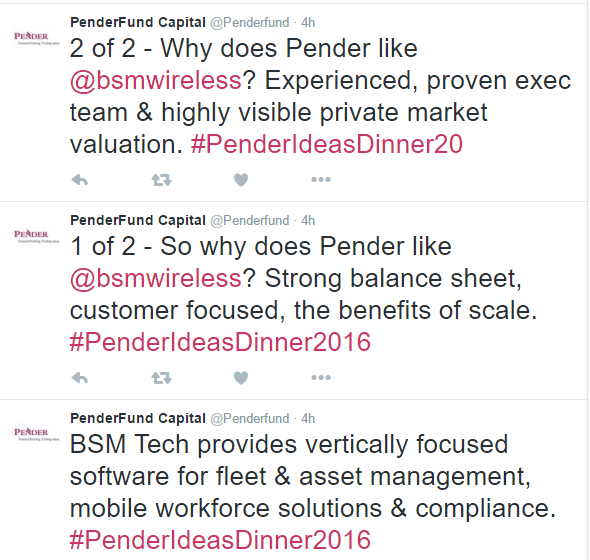 Source: @Penderfund Twitter Feed
So what can go wrong? With small caps, plenty. And BSM is no different.
Failure to Execute. Despite strong first returns, there is always a chance to be a hitch in the next quarter as integration efforts continue. The positive with smaller companies is there is less chance of a real culture problem during integration.
Getting spread too thin. BSM has focused on its main key verticals of rail, government, and trucking, with a push into construction as well. Getting out of its core competencies could easily stretch their resources, especially after all the rationalizing that has been undergone during the integration process.
Poor Capital Allocation. BSM has done well to accumulate a decent cash buffer; the NCIB isn't a bad use of these funds, though at this stage, it would be better served utilizing it as a cheap source of acquisition or development funding. Likewise, instituting a dividend at this point would be a poor use of funding. It would just create a permanent cash drain that is better served to grow the business... With the industry growing ever more competitive, any excess capital needs to be available to innovate, which a dividend would fail to do.
BSM has made good early strides in performing as a newly merged company. Its strong early returns are trending above management's original guidance, although admittedly based on a very small samples size. However, this can be the time to take a stake when a company is cheap and there is still a little uncertainty in its future that may be quickly put to rest. BSM Wireless is at this stage now and is worth a speculation at this price.
For continued discussion, please don't hesitate to comment below; I learn from your feedback.
If you like what I'm doing, you can follow me by hitting the "follow" button at the top of this article. Plus, you can follow me in real time by selecting that option. It might give you somewhat of a head start whenever I write an article on what actions I am taking and why. Thanks for reading!
Disclosure: I/we have no positions in any stocks mentioned, but may initiate a long position in BSMZF over the next 72 hours.
I wrote this article myself, and it expresses my own opinions. I am not receiving compensation for it (other than from Seeking Alpha). I have no business relationship with any company whose stock is mentioned in this article.
Additional disclosure: An alternative is the more liquid TSX ticker, GPS.TO.