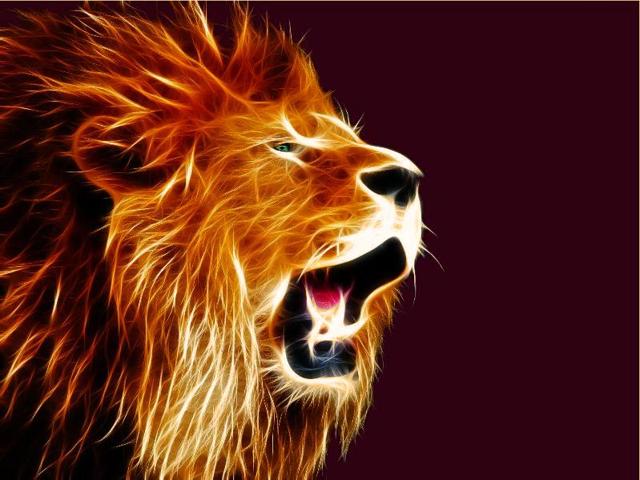 Rising Dividend Income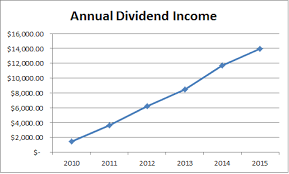 Interest Rates - Lower For Longer
The thesis driving our most recent trades for the subscriber portfolio and the FTG Portfolio I manage on Seeking Alpha tied into the lower-for-longer outlook on interest rates. During this period, many pundits opined that interest rate rises were imminent.
In their estimation, if this be true, then the most interest-rate sensitive sectors of the market, like REITs (real estate investment trusts), would be the most negatively impacted. This thinking led many investors to dump perfectly good companies, depressing their prices further.
I held a contrary opinion, and continue to do so. The Fed has been extremely transparent in its data-dependent statements. Chair Jane Yellen has clearly stated that she will not act to raise rates until unemployment falls closer to the 4.8% mark, and inflation gauges tick up closer to her 2% target.
I believe it imprudent to fight the Fed, and Ms. Yellen has given me no reason to doubt her determination. As prices of REITs and other interest-sensitive equities compressed because of fears of an imminent rate rise, I readied my watch list candidates in this sector. The Watch List Real Time Tracker came in handy as I entered prices at levels that would give me the yields and income amounts I sought on new positions for the portfolio.

As each of my target prices came within striking distance, they lit up green on the tracker to alert me. Orders were placed and executed, securing me the prices, yields and income that I chose.
What Motivated The Decisions To Go Deeper On REITs?
The subscriber portfolio, as well as the Fill-The-Gap Portfolio, has a foundational aspect that we use to protect the income flow of the portfolio. It is a de-risking strategy that seeks to gain essentially equal amounts of income from each portfolio position.
The Real Time Portfolio Tracker aids in this process because it contains a column devoted to telling me what percentage of income is derived from each portfolio component.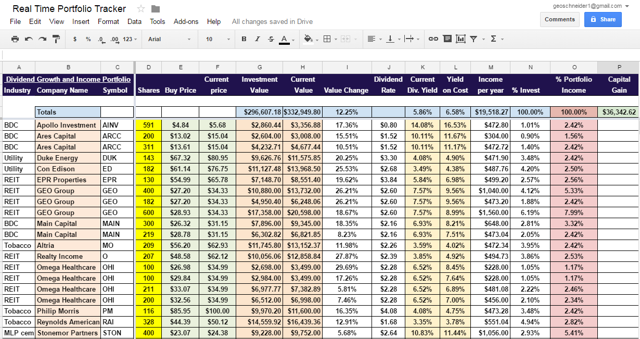 If we have 18 components, for instance, then the goal is to buy each in amounts that will throw off approximately 1/18 of total portfolio income.
1/18 = 5.55%
So, ideally, I'll keep an eye on our positions and try to determine, income-wise, where we are light and what needs to be bolstered to get each position closer to that 5.55% income representation.
Because we have only invested around 40% of starting capital in this portfolio, we have lots of dry powder available to enlarge our positions, or buy additional names.
Sector Rotation Presents Opportunity
Due to the aforementioned pillorying of the REIT sector common in the media during the last several months, many opportunities presented themselves and gave us the opening to fatten up several positions.
My view was that the price compression that had occurred became an instance of "take what the market is handing you." Sector rotation is such that after one industry gets pummeled and all in the group suffer in sympathy, the party moves on to another sector that "needs" punishment. In this way, there's always a bull market opportunity developing somewhere in the marketplace.
Recent REIT History From The Recognized Bottom Till End Of Quarter, 3/31/16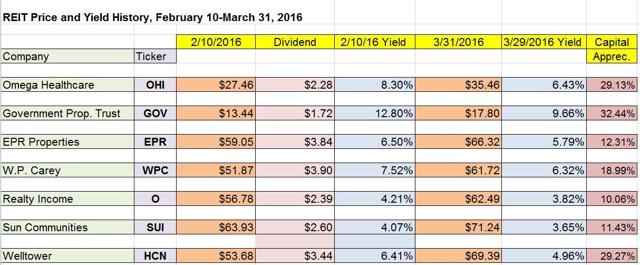 Recent Portfolio Additions/Results As Of April 6, 2016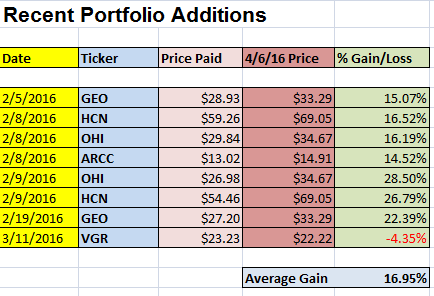 Seven out of eight of our recent purchases have shown very solid gains in market value and contributed nicely to the overall growth of portfolio value of $33,489, or 11.3% from the inception of the subscriber portfolio on November 1, 2015, till today.
In the comparable period, the Dow Jones Industrial Average is down 2.13% and the S&P 500 index is down 1.13%. This means that, as of today, the RODAT subscriber portfolio (Retirement: One Dividend At A Time) is out performing both major stock indexes by some 13.43% to 12.43%, respectively.
Our portfolio income continues to grow right along with portfolio value, so we are enjoying the best of both worlds at present. Portfolio income is now up to $19,518 per year.
Our dry powder continues to build with prodigious payment of dividends.
March Dividend Production For The RODAT Portfolio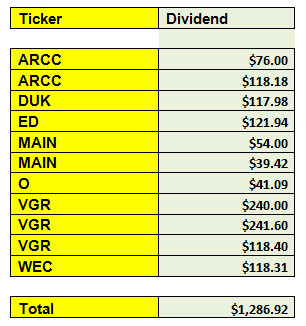 As For The Future, Going Forward
As noted above in the near-term results of the many trades recently executed, we've had a good run these past several weeks. After such good performance in a sector, there is bound to be some pullback as short-term-oriented traders look to take their profits. Of course, there's never any shame in taking some profits.
But as long-term investors who are focused on producing income from our portfolios, we sit in wait, waiting for those profit-taking dips to occur. Our strategy is based on securing value at the lowest possible prices. This always leads to higher yield and income. When lower prices come again, we'll be ready to buy and increase our income further.
Our Most Recent Portfolio Component
In the wake of the latest terrorist attack in Brussels, I decided to initiate a position in Sturm, Ruger & Co. (NYSE:RGR). Immediately following every major attack or mass shooting, permit applications soar and a large and measurable increase in gun sales follows.
Research bears this out and is a recognizable pattern that repeats. It has been seen after multiple school shootings in the U.S., after the Paris attacks, and every attack since. This historical pattern is tradable and actionable.
Right after we bought shares of gun maker Sturm, Ruger & Co. on 4/1/16 as discussed in this recent article, three investment banks came out with a downgrade of competitor Smith & Wesson (SWHC). They pointed out that monthly background checks run by the FBI for gun permits had fallen 9%. What was left unsaid in their note was that March is traditionally a slow month for permits and gun sales.
In addition, the most important metric, annual permits and sales showed they were still trending much higher at a 25% rate.
Because the market chose to focus on the fear factor in the monthly number, shareholders dumped millions of shares on the market of both of these companies.
We bought our shares the day previous to the investment bank report at $69.00. They closed trading that day at $71.62 for a good one day gain of almost 4%. The next day, when the investment bank report surfaced, shares sunk to $65.24, handing us a small paper loss.
Hopefully some readers and subscribers came in near those lows and situated themselves well in this position. Yesterday, they managed a small gain to $65.50, and today, April 6, they're charging more than 4% higher at $68.17, bringing us within spitting range of our original purchase.
Plenty Of Dry Powder Left
My Real Time Portfolio Tracker for the RODAT Portfolio informs me that with our five months of dividends added to our original $500,000 stake, and purchases subtracted, we currently have $208,748 of remaining cash in reserve.
I monitor the markets all throughout the day. When opportunities emerge, we have dry powder in reserve and we'll be ready to deploy it.
Of course, when that moment comes, as usual, I'll send an alert to subscribers and publish an article for readers on the Seeking Alpha site when I've added a position or additional shares to the Fill-The-Gap Portfolio. At that time, you can decide if you think the investment suits your goals. If it does, you can use the FTG Mirror Calculator to determine the proportionate number of shares you wish to buy.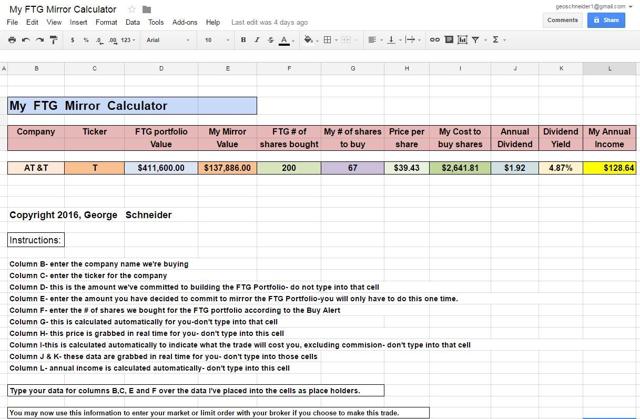 The Fill-The-Gap Portfolio
I began writing a series of articles on December 24, 2014, to demonstrate a real live construction and management of a portfolio dedicated to growing income to close a yawning gap that so many millions of seniors and near retirees face today between their Social Security benefit and actual expenses incurred in retirement.
The beginning article was entitled, "This Is Not Your Father's Retirement Plan." This project began with $411,600 in capital that was deployed in such a way that each of the portfolio constituents yielded approximately equal amounts of yearly income.
The FTG Portfolio Constituents
Constructed beginning on 12/24/14, this portfolio now consists of 18 companies, including AT&T, Inc. (NYSE:T) Altria Group, Inc., (NYSE:MO), Consolidated Edison, Inc. (NYSE:ED), Verizon Communications, Inc. (NYSE:VZ), CenturyLink, Inc. (NYSE:CTL), Main Street Capital Corporation (NYSE:MAIN), Ares Capital Corporation (NASDAQ:ARCC), Reynolds American, Inc. (NYSE:RAI), Vector Group Ltd. (NYSE:VGR), EPR Properties (NYSE:EPR), Realty Income Corporation (NYSE:O), Sun Communities, Inc. (NYSE:SUI), Omega Healthcare Investors (NYSE:OHI), StoneMor Partners LP (NYSE:STON), W. P. Carey, Inc. (NYSE:WPC), Government Properties Income Trust (NYSE:GOV), The GEO Group (NYSE:GEO) and The RMR Group (NASDAQ:RMR).
We are currently offering a free, two-week trial of my premium subscription service. To learn more about it, please click this link:
Retirement: One Dividend At A Time
Please don't keep me a secret. I'd appreciate it if you forwarded this article to your friends, colleagues and family who you think might find this work interesting and something they might benefit from.
As always, I look forward to your comments, discussion and questions.
We've had many new subscribers join us lately. As a reminder to all of you, if you have not yet requested the RODAT Portfolio Income Tracker, FREE for subscribers, please be sure to send me a direct message requesting it. It will help focus your attention on the building and growing of dividends in the subscriber portfolio as well as your own.
Please be sure to include your email address so I can email it to you.
Anyone having an interest in several other digital utility tools that I offer to track portfolios and watch lists in real time, to help figure proportional purchases to mirror the subscriber portfolio, or to monitor the income and growth of income in your portfolio, please visit here for further information.
Disclaimer: This article is intended to provide information to interested parties. As I have no knowledge of individual investor circumstances, goals, and/or portfolio concentration or diversification, readers are expected to complete their own due diligence before purchasing any stocks mentioned or recommended.
Disclosure: I am/we are long ALL NAMES MENTIONED.
I wrote this article myself, and it expresses my own opinions. I am not receiving compensation for it (other than from Seeking Alpha). I have no business relationship with any company whose stock is mentioned in this article.