As the company's autoplay video views have soared to more than 8 billion per day, Facebook (NASDAQ:FB) has gradually stepped up its efforts to encroach on Google-owned (NASDAQ:GOOG) (NASDAQ:GOOGL) YouTube's turf. A dedicated video channel was launched last fall, and yesterday the company added a dedicated video tab to its main mobile app menu bar. Selecting the tab takes users to a brand-new video hub (an outgrowth of the video channel) featuring both live and recorded material. And Facebook's Live platform has received (to much fanfare) a big overhaul and new promotional efforts this week, as Mark Zuckerberg and other execs bet live streaming is near an inflection point.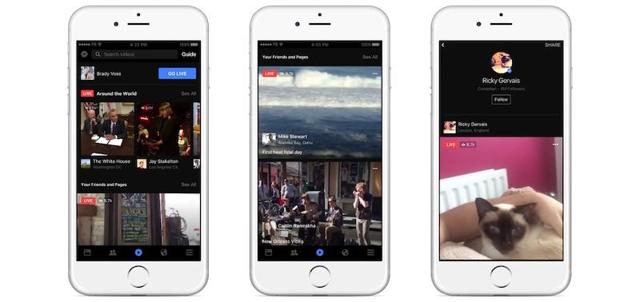 Click to enlarge
Facebook's new video hub
Today, Facebook has unveiled what might be its most explicit challenge to YouTube: The creation of a dedicated video search engine built into the video hub. Facebook has already been urging Page owners to tag their videos, and now searches featuring tagged words will turn up those videos.
Facebook vs. YouTube
Does YouTube need to be worried about Facebook's efforts? To an extent. On one hand, YouTube is still quite dominant in online video, with over 1B active users, tremendous mobile usage - YouTube claims its average mobile viewing session lasts over 40 minutes - many accounts with over 1M subscribers, and an unmatched video clip library. It's also worth noting YouTube's ad sales growth helped paid clicks on Google's sites rise 40% Y/Y in Q4.
On the other hand, Facebook has already become a top location for viewing viral videos and newly-published clips from big media accounts, and its aversion to running pre-roll video ads (a YouTube staple) in favor of other ad types can yield a better user experience. And now users won't just see Facebook videos when they happen to appear in their news feeds - they can also browse and search for them through a YouTube-like video hub.
I think one way to look at it is that Facebook and YouTube's video strengths form partly overlapping circles. There's still a lot of content that users are more likely to look for and find on YouTube - older music videos and movie/TV show clips, instructional videos, mashups, and various niche content types that have cult followings, among other things. And there's a lot of viral content more likely to be seen on Facebook. But there's also some popular content - for example, new movie trailers and ads, and clips from recent TV programming - that often draw large crowds on both platforms. And that's where Facebook might have a big opportunity to go after YouTube's video views and ad dollars.
Declining "original" sharing
Meanwhile, a new report from The Information passes on internal Facebook data that appears to confirm what GlobalWebIndex reported last fall and what many Facebook users have anecdotally reported seeing: A decreasing percentage of Facebook users are choosing to frequently update their statuses or otherwise share their own content (for example, upload photos/videos taken from their phones). Just 57% of Facebook users accessing the app each week posted in a given week, and only 39% posted original content.
The Information also reports "original broadcast sharing" on Facebook was down 21% Y/Y as of mid-2015, and by ~15% Y/Y as of earlier this year. Total sharing, boosted by the sharing of third-party content, was down a moderate 5.5% as of mid-2015. Facebook has created a London team that's trying to address the original sharing issue, and has updated its algorithm to bring up more user-generated content. The company is also hoping live streaming will provide a boost to content-sharing.
For now, the sharing decline isn't having a big effect on visits to Facebook's site and apps: The company's monthly active users (MAUs) rose 14% Y/Y in Q4 to 1.59B, and its daily active users (DAUs) 17% to 1.04B. But one has to think there's a tipping point at which many Facebook users start checking in less often because they're seeing less content created by family and (real-life) friends. As The Information notes, Facebook's sheer size could be a problem: Many users don't feel as if Facebook is now the right venue for sharing their thoughts and everyday life events with family/friends. That, in turn, gives messaging platforms like Snapchat (Private:CHAT) an opening.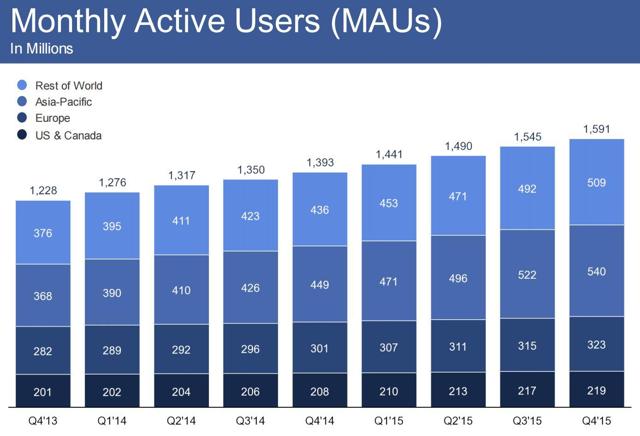 Click to enlarge
User growth remains solid in spite of lower sharing. Source: Facebook's Q4 earnings slides.
A new Messenger milestone and business tools
Facebook, of course, has some big messaging platforms of its own, and disclosed today one of them has grown some more: Messenger now has over 900M MAUs, up from 800M in January and within striking distance of the 1B Facebook-owned WhatsApp reported reaching in early February. Zuckerberg previously suggested he isn't interested in monetizing Messenger until it tops 1B users. We're getting pretty close to that point… which could be a reason a Messenger bot store and offline payment services are reportedly being prepped.
Possibly aiding an upcoming monetization push: Facebook is rolling out new Messenger features that make it easier for businesses and their customers to interact. Specifically, Messenger Links, which provides short web URLs that automatically open a chat with a business, and Messenger Codes, printable codes that start conversations when scanned by a user's smartphone camera.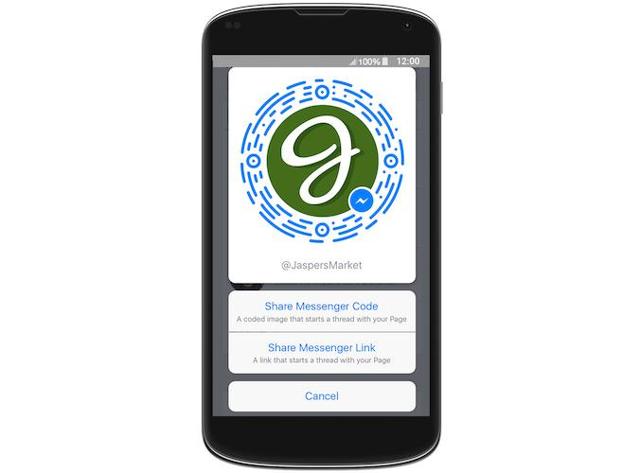 Click to enlarge
New Messenger business tools
Just as Asian messaging platforms such as WeChat and Line have done so, Messenger is evolving into a platform for interacting with, receiving information from, and conducting transactions with businesses. And that provides a lot of revenue options for a medium Zuckerberg has said isn't conducive to ads. WhatsApp might go in the same direction in time.
Disclosure: I/we have no positions in any stocks mentioned, and no plans to initiate any positions within the next 72 hours.
I wrote this article myself, and it expresses my own opinions. I am not receiving compensation for it. I have no business relationship with any company whose stock is mentioned in this article.