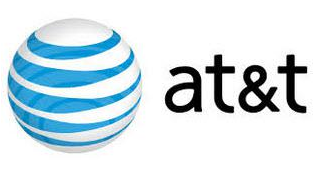 Several analysts have initiated buy ratings on AT&T (NYSE:T) recently with $40 to $41 price targets. My experience has been analysts are usually wrong and always late. In the following article, I present my contrary view for your perusal.
What happened?
Macquarie initiated coverage on April 5, 2016, with an outperform rating. Whenever I see an analyst firm issue an outperform rating on a stock after a substantial rally, it makes me wary. Don't get me wrong, I am long AT&T and looking to add. Nonetheless, the recent price action and a plethora of upgrades have me concerned we are heading for a selloff. Below is a list of the most recent upgrades.

Click to enlarge
Source: Finviz.com
As you can see several firms have upgraded the stock in recent weeks even after the stock has had a significant run-up. The fact that these analysts have initiated or reiterated the stock as a buy just a point or two off their price targets is a red flag in my book. It makes me feel as though they are attempting to unload shares on unsuspecting retail investors. This is not always the case, yet I have seen this happen innumerable times before throughout my investing career. Let's take a deeper dive into the current circumstances and make a determination.
Why the upgrades?
The strong dollar, sinking interest rates and no appetite for risk have created the perfect environment for AT&T's stock to flourish. Wary investors have piled into safe haven plays. This has driven AT&T's share price above the consensus price target of $38.40. Furthermore, the stock is trading just a couple of percentage points below its 52-week high.
Current chart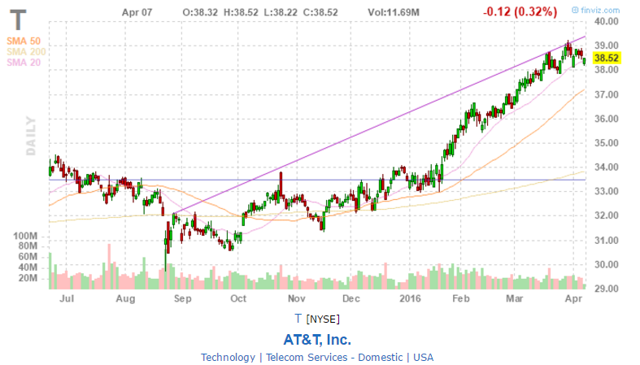 Click to enlarge
Source: Finviz.com
AT&T has performed well in the face of several challenging months in the mobile market. What's more, AT&T posted great results in 2015. The company expanded wireless margins to record levels and posted solid growth in the strategic services, prepaid and Internet of Things businesses. Unfortunately, it looks like the stock is rolling over as we speak and there may be some rough sledding ahead for the stock. Let me explain.
The bad news
With the stock trading at nosebleed levels, I submit it is priced to perfection. In the fourth quarter, AT&T saw a slowdown in the handset upgrade cycle with total sales fading somewhat. I expect this trend to continue. This could hamper revenue growth going forward. Moreover, the company is coming off of a banner 2015 year, making comparisons going forward tough. Finally, complex integrations like that of AT&T and DirecTV are inherently risky. Often, hidden costs materialize while expected synergies vanish. So why even buy it?
The good news
The stock is a dividend aristocrat with a juicy 5% yield, making it a solid income investment, for the right price of course. There are some signs of stress currently though. EPS growth is below the industry average, while the payout ratio is considerably higher than the industry average or peers. Nonetheless, the yield makes the reward worth the risk. So what is the right price?
When to buy?
In my last piece, I recommended buying on a pullback, yet did not specify my price target or how I determine when to open a position. The first thing I look at is the dividend yield versus price history.
Dividend yield versus price history

Click to enlarge
Source: Dividends.com
According to this first indicator, you should wait for the stock to pull back to $35, which will yield 5.5%. Some say it does not matter when you buy a great dividend stock like AT&T. I beg to differ. We are talking about a 10% increase in perpetuity. That is worth the wait in my book. Even so, I double check this price point by employing a Fibonacci retracement arc. This is especially helpful when a stock experiences an abrupt rally. I have found that when a rally occurs in such a fast and furious manner, more often than not, a retracement occurs.
Fibonacci retracement arc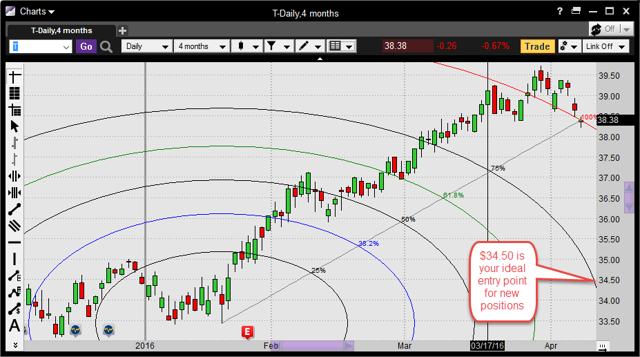 Click to enlarge
Source: Scottrade.com
The Fibonacci retracement's first retracement price target is $34.50, underpinning the original price target of $35.
Conclusion
AT&T is a solid income investment. Nevertheless, I posit the stock has run too far too fast. If I was looking to open a new position, I would wait for the stock to hit the $35 mark. The fact that several analysts have come out recently touting the stock as a buy only one point off their price target is a huge sell signal in my book. They are attempting to unload shares now that they have reached their investment goal. The rapid accent also makes the probability of a pullback that much greater. I expect the stock to hit $35 by June in the midst of the summer doldrums.
Final thought
Nevertheless, there are always risks to any investment thesis. Please use this information as a starting point for your own due diligence and always consult an investment advisor prior to making any investment decisions. Those are my thoughts on the subject. I look forward to reading yours. If you found this article interesting, please click on the follow button below. It would be greatly appreciated.
Disclosure: I am/we are long T.
I wrote this article myself, and it expresses my own opinions. I am not receiving compensation for it (other than from Seeking Alpha). I have no business relationship with any company whose stock is mentioned in this article.