With global oil prices declining drastically over the last year, should investors hang on to this commodity as an investment option?
Over the past year, global oil prices have fallen sharply, and as a result, we have seen some significant revenue shortfalls in many energy exporting nations. On the flip side, consumers in many importing countries have had the opportunity to pay less in order to drive their cars or to heat their homes.
From 2010 until around June 2014, oil prices were fairly stable and traded at around $110 a barrel. Since then, oil prices have more than halved, and over the past few months, we have seen global prices dropping below $30 a barrel. With this consistent decline in the commodity's price, the big question is, should investors trade in oil and hang on to their investments in this commodity?
Current Oil Price
Despite the spike in the oil price on the 12th of February 2016, following comments that raised expectations of a coordinated cut in production levels by OPEC member the United Arab Emirates, prices still remain at extremely low levels.
Many speculators seem to be taking the view that oil prices will rise, with Bloomberg reporting that option trading in West Texas Intermediate (WTI) oil futures long bets pushed the price up to an eight-month high. The reality, however, is that the price of WTI fell by 0.7% at the same time to $29.25 per barrel in Singapore.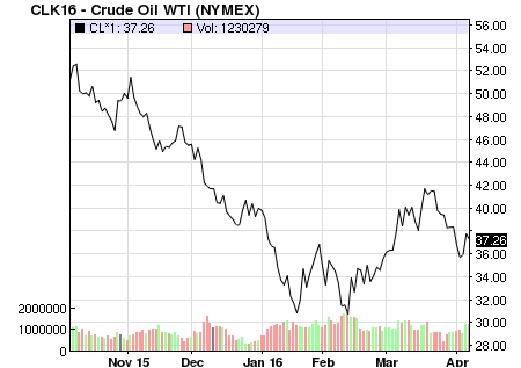 Source: Nasdaq.com
Oil prices in the U.S. are down nearly 20 percent so far this year, and in the second week of February, futures slumped to $26.05 a barrel, which marked a 13-year low. This decline came about after record crude inventories at the Cushing delivery hub in Oklahoma underlined concerns over a supply glut. Meanwhile, Brent prices are also down almost 15 percent in 2016, as investors are concerned that a great oversupply in crude is coinciding with a global economic slowdown. So, what other factors are impacting the price of this commodity?
Geopolitical Factors
Hopes for an oil price increase were further fuelled by news of Saudi Arabian-Russian talks that took place in Doha, Qatar, with discussions focusing on ways of tackling the glut in oil supplies that has sent stockpiles of oil to an 86-year high globally. At the same time, the International Energy Agency (IEA) has increased its estimate of global oil supply for the first six months of this year by 250,000 barrels daily, which, in their view, indicates that oil prices will remain depressed for much of 2016.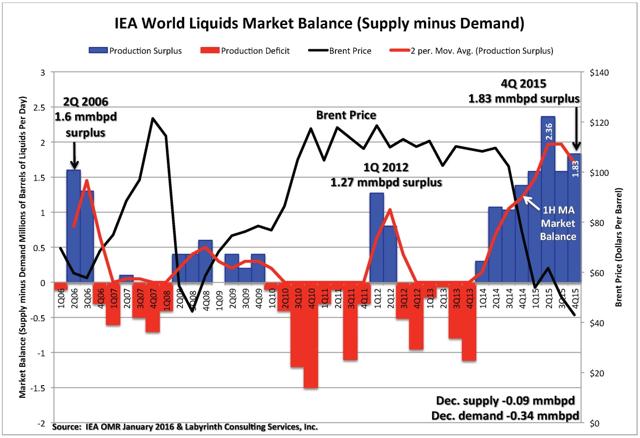 Click to enlarge
Source: International Energy Agency 2015 Report
The situation with regard to relations between Saudi Arabia on the one hand and Russia and Iran on the other is certain to be a significant discussion point between the parties, on the sidelines of the main subject of oil production levels. The conflict in Syria, which appears to be worsening rather than improving in the face of efforts by the United States and the EU countries to broker a cease fire, will serve to increase tensions between the Saudis and Russia. The re-entry of Iran as a global oil supplier is also expected to have a negative effect on the oil price, according to the IEA report on the 19th of January.
The ongoing conflict in Syria - and to a lesser degree in Iraq - with significant military involvement by both Russia and Iran, must be placing strains on their economic resources. IHS Jane's, the leading military analysts, report that the Syrian adventure is costing Russia between $4 million and $5 million daily, which they qualify as being a conservative estimate. Reuters reports that, at the same time, the number of people living below the minimum income in Russia has increased by 15% to 21.7 million - a huge number of poor people who will not be happy for too long with their government spending money on foreign adventures.
The figure for the cost to Iran is around $2 billion annually to maintain its activities in Syria, which has been funded mainly out of oil sales. While these amounts are a small percentage of the GDP of both countries, the costs mount over a long period, and the loss of lives and equipment also has to be added to the total cost in the final analysis.
Saudi Arabia, not to be outdone, is involved in the conflict in Yemen in support of the government, where Iran is sponsoring the opposition revolutionary forces, with the potential for Saudi Arabia to join Turkey in deploying ground troops in Syria becoming a likelihood. The Saudis have been the leaders of the movement to increase oil supplies and have resorted to using up their financial reserves to compensate for the losses incurred. Foreign reserves have fallen by almost 3% during the past 6 months, according to Trading Economics, calculated from data supplied by the Saudi Arabian Monetary Agency. The most optimistic opinion is that Saudi Arabia can only survive at the current low oil prices for four years.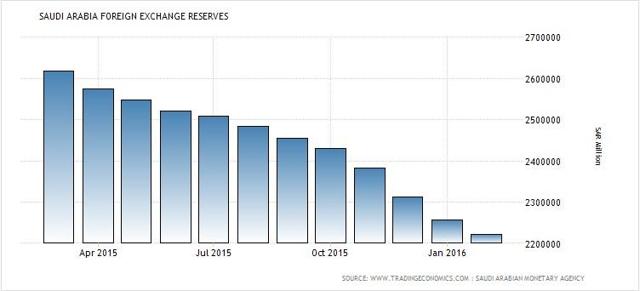 Click to enlarge
Source: Trading Economics
Supply and Demand
Economists from Goldman Sachs forecast that the Chinese economy will shrink by 0.5% during 2016, with the GDP dropping from 6.9% in 2015 to 6.4% in 2016, which is bad news for commodity producers and oil in particular. On the positive side, most other developed economies are expected to experience marginal growth of between 0.25 and 0.5% in their GDP. The exception is the Russian economy, which is expected to grow by around 5% from a GDP of -3.5% in 2015 to 1.5% in 2016. The size of the Chinese economy, which accounts for around 15% of the global economy, means a drop of 0.5% will have a significant effect on depressing global oil demand - which should, however, be offset by the growth, albeit minimal, in the other global economies.
Global Warming
Global warming is another factor in the demand for oil, with higher winter temperatures resulting in reduced demand for oil for heating purposes. Climatologists have discerned that globally, we are having fewer cold nights and cold days, while at the same time, we are experiencing an increase in the number of hot days and nights, as deduced from data taken from 1950 through to 2000. This trend is expected to continue, which reduces dependency on oil for heating to an increasing degree as the effects of global warming continue to change out weather patterns. This could be quite concerning for investors, with oil price seeing very little potential for an increase in the near future.
Conclusion
The oil price, as with that of all other commodities, is determined by what is commonly known as the law of supply and demand. The greater the demand with a constant supply, the higher the price will be, while a decrease in demand with a constant supply will have the opposite effect. The oil price has been hit with a double whammy, as demand has decreased, while supplies have increased at an even greater rate. That is the simple reason for the currently low oil prices. While very little can be done in the short term to stimulate demand for oil, the oil suppliers have the tools available to increase prices in a very short time.
With the exception of Iran, which will receive a windfall estimated to be around $100 billion with the lifting of sanctions, the other oil suppliers will not be able to continue for a prolonged period with oil price as low as it is. The only way they are going to be able to correct prices is to cut production, and speculators are hoping that the current talks will be fruitful in that regard. The potential for profit-taking in the current volatility exists by using binary options trading, which gives you the potential to make money whether the price of this commodity goes up or down.
For those who prefer future options trading, the best course of action is to keep a constant watch on the supply and demand ratios for oil and any factors that might disturb this ratio. The geopolitical factors are subject to constant change and should also be carefully noted, as most of the countries involved in the Middle East conflagration are also significant oil producers. Whether or not investors should hang on to oil is a situation that can change very rapidly and is certainly not a constant, given the present global circumstances.
Disclosure: I/we have no positions in any stocks mentioned, and no plans to initiate any positions within the next 72 hours.
I wrote this article myself, and it expresses my own opinions. I am not receiving compensation for it (other than from Seeking Alpha). I have no business relationship with any company whose stock is mentioned in this article.