Starting this week, we will be launching a weekly series of reports highlighting the natural gas (NYSEARCA:UNG) fundamentals of demand and supply and giving readers insights into what's possibly moving prices and where prices could be headed in the future.
Inventory Build Higher Than Expected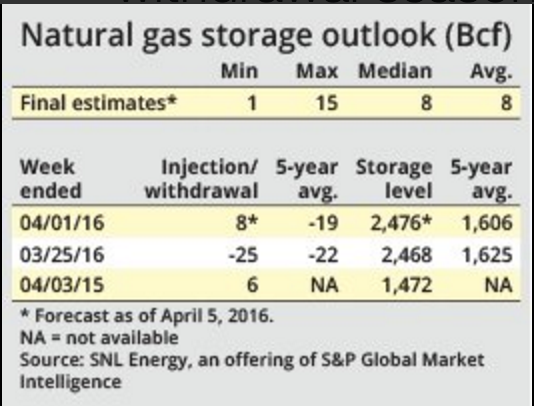 The estimates were for an 8 bcf draw in inventory, but EIA reports 12 bcf of injection. Despite the higher-than-expected build, natural gas prices are responding well.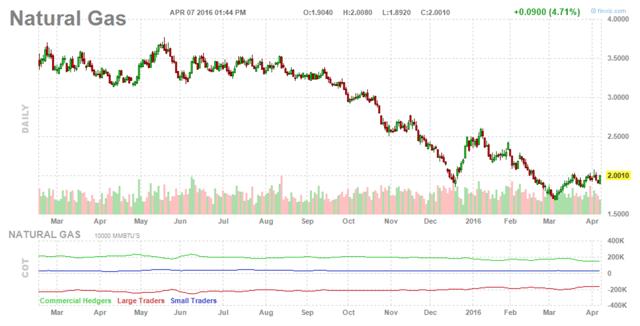 Natural gas prices move more on weather forecasts than the actually fundamentals at times. If weather is forecasted to be colder than expected during winter times, prices wouldn't care and it would rise, but same could be said for more bearish estimates.
Part of the reason for the run-up is due to colder-than-expected weather forecasts for the next two weeks.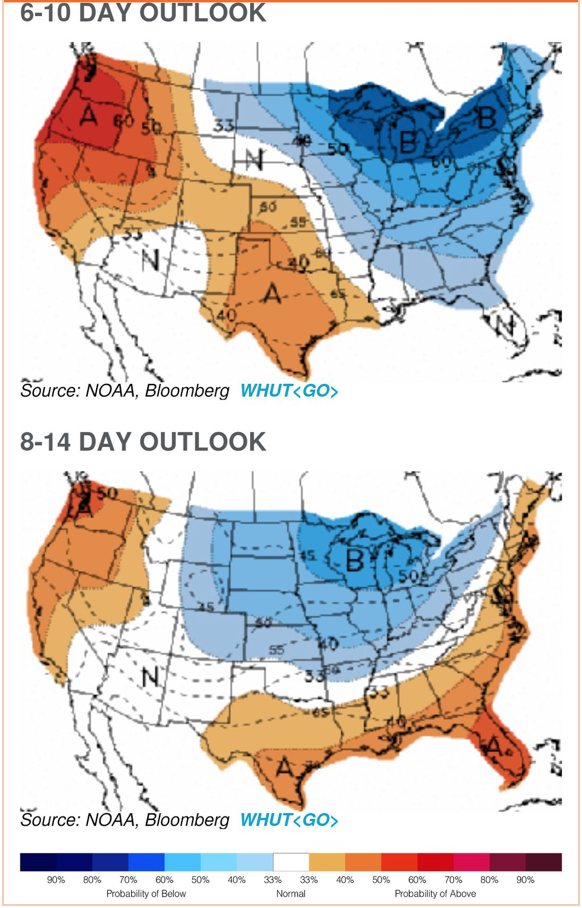 April should've marked the start of spring, but record El Nino last year disrupted the weather patterns and in effect "delayed" winter, and we are now seeing the remaining effects of the El Nino.
U.S. Natural Gas Production Falling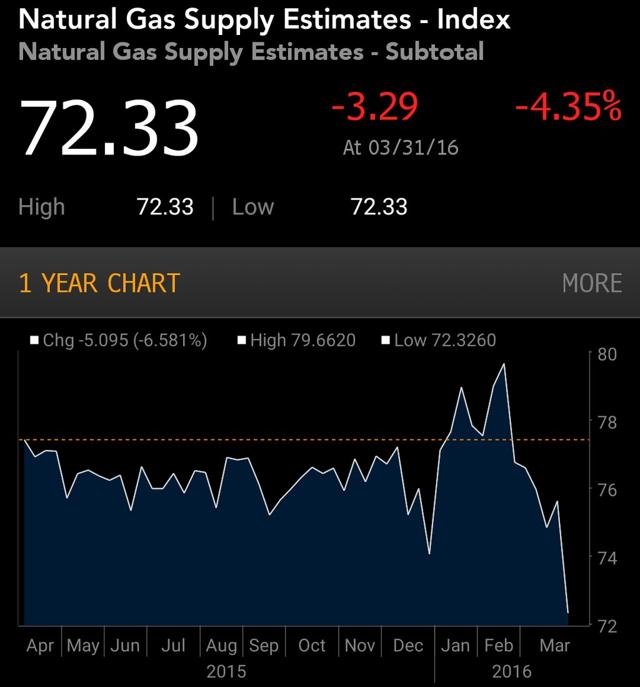 U.S. dry gas production is falling as expected. Rig counts have fallen to a record low of 88 and will likely continue to decline. Chesapeake Energy (NYSE:CHK) and Southwestern Energy (NYSE:SWN), the second and third largest natural gas producers in the U.S., are operating with zero rigs.
Canadian natural gas prices (AECO) has now fallen sub $1/mcf and is squeezing natural gas producers there. Peyto's (OTCPK:PEYUF) CEO, Darren Gee, talked about the phenomenon in his recent monthly letter.
U.S. oil production is also falling, and along with it, associated gas production, which has also been a cause for the current oversupply.
EQT's (NYSE:EQT) CEO & Chairman, David Porges, talked about the phenomenon in its Q4 earnings call:
"As an example of the latter issue, that is associated gas, when using the published Baker Hughes (NYSE:BHI) data, we believe it is best to look at gas equivalent rig count; an admittedly simplistic adjustment to try to account for this associated gas involves assuming that each oil rig behaves more as if it is three-quarters oil and one-quarter gas. The gas equivalent rig count equals gas-directed rigs plus 0.25 times oil-directed rigs.

The gas equivalent rig count calculated that way was essentially flat at 700 to 800 rigs from mid-2012 through the end of 2014; so for about two-and-a-half years. The gas equivalent rig count then declined by about 45% by the spring of 2015 at which point it plateau-ed at about 380 rigs until last summer and then again declined gradually by another by another 10% or so. Then starting in late autumn, the gas equivalent rig count declined an additional 25% plus reaching 246 rigs last week. I recognize that only 121 rigs of those are natural gas rigs, is an aside that 121 rigs compares to a high in Pennsylvania alone of about 117 rigs not that many years ago."
Since EQT's Q4 earnings, gas equivalent rigs have actually decreased from 246 to 178. This further highlights the point that natural gas supplies are in the process of falling off, and we believe this is one of the under-emphasized points in most analysts' reports.
Despite falling rigs, why has production stayed resilient?
Many factors play into explaining why natural gas supplies have stayed resilient. Natural gas producers have shifted their focus to sweet spots, yielding better-than-expected results.
Pipeline capacity takeaway constraints in the Marcellus has kept much of the supplies away from the market. But with pipeline capacity coming online, producers don't have to chock back supplies, thus increasing supplies in the short run.
Drilled but uncompleted (DUC) wells explain really the bulk of why supplies have not followed rig counts. When you look at rig counts, it's not the rigs that are producing natural gas, it's the wells each rig drills. Hypothetically speaking, if you can drill a natural gas well in two weeks, then one rig can drill up 26 wells in a year. Due to better technology, the initial production of many of these wells has improved, but not to the point where 88 rigs can hold nearly 40 bcf/d of production.
As we move forward, you will notice that the number of DUCs will start to decrease. As producers are strapped for cash and need increased production to pay debt, they will begin to drawdown the DUCs, and the effects of the lower rig counts will begin to affect supplies substantially.
Concluding Thoughts
In our next weekly, we will cover the demand outlook and what possible effects La Nina could play on the demand factor for this year. Natural gas productions are finally starting to rollover, and rig counts continue to fall. A delayed winter has played in part to the recent recovery in natural gas prices. Despite the higher-than-expected inventory build, natural gas prices are seeing solid gains in part due to colder-than-expected weather. Understanding supplies and potential demand drivers (LNG export to Mexico) is half of the battle, but weather ultimately plays the most vital role in determining the natural gas outlook.
HFI Premium Research
Our latest idea write-ups:
TripAdvisor (NASDAQ:TRIP)
Gear Energy (OTC:GENGF)
Allot Communications (NASDAQ:ALLT)
Hedge Fund Insights' premium research service is where we write up detailed articles on companies that we think are undervalued. We also share with our subscribers real-time trades and portfolio tracking. Subscribers also get to join a group of like-minded value investors that take advantage of market mispricing. If you are interested, please consider joining.
Disclosure: I am/we are long GENGF.
I wrote this article myself, and it expresses my own opinions. I am not receiving compensation for it (other than from Seeking Alpha). I have no business relationship with any company whose stock is mentioned in this article.