As a long time investor in the markets, you would think I have seen it all. The major bull market that began in the summer of 1982, the "flash-crash" of 1987, the tech bubble of 2000 and the subsequent fallout, the real estate/mortgage disaster and subsequent "Great Recession", and one of the longest secular bull markets that have ever occurred. But, are we still in a bull market? Well, you certainly would think so given this past quarter if your main investment strategy was buying up dividend payers after the correction in January. For me, I was fortunate to have a long-term investment outside the stock market mature at just the right time, I was able to put it to work quickly buying stocks that had taken a fall. Later in the quarter, some of these had a run up that was too tempting not to take profits, so Bristol-Meyers (NYSE:BMY), NextEra common (NYSE:NEE), Caterpillar (NYSE:CAT), and American Electric Power (NYSE:AEP) were all harvested. I know that many of you will not sell a dividend paying stock unless the divvy is cut, but my trader's mentality of taking profits took over in late March. This amounted to about 7% of the total portfolio, and this cash will wait for the next correction. Or bear market. Or whatever.
Even with the selling that took place, the portfolio is paying 5.34% of the invested capital or just a tad over 5% with the cash added in. It wasn't all roses since December, however, I was one of the many that believed that Kinder Morgan (NYSE:KMI) would continue to pay the same dividend in 2016. And of course, I had paid too much for the stock, so that has been a damper on the bottom line, but fortunately less than 1.5% of the whole portfolio. It is not likely that I will see that line go from red to black in the next year, but I'm going to wait to see what happens when oil and gas prices return to higher levels.
That brings up an important point I have made before: don't put too many eggs in one basket. Under 4% is my rule; anything above 5% is going to get slimmed down. One contributor to Seeking Alpha's dividend growth section has over 70 stocks, another has less than a dozen. Which investing style do you think I favor? There was a time when you got soaked by your broker if you bought just a few shares; fortunately those days are gone. I can't remember details, but I do remember buying an "odd lot" amounting to somewhere around $1200 and getting charged nearly $100 by the broker. Today if I buy 20 shares, the tab is $8, and if I buy 500 shares of the same stock, it's $8. And it averages even less if you can get some free trades for being a good customer or adding a substantial amount to your account. It never hurts to ask.
Anyway here's the portfolio as of a few days ago: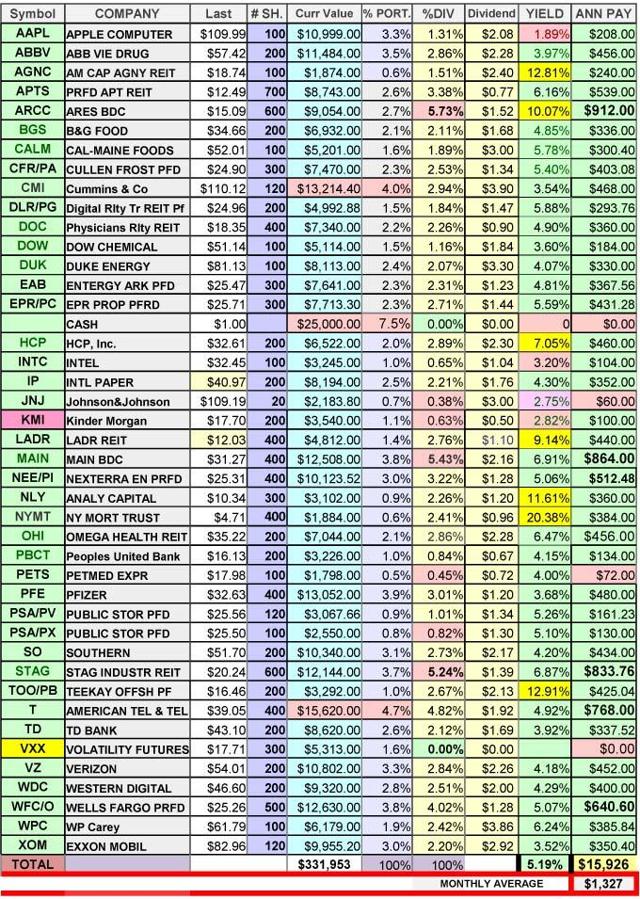 Another rule I follow is to diversify. The current portfolio breaks out like this:
| | | |
| --- | --- | --- |
| ENERGY | | 5.2% |
| TECH | | 7.3% |
| REIT | | 24.1% |
| UTILITIES | | 11.2% |
| COMMUNICATIONS | | 8.2% |
| CHEMICAL | | 5.3% |
| CASH | | 5.4% |
| INDUSTRIAL | | 4.1% |
| MATERIALS | | 2.5% |
| CONSUMER STAPLE | | 3.8% |
| BANKS | | 9.9% |
| VOLATILITY | | 1.6% |
| BDCS | | 6.7% |
| PHARMACEUTICALS | | 4.8% |
| | | 100.0% |
REITs are a tad too heavy; I would like that to be 20%, but I don't have anything in that category to sell, so I'm just not going to buy any more REITs at this time. I have not broken out preferred stocks; they comprise 18.4% and common stocks 77.6%. I would like preferred issues to be higher, but at this time, it is very difficult to find any that sell for par or less. Be careful of those that sell above par, and don't believe some of the resources that show a small decline in yield for a stock above par, unless there is no call date (and those are even more rare.) Nonexistent in fact. Companies issue preferred stock when they find that it is a cheaper source of capital, but usually there will be a call date in 1-3 years. If you do the math on a par $25 stock selling for $26 and an interest rate 0f 5%, but a call date of a year or two, you will find your actual yield will be something like 1%-2%, because you will lose $1 of capital for each share when the issue is called. So you might earn $1.40 in dividends for a year, but lose $1 when it is called. You get the idea. Most of the preferreds I have in my portfolio have increased since I bought them, so do not look for these to buy yourself. In fact, right now I wouldn't buy more of the common stocks either.
Do not consider any of the above to be advice on buying specific stocks, you must do your due diligence. And my rules are just that: my own. Consider everything for yourself and toss out what you don't like in this article. I welcome your comments both positive and negative, they are usually even more valuable than the article itself. And, if anyone has a line on this market and when it will turn to a bear, please let me know. Perhaps we will have something else - it looks like a mixed market forming to me. What do you think?
Disclosure: I am/we are long AAPL, KMI, CMI, T, VZ AND ALL THE LISTED STOCKS IN THE PORTFOLIO.
I wrote this article myself, and it expresses my own opinions. I am not receiving compensation for it (other than from Seeking Alpha). I have no business relationship with any company whose stock is mentioned in this article.